Haptic devices are hardly where we would like them to be, but 2020 is turning out to be a year of exciting developments. The Feelbelt Kickstarter project promises to deliver a wearable belt before the end of the year that offers a new dimension to sound in VR experiences and games. We've already highlighted the work of Swiss scientists at the École Polytechnique Fédérale de Lausanne's (EPFL) on developing a wearable skin. Their latest demo calls for an update as they are getting closer to developing a lighter and thinner VR haptic glove. It's a wearable that would find applications not just in medical education and workforce training, but in the broader VR consumer market.
Thinner VR Haptic Gloves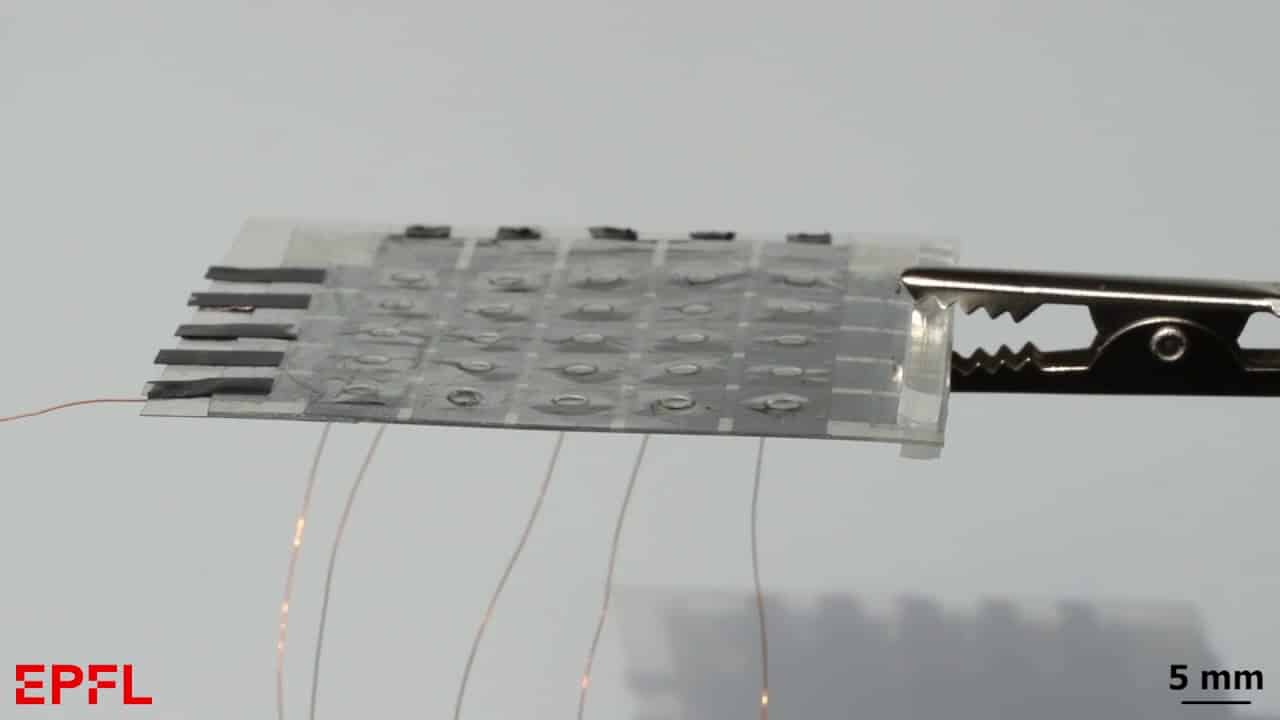 Here's a description from UpLoadVR on how the gloves work.
. . . the approach uses electrical impulses to manipulate a small amount of dielectric fluid (in this case, vegetable oil) housed in pockets made up of a stretchable membrane. When activated with a voltage, the oil compresses together to create bumps that will press against the user's fingers. Imagine picking an object up in VR, for example, and the surface pushing into your fingers as you grasped it. The oil can even be vibrated, which may provide deeper immersion when, say, blocking an attack with a shield.
Researchers at EPFL released a short video showing how the stretchable membrane is manufactured.
What's fascinating here is that the gloves could be used on their own without an HMD to help you learn how to play a musical instrument. Our current understanding of virtual reality prioritizes visual experience. As a result, we tend to see every haptic device as an accessory to a VR headset. But you could reverse that and see the HMD as just one way of supporting a broader sense of immersion. The Feelbelt takes the same approach as you can use it without a VR headset.
A decade from now, AR glasses will be critical to our experience of the world. But will the visual information be any more important than the sensory experience that we feel through the haptic feedback embedded in our clothing and wearable devices? Think of the range of phenomena that might not just be experienced visually but through haptic feedback. Directions on a virtual map? Air quality in an urban environment? The moods of everyone in a room? The latter would sure give in an interesting spin to business meetings and our social lives. Who knows? Someday you might even feel the vibes of your students as you walk into a learning space.
Consumer Acceptance of Haptic Gloves
To get to that point, consumer acceptance of haptic feedback is essential. And here, everything depends on the size and ease of use. The technology needs to disappear – becoming nothing more than clothing that we typically wear. And this is what makes the Swiss research at EPFL so important. It points toward a day where slipping on a pair of gloves or sensor-embedded clothing will seem as commonplace as grabbing your phone when you leave your home today.
Emory Craig is a writer, speaker, and consultant specializing in virtual reality (VR) and artificial intelligence (AI) with a rich background in art, new media, and higher education. A sought-after speaker at international conferences, he shares his unique insights on innovation and collaborates with universities, nonprofits, businesses, and international organizations to develop transformative initiatives in XR, AI, and digital ethics. Passionate about harnessing the potential of cutting-edge technologies, he explores the ethical ramifications of blending the real with the virtual, sparking meaningful conversations about the future of human experience in an increasingly interconnected world.