Being outside is clearly safer than standing in a crowded bar with your friends during a global pandemic, but running outdoors brings its own set of challenges. Ghost Pacer, an AR running app on Kickstarter, offers an augmented reality solution to running alone. Running with a virtual avatar may not be better than running with your friends, but it's a good substitute and shows how AR will transform exercise in the future.
Ghost Pacer's AR Running App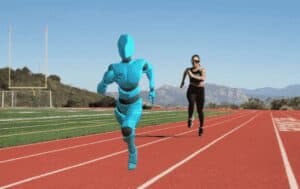 The Ghost Pacer Companion App just got underway on Kickstarter with a very modest $25,000 goal. It's raised double the amount (as of this writing) with 29 days to go. In essence, the project offers AR Glasses designed to do only one thing – help your running workouts through the use of a virtual avatar who runs with you. It's a fascinating idea and the single purpose keeps the cost and weight down to consumer-friendly levels. Let's face it, you're not going to run with a HoloLens or Magic Leap One, and the alternative of waiting until Apple, Samsung, or another company release AR Glasses is not that appealing.
Especially when we're all going stir-crazy in our lockdowned lives.
Here's the intro video for the Ghost Pacer app.
According to VR Scout,
AbdurRahman, an experienced cross country runner and Princeton-bound engineer, played a significant role in the design of the headset, offering valuable insights from both the perspective of a runner and developer.

"My background as a cross country runner, beyond being the reason that we built this product, has helped us in that we were able to develop a product made specifically for the running experience. As a cross country runner, I understood that these glasses did not have to have millimeter-level accuracy for the avatar animation or all-day battery life (which tends to make more general platform glasses too bulky and convoluted to use for outdoor applications) in order to be a hyper-effective training tool."
The technical Details
If you're interested, the project has a helpful blog with details on the AR running app and glasses. Ghost Pacer CTO, Jensen Turner, describes how the AR Glasses work.
The Ghost Pacer headset is a combination of proven hardware and newly developed algorithms specifically tailored to balance the augmented experience with the incidental user experience (including battery life, heat output, size, weight, and independence from other devices).

The hardware stackup starts with a power management system that converts power from the onboard lithium-ion polymer battery to the various types of power required for other system components. The PMS includes an intelligent charge controller that balances the longevity of the battery with quick charge times and bus-power capability for extra-long-distance users who may choose to connect an external power bank via the integrated USB Type-C interface.

The high-sensitivity GPS antenna and chipset use multiple GPS satellites to maintain a 3D fix on the user's absolute global position. The orientation of the user's head is monitored by a 9DOF inertial measurement unit (IMU), consisting of an accelerometer, magnetometer, and gyroscope, along with a sensor fusion coprocessor. An onboard altimeter provides a detailed elevation profile as the run continues to inform expected performance statistics and adjust the virtual environment in real-time if selected.
Along with the standalone AR Glasses, the mobile app includes access to thousands of routes in your area and a community of local runners. And the hardware supports several innovative features. You can race against your friends virtually with the avatar replicating their route and pace as if they were present. It's perfect for a time that demands social distancing.
A Few Compromises
Despite the simplicity of Ghost Pacer, this AR running app comes with a few caveats. First, as a Kickstarter project, the device won't be available until June 2021. That's almost a year from now and while we're not expecting an AR device from a major vendor in the next ten months, by the time Ghost Pacer arrives, Apple or someone else may be getting ready to release full-featured AR Glasses. If the project gets delayed (which happens in crowdfunded projects) you could end up receiving the device just as multipurpose AR Glasses arrive on the market.
Second, the AR running app is just that – it's augmented reality and not a full mixed reality experience. While we haven't had the opportunity to try out the glasses, the current images and video show a somewhat robotic avatar that doesn't cast a shadow in its surrounding environment. Whether or not this avatar is enough to compel you to up your running game is only something you can answer. Pokemon Go proved that AR doesn't need to be complex to impact human behavior. But when you're competing against an avatar in physical endurance activities, it may require something more realistic.
That noted, the Ghost Pacer AR running app and glasses is worth taking a look at (with the usual cautions for projects on Kickstarter). If you're a runner confronting the challenges of staying fit during a global pandemic, this may be a good interim solution. And it clearly shows where we're headed in the future. We'll all be competing against avatars as we live, learn, work, and exercise in a virtual world in the future.
Emory Craig is a writer, speaker, and consultant specializing in virtual reality (VR) and artificial intelligence (AI) with a rich background in art, new media, and higher education. A sought-after speaker at international conferences, he shares his unique insights on innovation and collaborates with universities, nonprofits, businesses, and international organizations to develop transformative initiatives in XR, AI, and digital ethics. Passionate about harnessing the potential of cutting-edge technologies, he explores the ethical ramifications of blending the real with the virtual, sparking meaningful conversations about the future of human experience in an increasingly interconnected world.