Back in a rainy NYC after the Campus Technology conference in Chicago and it seems to be raining new AR headsets this summer. Cardboard-like DIY kits are appearing, there's news on the Disney-Star Wars front, and a fascinating HMD from the new augmented reality startup Mira is on its way.
While we wait for our Aryzon kits to arrive, we got to try HoloKit last week, a cardboard style unit from Amber Garage. It's an interesting device but as with 360° video in Google Cardboard, there's only so much you can do in terms of the quality.
You'll look a little goofy using it and you're not going to hold it up to your face for long. But if it's a catalyst to get AR into the hands of the public, then we're all for it.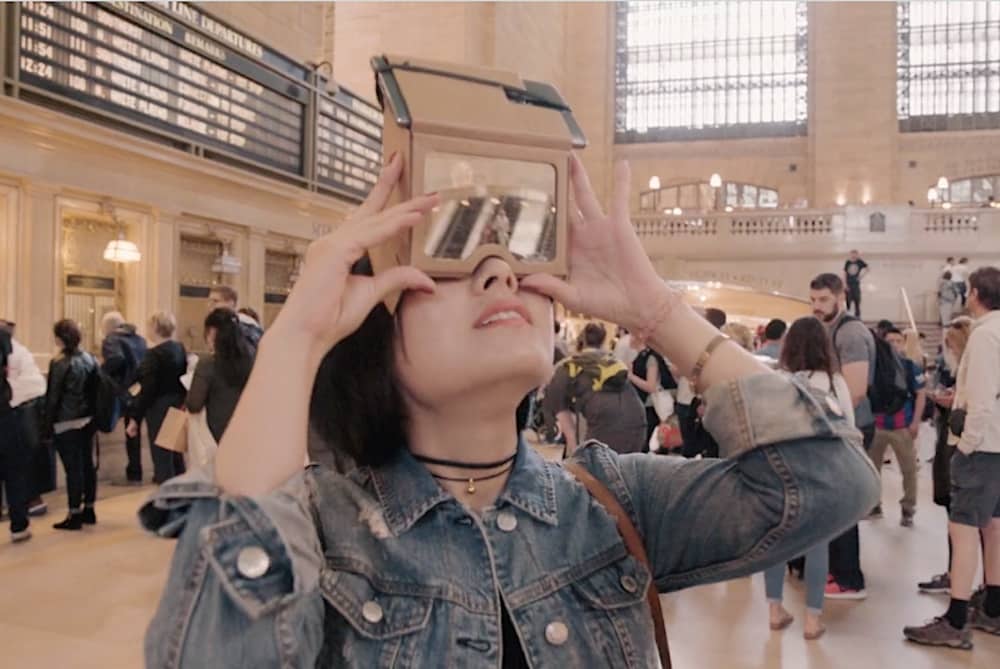 Amber Garage has done much more impressive work in VR. Take a look at their Skywand tool for filmmakers and the incredible "City VR Experience". The latter lets you walk through the urban landscape like a giant – though you'll need a high-end VR headset. The latter is seriously cool and one reason why VR can be so much fun.
New AR headsets
If the DIY kits are lacking, you can bet Disney and Star Wars plan on delivering more. From the beginning of the Disney theme parks, the promise has always been immersion. And Disney has now dived into the augmented space with a new AR headset.
From Fortune:
Disney announced that its LucasFilm subsidiary and Lenovo are developing a smartphone based augmented reality headset which will feature Star Wars games like Holo Chess, along with a peripheral Bluetooth Light Saber. The headset is essentially a light weight iPhone holder attached to a clear plastic visor.  The cell phone's images are reflected onto the visor, allowing digital images to mingle with the physical reality in often startlingly realistic ways.
The first thought that comes to mind here is – did Magic Leap see this coming? Move fast in the AR space or you'll be upstaged by someone leveraging our smartphones. Here's the very short teaser video:
As Stephanie Llamas, the VP of AR and VR Research at Superdata notes,
If any IP can sell high-tech experiences at a premium price, Star Wars would be the one to do it.
An end of 2017 release date is rumored with a price of $200. With the never-ending popularity of the Star Wars franchise, this could rise up to Pokemon Go levels of excitement.
Mira Prism AR HMD
Looking very similar to the Disney-Lenovo AR device, three students are making waves with a start-up born in USC's Jimmy Iovine and Andre Young (Dr. Dre) Academy. Frustrated by the lack of a social experience in VR and the high cost of HoloLens, the students have created a $100 HMD that holds your phone.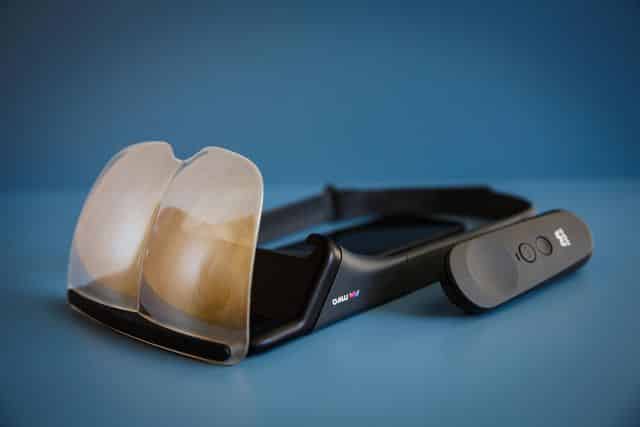 According to the LA Times,
They hope the device they call Prism becomes an affordable way for consumers to play augmented reality games and watch other entertainment. The $99 hardware is different from virtual reality headsets such as the Samsung Gear VR and Google Cardboard in that Prism doesn't completely block one's entire field of view. Two Prism users could play virtual chess and make eye contact, maintaining the liveliness of traditional gameplay. Others could watch the match through a smartphone app, without Prism.
It's slightly bulky and only usable with iPhone 6, 6S and 7 models but nicely designed. Currently, it's not compatible with Apple's ARKit though that's expected to change in the future. With all the interest in new AR headsets, Silicon Valley investors are backing the project with $1.5 million in funding.
All these HMDs are pointing to waves of development in Augmented Reality, from DIY cardboard kits to HMDs that leverage your Smartphone. With the potential for immersive experiences that are deeply social, this is the beginning of a tidal wave of AR.
Emory Craig is a writer, speaker, and consultant specializing in virtual reality (VR) and artificial intelligence (AI) with a rich background in art, new media, and higher education. A sought-after speaker at international conferences, he shares his unique insights on innovation and collaborates with universities, nonprofits, businesses, and international organizations to develop transformative initiatives in XR, AI, and digital ethics. Passionate about harnessing the potential of cutting-edge technologies, he explores the ethical ramifications of blending the real with the virtual, sparking meaningful conversations about the future of human experience in an increasingly interconnected world.