We've been waiting for a new mixed reality HMD from Microsoft. And it now looks like HoloLens 2 may arrive in late February at Mobile World Congress in Barcelona. The first version came out in March 2016 and in the intervening three years, much has happened. We finally have a device from Magic Leap and, sadly, Meta Glasses is bankrupt.
We may even have gotten a glimpse of HoloLens 2 last year, but no one confirmed it.
Microsoft needs to win this battle
With the rapid advances in the mixed and augmented reality space, Microsoft needs to move fast. CES 2019 saw a number of AR Glasses released including wearables by Vuzix and Nreal. Both are small and lightweight, the kind of devices you could wear at work. Or even on your way to work.
Microsoft needs to prove that there are advantages to wearing a full computer on your head. Complete with its own visor. Sure there are educational and enterprise settings where HoloLens has come into its own. But that won't lead to the mass adoption of mixed reality.
Educators and HR departments may be fine with that, but if AR Glasses begin to offer the same features, HoloLens will soon feel like some archaic desktop from the past. Why use a head-mounted visor to learn anatomy if my new (AR) Glasses I wear every day can do the same?
According to a write up on Thurrott last summer, Microsoft is treating the Mixed Reality space as a must-win market. They lost out in the Smartphone revolution and can't afford to fail this time around. As for the new HoloLens 2,
. . . we can expect it to be thinner, lighter, faster and have better battery life.
We're still not sure Redmond can win this battle in the long run. But it will be interesting to see what they have to offer.
Hints that HoloLens 2 may arrive at MWC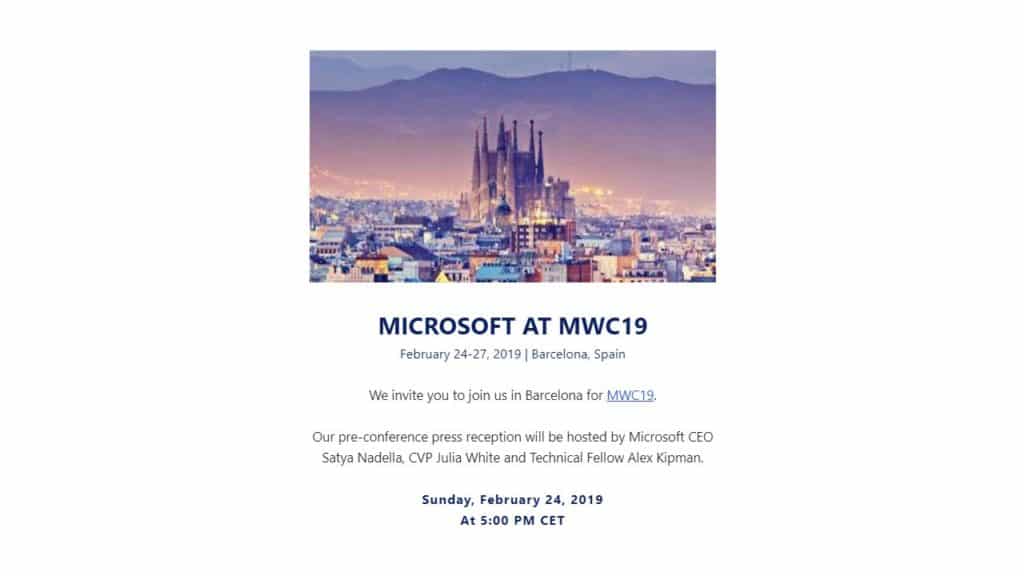 All we have for the MWC event is a hint from the Microsoft press invite. But it's the kind of hint that makes you take notice. As Next Reality notes,
In an invite sent out on Wednesday, Microsoft is inviting members of the media to an event at this year's Mobile World Congress (MWC) in Barcelona, Spain. That's fairly normal for MWC, but what stands out is one name included on the invite: Alex Kipman, the inventor of the HoloLens.

There's no confirmation as to what the company will announce, but given the recent chatter in the HoloLens community about an impending HoloLens 2 release, it's highly likely that the event will either deliver new details on the release or perhaps even deliver the public's first look at the new device.
Once HoloLens 2 arrives, the immediate comparison will be with the Magic Leap One. The latter is also not something you'd wear all day long. But despite its steampunk look, it's closer to an everyday type of device. Right now, Microsoft has the enterprise and education apps. But Magic Leap has a lot going for it with the vividness of its display and larger field-of-view.
2019 will be an interesting year. We're still digesting all the augmented reality news out of CES. And we may soon be watching a new high-stakes battle in the mixed reality space.
Everyone is fighting to put a computer on your face. Let us know if you have a hunch on who will win.
Emory Craig is a writer, speaker, and VR consultant with extensive experience in art, new media, and higher education. He speaks at global conferences on innovation, education, and ethical technology in the future. He has published widely and worked with the US Agency for International Development, the United Nations, and the Organization for Economic Co-operation and Development (OECD). Living at the intersection of learning, games, and immersive storytelling, he is fascinated by AI-based avatars, digital twins, and the ethical implications of blurring the boundaries between the real and the virtual.