It's always been hard to know what to make of the highly funded and innovative Florida startup. But recent news suggests that Magic Leap's future looks bleak. A last-minute funding round raised $350 million – paltry by Magic Leap's standards – and temporarily saved the company. And today, CEO Rony Abovitz announced his departure.
As we've shared over the last several weeks, in order to set Magic Leap on a course for success, we have pivoted to focus on delivering a spatial computing platform for enterprise.

We have closed significant new funding and have very positive momentum towards closing key strategic enterprise partnerships.

As the board and I planned the changes we made and what Magic Leap needs for this next focused phase, it became clear to us that a change in my role was a natural next step. I discussed this with the board and we have agreed that now is the time to bring in a new CEO who can help us to commercialize our focused plan for spatial computing in enterprise. We have been actively recruiting candidates for this role and I look forward to sharing more soon. (Venture Beat)
Our cynical side says good luck with that "positive momentum," though we still hope they succeed.
We've tracked the company's progress from the beginning, and the future turned dark long before they got their steampunk-themed Mixed Reality Glasses out the door. Their product demos were business school lessons on how not to do product messaging and rollouts. There were legions of believers. And an equal number of doubters (the comments during the Twitch demos were brutal). And there were those of us who wanted to see them succeed but couldn't conceal our increasing doubts.
Extreme tech summed up the sense of desperation in 2018,
The only "magic" in Magic Leap is how there's always a magical explanation for why the technology can't be demoed, shown, or exhibited in a form that would actually impress people.
However, once the Mixed Reality HMD arrived, there were groundbreaking moments, such as the AI-driven avatar, Mica. She was impressive and is still the standard by which we measure the avatars we encounter today.
And there were dismal failures such as the CNN Magic Leap app, which combined the weakest aspects of cable broadcasting with a completely unimaginative use of mixed reality. We'd say there wasn't a lower point, but there was – the product demos that turned out to be fabricated videos.
Painful moments, indeed.
Magic Leap's Future Lays With Enterprise
As The Information notes,
The change, which Magic Leap confirmed on its blog shortly after notifying employees, is a stunning outcome for what used to be one of the most hyped startups in tech. Magic Leap recently laid off roughly 1,000 employees, or more than half its workforce, after its AR headset capable of overlaying virtual objects onto the real world failed to catch on with consumers.
Burdened down with an expensive headset and only hints of a future consumer version, Magic Leap shed nearly a thousand employees and shifted its focus to enterprise. Several partners were announced including, Across Realities, Arvizio, Eon Reality, Immersion Analytics, Immersiv, Nomtek, PTC, RoOomy, Spatial, Taqtile, Verses, and VIM.
The partnership with the immersive platform, Spatial, seems to be one of the most promising in terms of gaining inroads into the business community. Copresence is effective when everyone is wearing an Oculus Quest – except that Oculus' HMD is too heavy for extended use. MR Glasses are the perfect match for Spatial, especially with its emphasis on remote collaboration.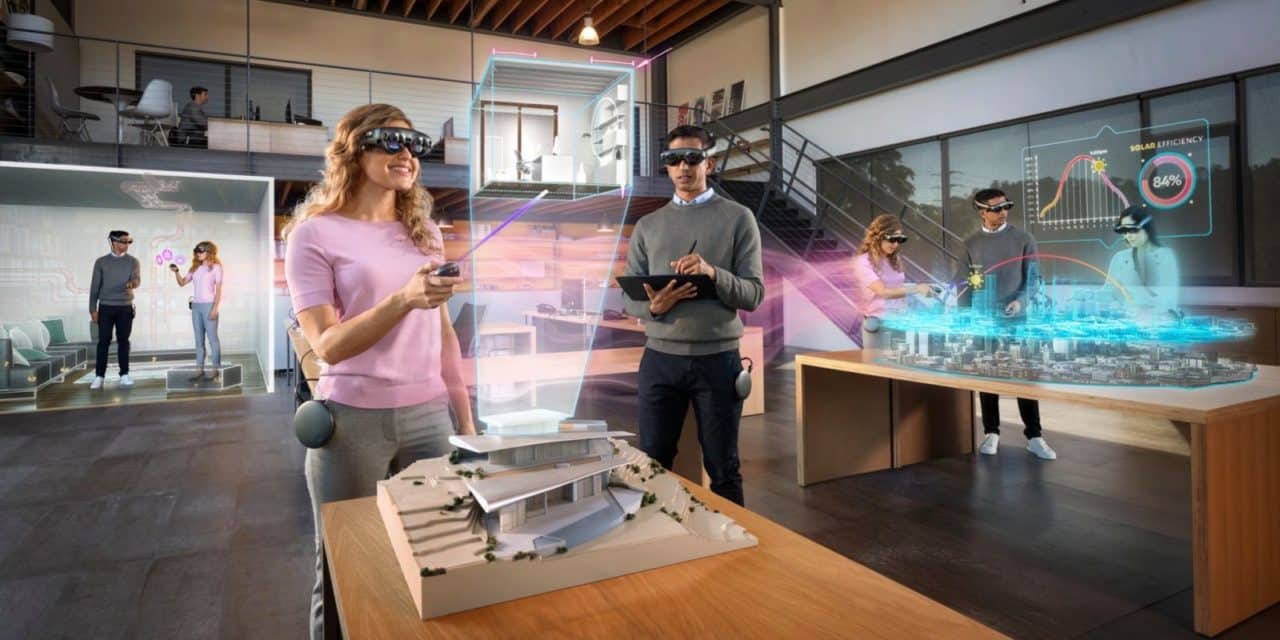 Except for one small caveat.
It's the best and worst possible moment to attempt this kind of market pivot. Everyone is searching for something more than Zoom in the stay-at-home, COVID-19 work world. But few companies are salivating at the prospect of supplying $2,295 HMDs for their staff. And forget about educational organizations and nonprofits which are facing potentially staggering budget cuts for the coming year.
Even Spatial didn't help matters any. They undercut the Magic Leap partnership two weeks ago by opening their platform to any device. It's now available on the Oculus Quest and Nreal's AR Glasses for a lot less than a Magic Leap One.
Artists and Creatives First
In fairness, it's too early to write the company's epitaph, though we're tempted to (I know, step away from the keyboard). But we'll close with a few points. Magic Leap's future was always about our future – a world of ubiquitous immersive environments. Everyone focuses on the staggering amounts of money they raised at the beginning. But we forget that they began with an incredibly creative, non-enterprise goal. It was a compelling vision of how artists and entertainers would use mixed reality.
Go back to that very first LEAP Con conference in LA in 2018. Yes, parts of it came off as Star Trek-inspired utopianism. But it was the balance we needed when Microsoft threw its lot with enterprise, and Facebook/Oculus later embraced the gaming community.
It was Magic Leap that bet on the artists – and the artist in all of us.
That vision still lives in the creative work that's been done by developers and creators in XR studios and higher education. Who knows what kinds of devices we'll be sporting a couple of years from now. But Magic Leap won't be forgotten in its efforts to produce an innovative headset and even more, the struggle to find its own way in an intensely challenging environment.
Palmer Lucky is no doubt laughing and will probably follow up with a post saying, "I told you so." But that misses the deeper point. Magic Leap's future may be a bonfire, but that creative impulse embedded in our immersive tech won't go up in flames.
Emory Craig is a writer, speaker, and consultant specializing in virtual reality (VR) and artificial intelligence (AI) with a rich background in art, new media, and higher education. A sought-after speaker at international conferences, he shares his unique insights on innovation and collaborates with universities, nonprofits, businesses, and international organizations to develop transformative initiatives in XR, AI, and digital ethics. Passionate about harnessing the potential of cutting-edge technologies, he explores the ethical ramifications of blending the real with the virtual, sparking meaningful conversations about the future of human experience in an increasingly interconnected world.