At long last, we get to see the Magic Leap AR headset. $1.9 Billion and seven years later. Is it an iPhone moment? The game-changing Augmented Reality device that will upend our current tech ecosystem?
Magic Leap always said they would deliver on this promise (even if many of us started to veer toward despair). Now we will see if the long wait without even a demo was worth it.
Polygon has a quick summary of the AR and Mixed Reality device though it's worth reading the full account in Rolling Stone.
Rolling Stone's Glixel and Pitchfork got a closer look at Magic Leap's tech — and the startup's collaboration with Icelandic band Sigur Rós — this week. In an interview with Glixel, Magic Leap founder and CEO Rony Abovitz said the system will be powered by two powerful computers: one in the self-contained Lightpack, which he compared to "close to like a Mac Book Pro or an Alienware PC," and another in the Lightwear goggles — "a real-time computer that's sensing the world and does computer vision processing and has machine learning capability so it can constantly be aware of the world outside of you." The Lightwear itself features four built-in microphones, at least six external cameras and built-in speakers.
One device, three components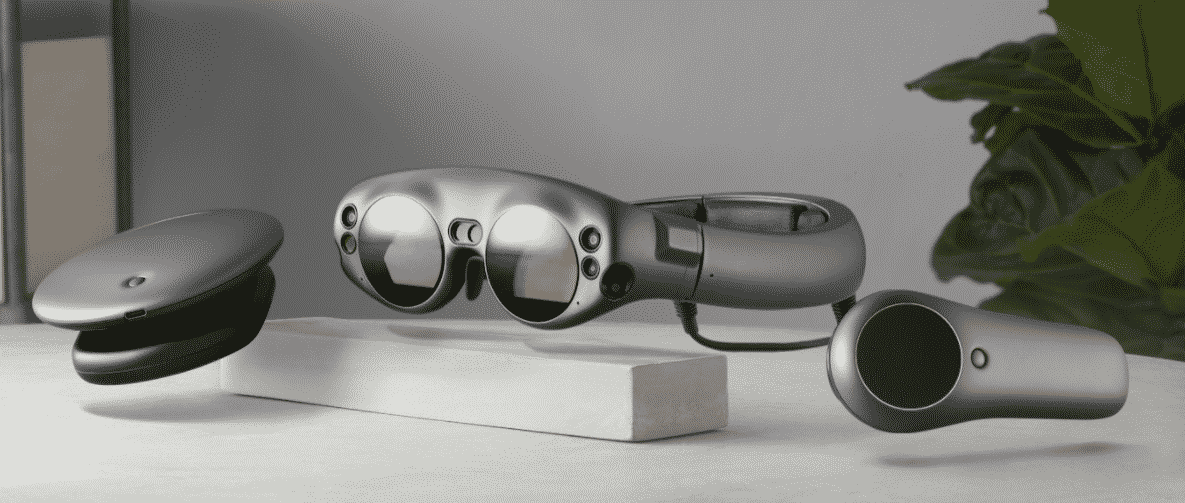 The Magic Leap AR HMD consists of three components – at least it turned out not to be a helmet as some originally speculated. From Tech Crunch, the setup includes a
Lightwear: a headset utilizing the company's " Digital Lightfield" display technology with multiple integrated sensors to gather spatial information.
Lightpack: a fairly hefty circular belt-worn hip pack that contains the compute powering the headset and is tethered to the goggles.
Control: a handheld controller that can be tracked in space that helps users navigate menu selections and the world Magic Leap is building.
The headset will be available in two sizes and there will be an option for prescription lenses. According to Polygon, the controller works with "force control and haptic feedback … for a fluid, sensory experience."
We're not so sure about the hockey puck design of the Lightpack, but no one has come up with a perfect way to off-load processing power from an HMD. I mean, look at our high-end VR headsets in free-roaming installations like The Void – we're wearing backpacks. It really depends on public acceptance.
But Magic Leap's solution will make the Lightwear HMD easier to use for extended periods. Unlike Microsoft's HoloLens, you're not wearing the entire computer on your head.
The AR glasses look like a modern take on 1930's aviator goggles. All you need is a scarf, leather jacket, and a biplane to go with it. But none of that will stand in the way if it's truly functional.
And of course, it's incredibly sleek. Especially when you compare it to an earlier working version they dubbed (for good reason) the "Cheesehead". Painful.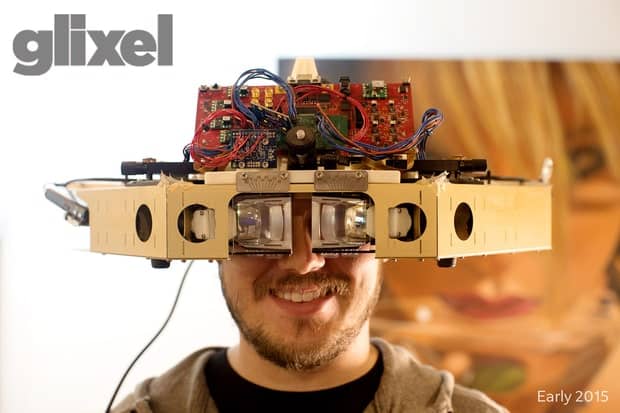 More questions than answers
Despite the fact that we now know Magic Leap's device is real, its arrival brings more questions than answers.
What will be the impact on the current high-end mixed reality headsets? HoloLens has a small but growing niche in the market and they're continuing to research high-end wearable AR Glasses. And Meta Glasses offers another platform, even if they have struggled to produce an untethered device.
 Does the Magic Leap AR device throw down the gauntlet to Apple's ARKit? Sure, the latter will run off a recent iPhone and be easy to use, but if this seriously better quality does Magic Leap capture the AR shopping and entertainment markets? Google's ARCore also factors into the picture here.
Does Magic Leap's AR HMD move us closer to the Holy Grail of a combined AR/VR device? Or will Apple get there first despite its public focus on AR?
We'll follow up on these questions and more in the near future.
Magic Leap AR Creator Edition
If you were hoping for a consumer edition of the AR goggles from Florida, you won't find these under your Christmas tree. The current device is the Creator Edition and designed for developers.
It will be some time before the general public gets a chance to render its own verdict. Remember what happened with Google Glass? We're into version 2 for enterprise and still not where Google wants to be.
Despite the (warranted) excitement, there's still a long road ahead in the coming year.
The Creator Portal announced by Magic Leap will be available in early 2018 and that will be the key. What kind of content will developers produce and how easy will it be to use?
Magic Leap claims the glasses will "pull the web out of the screen" opening up new platforms for gaming, shopping, and learning. If they pull this off, it will be revolutionary.
The Magic Leap AR glasses is a fascinating development – we'll keep you updated as more details emerge. Long ago, we met a wizard from Magic Leap and he said to have faith.
As Magic Leap says on their website today,
Welcome to Day One.
Emory Craig is a writer, speaker, and consultant specializing in virtual reality (VR) and artificial intelligence (AI) with a rich background in art, new media, and higher education. A sought-after speaker at international conferences, he shares his unique insights on innovation and collaborates with universities, nonprofits, businesses, and international organizations to develop transformative initiatives in XR, AI, and digital ethics. Passionate about harnessing the potential of cutting-edge technologies, he explores the ethical ramifications of blending the real with the virtual, sparking meaningful conversations about the future of human experience in an increasingly interconnected world.