Honda is taking the lead this season with a beautiful AR holiday card for children at the Children's Hospital of Orange County (CHOC). The AR card transforms a room into a magical winter wonderland and brings crowd-sourced holiday messages from well-wishers.
It's an innovative take on the usual feel-good messaging that brands opt for this time of year. And Honda is backing up the AR experience with something much more substantial.  Every time someone likes the Facebook video, Honda will donate $1 each (up to $100,000) to the Children's Hospital and the Pediatric Brain Tumor Foundation (PBTF), two organizations that it's supported for over 25 years. More information is available at Honda's press release.
Honda's AR holiday card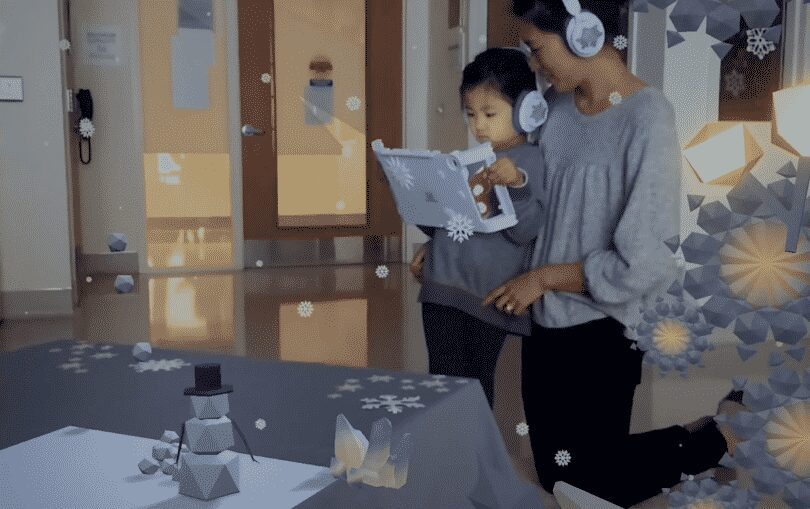 Here's the description of Honda's "Ultimate Get Well Card" from VR World.
To enable the children at CHOC to hear from well-wishers, Honda pushed out a short holiday-themed video in September inviting fans to leave get well wishes via Facebook and Instagram. Honda received hundreds of messages with select messages ultimately loaded on the virtual card, along with personalized videos from hospital staff.

In the "Ultimate Get Well Card", children see their name personalized on the front of the card, which then magically opens to reveal the contents on paper that come to life and fill the room. As the child interacts with the card, the images float forward and flip over to reveal heartwarming content. Utilizing both text and embedded video, the intent is to surround the child with genuine and sincere holiday messages.
This is a beautiful project utilizing the now-defunct Blippar AR platform. The children simply hold up an iPad which comes in a custom-designed holder to make it easy for them to interact with the experience. And with the rapidly evolving AR landscape, we will have so many more options in another year as devices such as Magic Leap's Lightwear glasses become available.
For the holiday season, using Augmented Reality and crowd-sourced messaging can make for a powerful statement. Honda's AR holiday card video already has over 2.4 million views. But surprisingly, only 27K likes. So take a moment, drop by Honda's Facebook video and add a like.
You'll make the world just a little bit better. And that's the nicest thing you can do this time of year.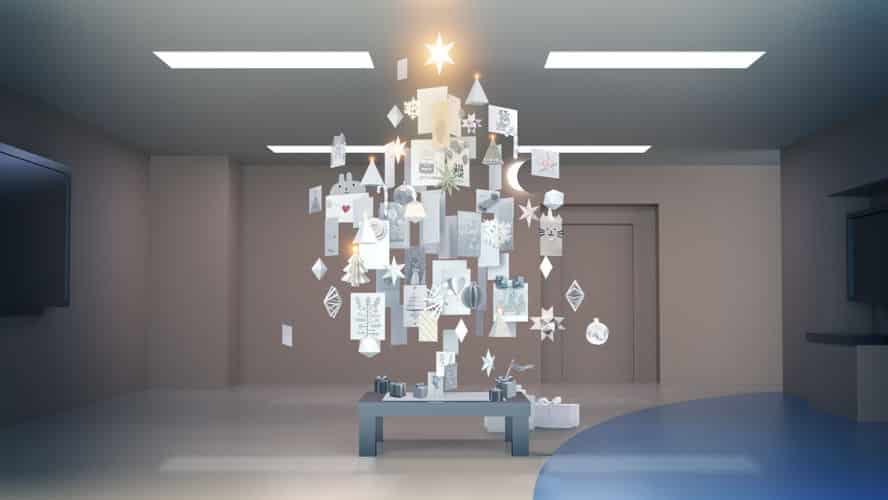 Emory Craig is a writer, speaker, and consultant specializing in virtual reality (VR) and artificial intelligence (AI) with a rich background in art, new media, and higher education. A sought-after speaker at international conferences, he shares his unique insights on innovation and collaborates with universities, nonprofits, businesses, and international organizations to develop transformative initiatives in XR, AI, and digital ethics. Passionate about harnessing the potential of cutting-edge technologies, he explores the ethical ramifications of blending the real with the virtual, sparking meaningful conversations about the future of human experience in an increasingly interconnected world.