We'll be following the live-stream this morning of the Microsoft Future of Computing event from Mobile World Congress in Barcelona. HoloLens was introduced four long years ago. Let's see Microsoft plans in spatial and Holographic computing.
Here's the presentation and below our notes and initial reaction to the release of HoloLens 2:
Notes from the Microsoft event
Satya Nadella: talked about how three developments are driving the future of computing:
Computing is longer confined to a device – it's everywhere.
Major breakthroughs in AI – mediating our interactions
Putting people at the center instead of the device
It's not about what computers can do but what they should do. The technology needs to recede into the background.
There will be 20 billion connected devices by 2020.
First announcement: Microsoft Azure Kinect that can be used independently or with other devices.
The Future of Computing
Alex Kipman: how can technology adapt to us instead of us adapting to technology? Customers asked for three things in their feedback: more immersion, greater comfort, and easier development of content.
HoloLens will feature automatic sign-in, instant hand-recognition, instinctual interaction, 200% increase in field of view.
As always, Microsoft delivers on the live presentations – showing off the interaction with holograms and demonstrating how HoloLens 2 will become a platform for collaborative computing. Maybe we'll finally be able to ditch our web conferencing software.
Our Initial Reaction to HoloLens 2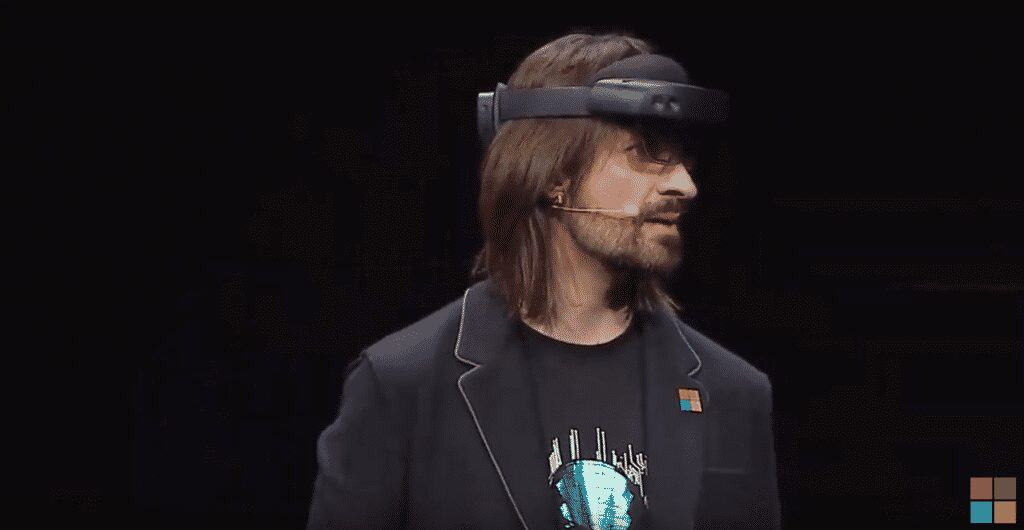 It's a remarkable advance over the original HoloLens, no doubt pushed by the rapid developments in AR and Mixed Reality. With the introduction of Magic Leap One and the AR mobile platforms from Apple and Google, Microsoft needed to get back in the game. There is a massive upgrade in the design and features. It has twice the FOV, a more comfortable design, and can recognize objects in a room. It offers a new display system and includes eye-tracking technology, which will let you sign in by simply putting the device on your head. You'll find more details on the Microsoft Blog.
WIth HoloLens 2, the visor flips up, letting you seamlessly transition in and out of a Mixed Reality environment.
As with the original version, it's a B2B device, not designed for the consumer market. It will find major applications in healthcare, worker training and safety, and it could transform the design process for many products. We'll undoubtedly see some educational applications but the cost will be a major issue in using it in the learning environment. And Microsoft is essentially ceding the Mixed Reality consumer market to others. You may have heard that huge sigh of relief from Apple (not that they had much to worry about in this area).
Perhaps most innovative will be its use in collaborative computing, putting people working remotely in the same persistent workspace.
Microsoft HoloLens 2 will cost $3,500 and is available for preorder (no shipping date was announced). It offers game-changing features for enterprise environments. But the future of computing will take more than HoloLens 2. We need an AR Mixed Reality device for the consumer market, one that – like our Smartphones – turns consumers into creators.
Emory Craig is a writer, speaker, and consultant specializing in virtual reality (VR) and artificial intelligence (AI) with a rich background in art, new media, and higher education. A sought-after speaker at international conferences, he shares his unique insights on innovation and collaborates with universities, nonprofits, businesses, and international organizations to develop transformative initiatives in XR, AI, and digital ethics. Passionate about harnessing the potential of cutting-edge technologies, he explores the ethical ramifications of blending the real with the virtual, sparking meaningful conversations about the future of human experience in an increasingly interconnected world.