Jump Simulation is distributing a wonderful AR activity book to children at OSF HealthCare Children's Hospital of Illinois. The 22-page, 3-D interactive coloring-activity book focuses on anatomy and relies on an AR app on a Smartphone.
Jump Simulation is a collaboration between OSF HealthCare and University of Illinois College of Medicine Peoria (UICOMP). Their goal is to improve outcomes and use VR and AR simulations to lower health care costs through the training of healthcare professionals.
Jump Simulation offers a wide range of programs to middle school students to introduce engineering and healthcare opportunities in their STEAM (Science, Technology, Engineering, Art and Math) program. The AR activity book is just another example of the rapidly growing number of creative virtual and augmented reality projects in healthcare.
AR Activity Book for fun and learning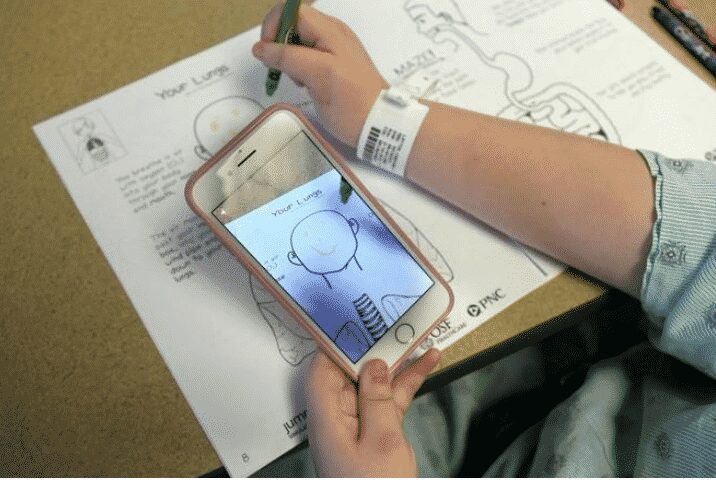 The AR book will be used by Child Life Specialists not only to entertain children but help them learn about their bodies. According to John Vozenelik, vice president and chief medical officer of Jump Simulation, 
We want children's hospitals all over the county to be able to use this. Our goal was to make it low cost and highly distributable. We wanted to make it something other hospitals can replicate.
Using Smartphones and books that can be downloaded and printed at the hospital, it's a refreshing change from the usual high cost of providing any activity in a medical setting.
Though it's designed to be fun, the activity book is actually a powerful teaching tool which explains the various systems in the body with the help of virtual reality. The book was funded through a $400,000 grant from PNC Foundation with the goal of expanding Jump's STEAM (science, technology, engineering, art, and math) program to students who are patients at Children's Hospital. The ultimate goal is to reach nearly 23,000 kids in five years by distributing it at hospitals everywhere. (Pekins Daily)
Here's a quick look at the AR activity book.
Projects like this are the beginning of the way AR and VR will transform healthcare. The future will look back and wonder how people practiced medicine without having access to VR and AR simulations. Just as we today find it inconceivable that patients suffered through medical procedures without the use of anesthesia.
Emory Craig is a writer, speaker, and consultant specializing in virtual reality (VR) and artificial intelligence (AI) with a rich background in art, new media, and higher education. A sought-after speaker at international conferences, he shares his unique insights on innovation and collaborates with universities, nonprofits, businesses, and international organizations to develop transformative initiatives in XR, AI, and digital ethics. Passionate about harnessing the potential of cutting-edge technologies, he explores the ethical ramifications of blending the real with the virtual, sparking meaningful conversations about the future of human experience in an increasingly interconnected world.