We hope you can join us for an EDUCAUSE Live Webinar at 1:00 pm (ET), today, December 14, 2017. We will be doing an overview of our articles "VR/AR: Stepping into the New Frontier of Learning" which are published in the EDUCAUSE Review.
Over 300 people have registered so we're looking forward to a great discussion!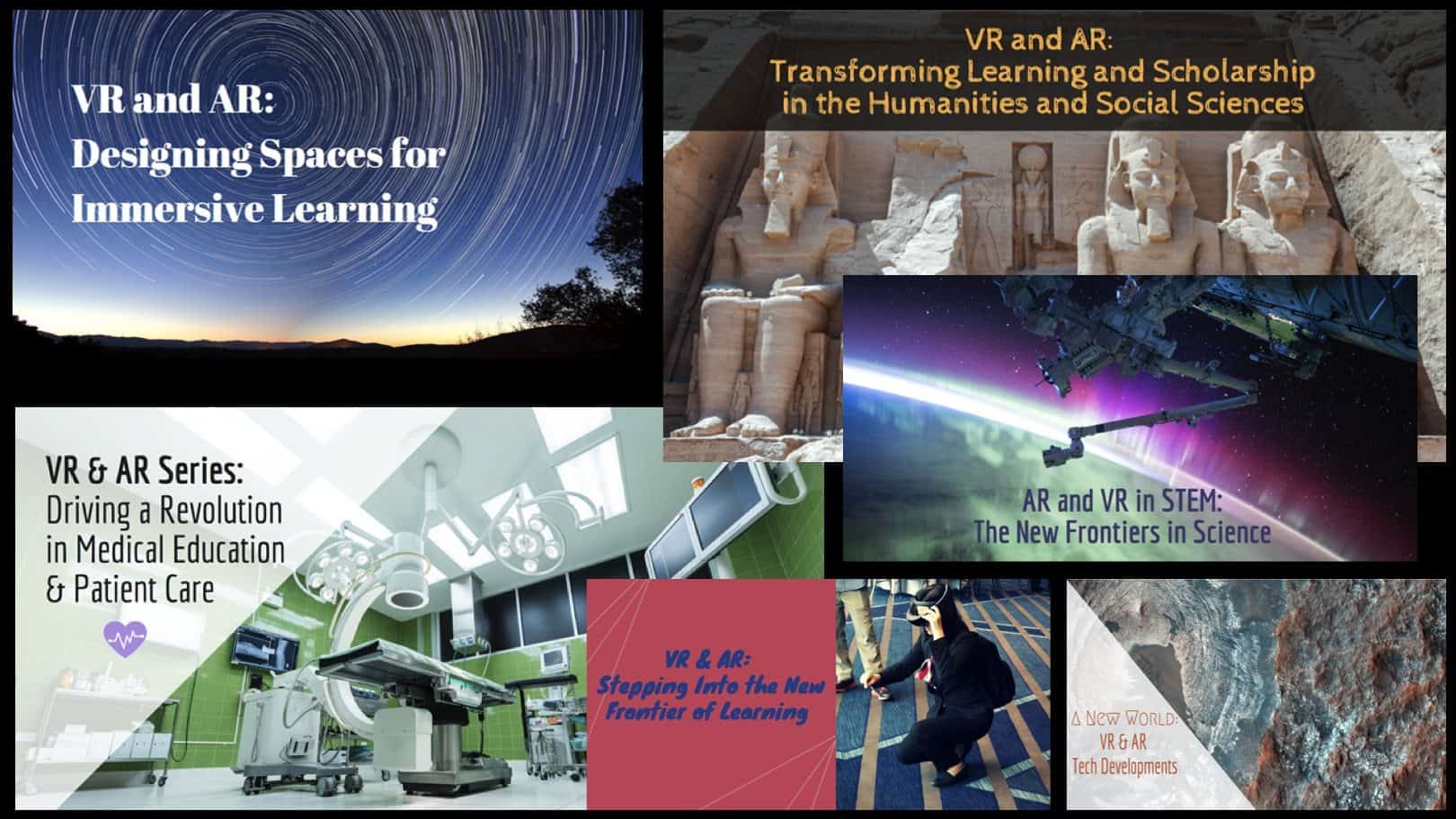 The new frontier of learning
Here's the description of the event:
With VR and AR, we stand on the cusp of a new revolution in learning. This webinar shares insights from the EDUCAUSE Review Transforming Higher Ed Immersive Learning Series, "VR and AR: Stepping Into the New Frontier of Learning." The series covered examples in STEM, digital humanities, storytelling and AI, medical education, and learning space design.
As we move into 2018, it is an opportune moment to highlight implementations and trailblazing projects. What initiatives are pushing AR and VR forward? What makes these projects stand out? Have institutions and programs faced unexpected challenges? Can we begin to identify emerging practices that will shape future learning environments?
As with the original series, the presenters are motivated not by the technology, but by its promise to bring about new models of learning that will lead to student success. Join us as we explore developments in immersive technology that will shape the future of education.
Outcomes
Gain insight into immersive learning technology and emerging practices
Identify opportunities for VR and AR in the learning environment
Understand how learning will be transformed by immersive technologies
Stepping into the New Frontier of Learning Immersive Learning series:
How to access the webinar
You can access the webinar on the EDUCAUSE conference and event site. Registration is free for EDUCAUSE members and $100 for nonmembers.
We hope you can join us for a discussion of the "VR and AR: Stepping into the New Frontier of Learning" series. If you're unable to, the webinar will be archived and available later on the EDUCAUSE site.
Emory Craig is a writer, speaker, and VR consultant with extensive experience in art, new media, and higher education. He speaks at global conferences on innovation, education, and ethical technology in the future. He has published widely and worked with the US Agency for International Development, the United Nations, and the Organization for Economic Co-operation and Development (OECD). Living at the intersection of learning, games, and immersive storytelling, he is fascinated by AI-based avatars, digital twins, and the ethical implications of blurring the boundaries between the real and the virtual.