Can you really go wrong when you use Google's Tilt Brush – one of our favorite Virtual Reality tools – to render the characters in Star Wars? Here's a fascinating example of six artists doing a collaborative VR painting of the iconic movie series.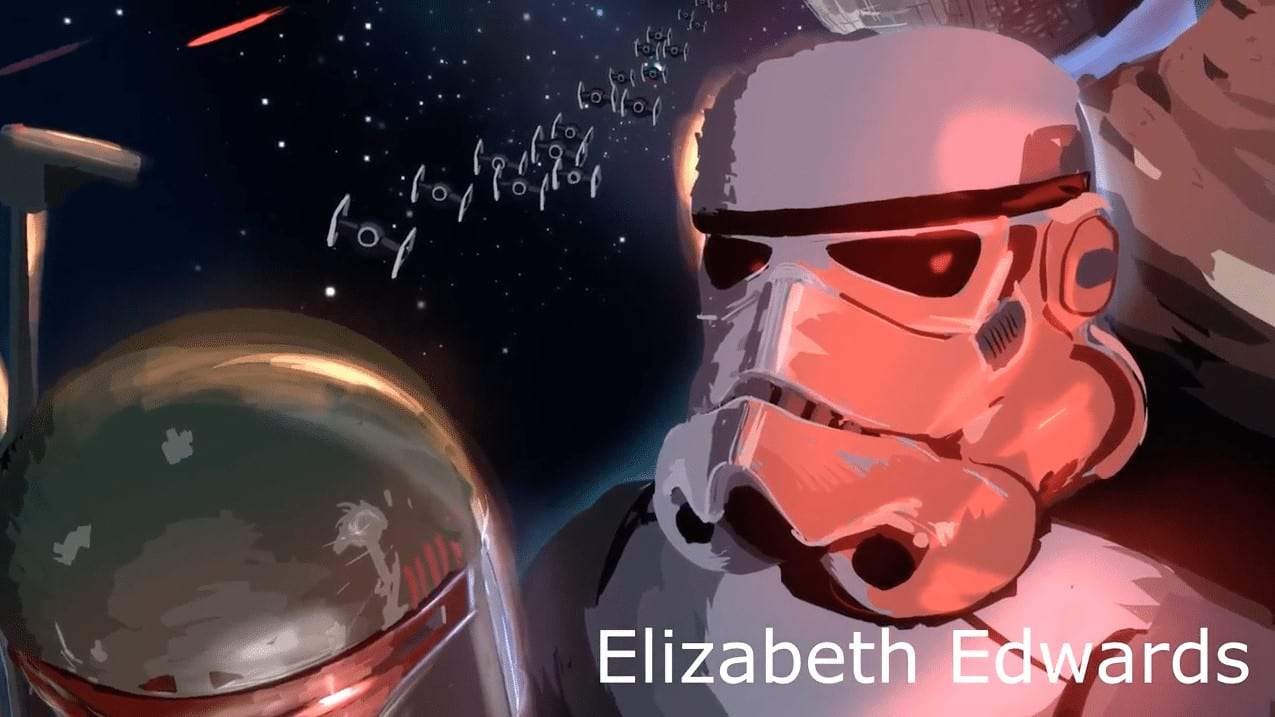 And it's just in time as Star Wars: The Last Jedi shows up in the theaters on December 15, 2017.
Available on the HTC Vive and Oculus Rift, Tilt Brush is a full-featured VR painting and drawing platform that lets you select from a range of different colors, strokes, and effects. As Google puts it,
Your room is your canvas. Your palette is your imagination. The possibilities are endless.
Of course, Tilt Brush is not the only way to recreate a scene from Star Wars in VR.  Take a look at the original Death Star in the first movie (1977) at the University of Illinois at Chicago (UIC) in their Electronic Visualization Laboratory (EVL).
But Tilt Brush is easy, fun, and increasingly lends itself toward collaborative projects. Google's right about the possibilities.
Here's the short video of the Star Wars VR painting – it should be in a 360 video which would do it justice (if that does arrive, we'll update). Though it actually needs to be seen in Tilt Brush so that you can walk around it – and even through it.
A Star Wars VR Painting
As VR Scout notes,
. . . whenever we see artists band together to unleash the full creative potential of Tilt Brush remixing, we get excited. And that's what one group of six artists did, all working on a single piece just in time for Star Wars: The Last Jedi that hit theaters this weekend.

One after the other, artists Estella Tse, Elizabeth Edwards, Anna Zhilyaeva, Micah404, 3Donimus, and Vladimir Ilic all took turns building on top of each other to create this epic Tilt Brush Star Wars painting.
If you're interested in seeing more work of the six artists, there are links in the description for the YouTube video.
When it comes to doing art in virtual reality, we have a long way to go. But projects like this are a glimpse of where we're headed. It will not only transform our creative endeavors but our very understanding of artistic collaboration and community.
Emory Craig is a writer, speaker, and consultant specializing in virtual reality (VR) and artificial intelligence (AI) with a rich background in art, new media, and higher education. A sought-after speaker at international conferences, he shares his unique insights on innovation and collaborates with universities, nonprofits, businesses, and international organizations to develop transformative initiatives in XR, AI, and digital ethics. Passionate about harnessing the potential of cutting-edge technologies, he explores the ethical ramifications of blending the real with the virtual, sparking meaningful conversations about the future of human experience in an increasingly interconnected world.