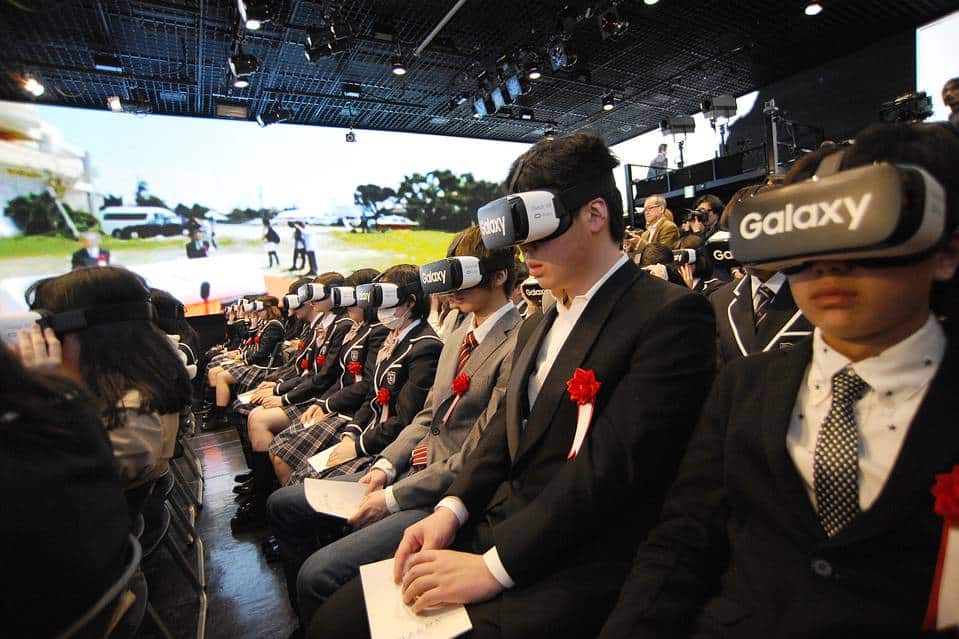 Ready those VR headsets for your students! Here comes a virtual reality school meeting in Japan. It's not face-to-face, but definitely more engaging than watching the opening ceremony on a rectangular screen. And the technology may transform learning.
Once those bulky VR headsets shrink down in size, VR meetings will become commonplace in business and education. Especially in online learning environments.
To see a more recent assessment of how students in Europe and America see the future of VR in education, take a look at the Foundry10 study of over 1,300 high school students.
A Virtual Reality School Meeting
Here's the details from the Wall Street Journal:
Some students at a new online high school in Japan attended their opening ceremony Wednesday by donning virtual reality headsets.

The N High School, operated by publishing and media company Kadokawa Dwango Corp., said 73 of its 1,482 freshmen attended the virtual ceremony held in Tokyo. Their headsets were connected with the school campus more than 900 miles away in Okinawa, where the school's headmaster spoke. The students were also treated to a 360 degree view of the campus inside the augmented reality.
Misa Nishimoto, a spokeswoman at Dwango Co. said,
We wanted the students to experience the environment of Okinawa using the Gear (VR). We are aiming to nurture tech-savvy students, so it was also a chance for them to experience the headset firsthand.
N High School and VR
It's hardly a surprise to see this coming out of the N High School. The online school is a joint project of the major publishing house, Kadokawa Corp. and the video-sharing site run by Dwango Co. It is designed as a sharp counterpoint to the traditional Japanese educational system with its focus on cramming information for standardized exams.
According to one of the founders, Hirokazu Okuhira,
Roughly 98 percent of children go to high school nowadays, and about half of them go to college. But about 30 percent of university graduates quit their job within three years . . . Many of them start working without realizing what they really want to be.
So far, the school has enrolled over 1,400 students. The ambiguous "N" in the name could stand for anything from "New", "Next" or "Necessary". Okuhira continues,
We no longer live in an era where graduating students (start working in factories all doing) exactly the same thing . . . But people are still afraid to be different.
Innovation in education has a long ways to go across the globe but it's no surprise to see a school in Japan do a trial run of virtual reality. The country is home to the huge 3D and Virtual Reality Expo (June this year), a trade show that brings together entertainment, manufacturing, telecommunications, production companies and universities. It has a long history of technology innovation, an incredibly rich and creative gaming culture, and Tokyo will be the site of one of the first major virtual reality arcades.
Today a Voyeur, Tomorrow a Participant
Right now, a virtual reality school meeting means that you're just a passive voyeur – experiencing an immersive environment, but unable to interact with it. That will change in the next few years as VR becomes interactive and social.
And that will definitely impact online learning. And a whole lot more.
Emory Craig is a writer, speaker, and VR consultant with extensive experience in art, new media, and higher education. He speaks at global conferences on innovation, education, and ethical technology in the future. He has published widely and worked with the US Agency for International Development, the United Nations, and the Organization for Economic Co-operation and Development (OECD). Living at the intersection of learning, games, and immersive storytelling, he is fascinated by AI-based avatars, digital twins, and the ethical implications of blurring the boundaries between the real and the virtual.