Here's a great video on virtual reality using the SteamVR platform and HTC Vive headset. You'll see VR games and experiences from the growing SteamVR catalog.
CNET may not have given the HTC Vive five stars, but still said,
You remember the holodeck from "Star Trek"? Or, maybe, the Ray Bradbury story "The Veldt." Virtual reality is one thing, but a whole room that can come alive and be your space is a different type of spatial magic. And right now, the HTC Vive deals in that magic exclusively.

Much like the Oculus Rift — the best known virtual reality system out there — HTC Vive runs on high-end gaming PCs. It's tethered with long cables that run to that PC. But Vive also adds the hardware to interact with spaces with your hands, and to walk around too. A pair of motion controllers and two light-emitting boxes turn a space of your own into a mapped grid.

You're not just entering VR. A chunk of your home is, too.
The HTC Vive is shipping now and unlike Oculus, the hand controllers are included. The full room sensing feature turns your living room into a virtual playground.
And it will do the same for education once we figure out how to integrate VR into our learning spaces.
Virtual Reality – SteamVR
Here's the full list of games and experiences in the SteamVR video. We've done most of these and some, like Irrational Exuberance, EverestVR, and theBlu, will remain enduring experiences in our journey into virtual reality.
This is a world of play, imagination, challenges and learning. And sometimes, just breathtaking, stop-you-in-your-tracks beauty.
The Lab
theBlu
Job Simulator
Cloudlands: VR Minigolf
Fantastic Contraption
Irrational Exuberance
Audioshield
Final Approach
Space Pirate Trainer
Everest VR
Arizona Sunshine
Elite Dangerous
Budget Cuts
Hover Junkers
Tilt Brush
The Gallery – Episode 1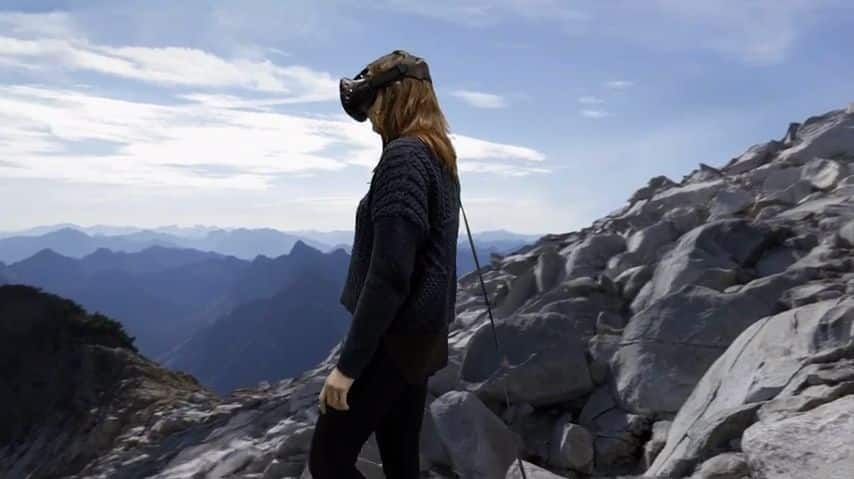 Emory Craig is a writer, speaker, and consultant specializing in virtual reality (VR) and artificial intelligence (AI) with a rich background in art, new media, and higher education. A sought-after speaker at international conferences, he shares his unique insights on innovation and collaborates with universities, nonprofits, businesses, and international organizations to develop transformative initiatives in XR, AI, and digital ethics. Passionate about harnessing the potential of cutting-edge technologies, he explores the ethical ramifications of blending the real with the virtual, sparking meaningful conversations about the future of human experience in an increasingly interconnected world.