Join us this Thursday, July 23rd, at 10:15 am PDT / 1:15 pm EDT for the next stage in our Humersive Learning project. We're doing a highly interactive session at the ShapingEDU Learning (Hu)Man conference and need your ideas and insights! You can register for the session here.
The Humersive Learning Project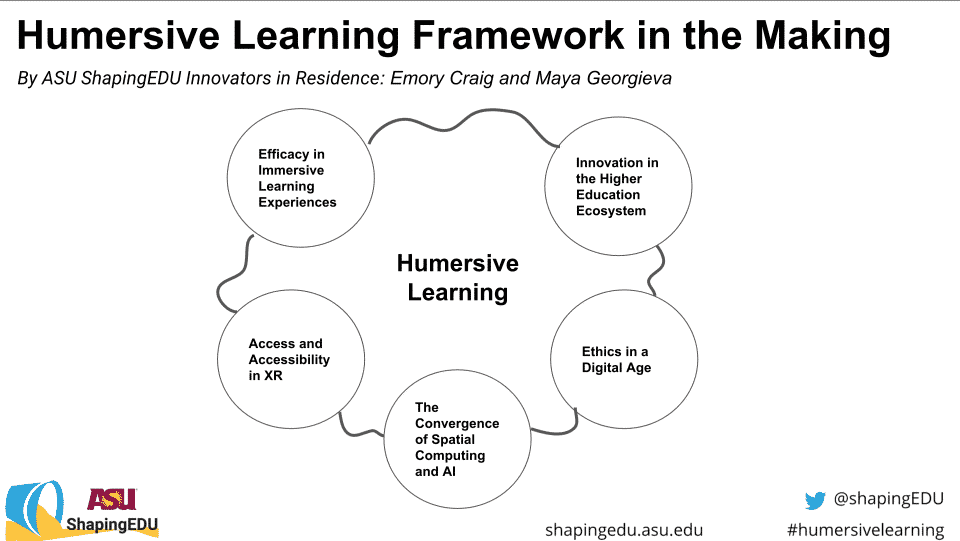 The Humersive Learning project responds to several themes from the 2019 ShapingEDU Unconference (here is the original project announcement).
The Project will consider human and student experience in the context of emerging technologies and the convergence of extended reality (XR) and artificial intelligence (AI). We will explore how virtual environments and immersive technologies could profoundly reshape learning and social interactions. The Project will share research on the efficacy of XR learning experiences, identify critical socio-cognitive needs for XR in education and explore the possibilities for peer-review of content.
Throughout the project, our guiding question is how we can humanize XR and AI technologies while simultaneously fostering innovation that will bring disruptive change to education. It's a challenge that has only increased with the vast expansion of remote learning during the COVID-19 pandemic. The XR headsets and immersive experiences we have today are only forerunners of what will come in the next few years. XR will bring incredible opportunities to transform learning and profound ethical challenges.
This will be a hands-on working session – with all of you contributing your insights in an interactive virtual space. Here is the session description:
The ShapingEDU Hummersive Learning project asks critical questions about the human and student experience in the context of emerging technologies and the convergence of extended reality (XR) and artificial intelligence (AI). Join us as we continue to explore and map the five pillars of the framework:

Efficacy in Immersive Learning Experiences
Access and Accessibility in XR
The Convergence of Spatial Computing and AI
Ethics in a Digital Age
Innovation in the Higher Education Ecosystem

Walk the digital map, see examples and emerging practices, and make your mark by contributing to a framework in the making. In this interactive, discussion-driven, part prototyping, and design-thinking session, we invite you to participate and act as we rethink what defines humanizing learning in a digital age.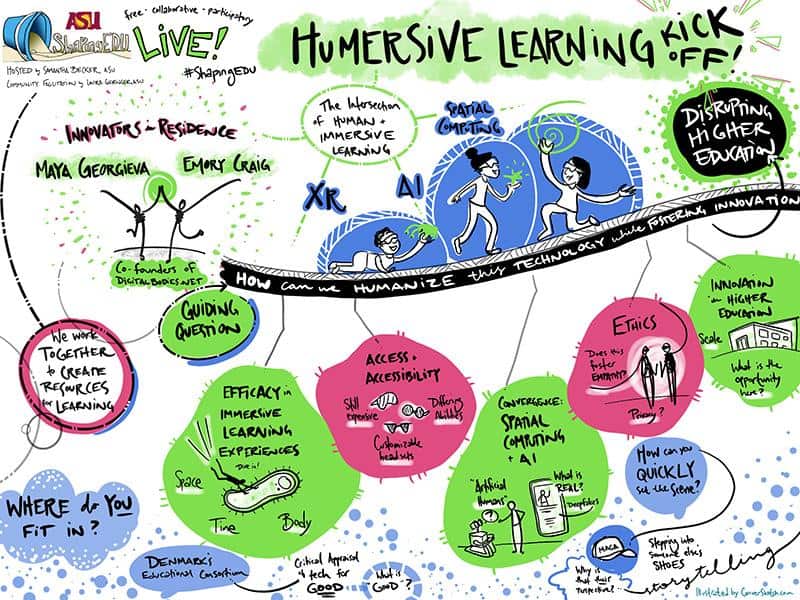 The Learning (Hu)Man Conference
Here is more about the Learning (Hu)Man conference:
Learning(Hu)Man 2020 is an experimental fusion of hands-on learning, storytelling, tech hacks and the good kind of shenanigans. In short, it's total camp. Summer camp! This weeklong series of events will convene a global community of education changemakers to push the creative envelope for how we serve students and advance learner success.
The conference runs from July 20-27, with virtual online sessions every day. Registration is free, and you can get access here.
Join us in Exploring the Future of Learning!
The Humersive Learning Project is not only about the future of education, but how we will learn, work, and live in the future. If you've been part of the project, join us again for the next stage. If you haven't shared your insights, now is the time! 
Join us for a thought-provoking discussion and the opportunity to help shape our future in AI-infused immersive environments and virtual worlds.
We'll see you in the Metaverse!
Emory Craig is a writer, speaker, and consultant specializing in virtual reality (VR) and artificial intelligence (AI) with a rich background in art, new media, and higher education. A sought-after speaker at international conferences, he shares his unique insights on innovation and collaborates with universities, nonprofits, businesses, and international organizations to develop transformative initiatives in XR, AI, and digital ethics. Passionate about harnessing the potential of cutting-edge technologies, he explores the ethical ramifications of blending the real with the virtual, sparking meaningful conversations about the future of human experience in an increasingly interconnected world.