Understanding the 2021 VR market is a guessing game, given that Facebook doesn't release sales data. And, of course, sales don't necessarily reflect how often VR headsets are being used. But the data in Valve's SteamVR platform from their monthly Steam Hardware & Software Survey sheds some light on where we are.
As for where VR is headed in the coming year, much may depend on developments emerging over the next few weeks.
The 2021 VR Market According to SteamVR
The latest data reveals a fascinating shift with the Valve Index HMD overtaking Facebook's Oculus Rift as the second most used headset on SteamVR.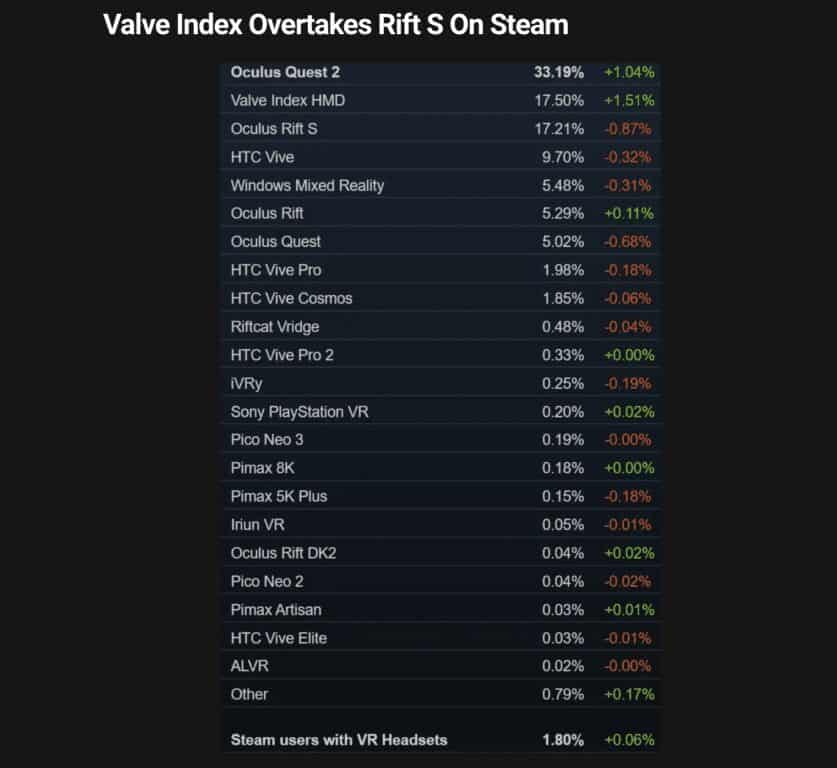 It's surprising given the cost for the complete Valve kit ($999), plus you'll need a good PC to run it. And unlike the standalone Oculus Quest series, it's a wired headset with external sensors. While it's reasonably straightforward to set up, it can't begin to match the flexibility of the Quest for use in different locations. As good as the Valve Index is, it's not ideal for classrooms or on-site employee training and works best as a permanent installation in an XR lab.
As in prior months, Facebook remains the dominant player, with 60% of the market held by the Quest and Rift series HMDs. Everyone else carves out what's left, running into cost issues (Pimax), marketing issues (Pico), or a lack of commitment (Sony's next-gen headset is coming, but it will be their first new HMD since 2017).
What Happens Over the Next Few Months?
The rest of 2021 promises to be a fascinating ride for the future of VR. We have the upcoming Facebook Connect conference at the end of this month. Rumors are that there may be an Oculus Quest Pro in the works, and we'll undoubtedly have more news on the new not-quite-AR Smartglasses from Ray-Ban, along with further details on Mark Zuckerberg's take on the Metaverse (or, more accurately, Facebook's version of the Metaverse).
Right before Facebook Connect, HTC has scheduled an event on the Engage platform (use the RSVP form to register). That could bring the release of something as simple as new hand controllers to AR Glasses or an entirely new HMD. Looking at their teaser image for the announcement, it appears that they'll release either AR Glasses or some form of foldable VR headset (that the person is sitting with a laptop makes no sense at all). Alvin Wang Graylin, President of Vive China, said the event will bring "big news in a small package."
And are you ready for "Deckard," the code name for Valve's new headset? Rumors are swirling around Valve's latest patents and hidden code, which suggest they may be working on a standalone VR headset to compete with the Oculus Quest.
Facebook's Rough Patch May Impact the VR Market
If that's not enough, Facebook had a rough September with more bad news coming Sunday night with the 60 Minutes interview with whistleblower Frances Haugen detailing how the company benefits from and actively conceals how its platforms are used to spread misinformation, hate, violence. That may not sound directly related to the 2021 VR market, but the advances in the Oculus Quest are mainly due to the extensive financial resources Facebook can draw upon. If their advertising revenue is impacted by public perception or regulation, that could derail the pace of development for the Quest lineup.
Where we go from here is anyone's guess. Facebook's work has resulted in innovative advances and significantly lower-cost VR headsets. But with opposition to the Facebook account requirement and growing concerns over the impact of social media on society, the 2021 VR market may be ready to move in a new direction.
And while this drama plays out, Apple is sitting silently in the wings and working feverishly behind closed doors . . . ready to pounce on the AR/VR market when the time is ripe.
Emory Craig is a writer, speaker, and consultant specializing in virtual reality (VR) and artificial intelligence (AI) with a rich background in art, new media, and higher education. A sought-after speaker at international conferences, he shares his unique insights on innovation and collaborates with universities, nonprofits, businesses, and international organizations to develop transformative initiatives in XR, AI, and digital ethics. Passionate about harnessing the potential of cutting-edge technologies, he explores the ethical ramifications of blending the real with the virtual, sparking meaningful conversations about the future of human experience in an increasingly interconnected world.