The Haptx VR Glove was a major hit at the Sundance Film Festival. Demos of haptic tech at film festivals are becoming more common as media plunges toward a fully immersive experience.
Here's the short promo video – it kind of gives you the chills just watching it:
Making VR feel real is one of the major technical challenges of the new medium. VR headsets are getting better, with the new HTC Vive and Pimax's simulated 8K experience arriving before this summer.
But touch is another story. Remember the excitement when hand-controllers first appeared on the scene? But seriously, the novelty wears off.
We wave hand-controllers around, push buttons and point at objects to "pick them up". It's completely counter to our real-world experience and there's no tactile feeling, no sense of something being heavy or light, soft or prickly.
There's just a world of difference between holding a scoop of jello or a spider in your hand.
We want more than a visual experience. We want to feel fully immersed in another world. If we really want the Holodeck, we need to be able to touch and smell everything inside it.
Haptx's VR glove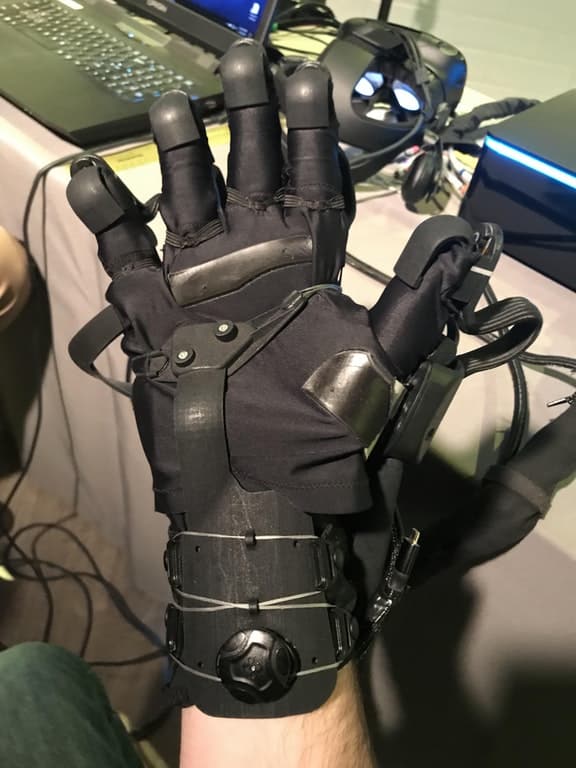 Haptx recently rebranded itself from AvonVR so it's not entirely new to the scene. The reason for the name change? They didn't want to link their product only to virtual reality. As their Director of Marketing, Andrew Mitrak, noted, there's VR, AR, MR and the catch-all term XR. Haptx is designing their VR glove to work in any of those formats, bringing the sense of touch to all of our immersive experiences.
Their glove creates haptic feedback via a microfluidic smart textile. It's an ingenious solution that provides an intense degree of realism. Yes, you can feel a solid object, but just as easily – and creepily – the thin legs of a spider in your hand.
Our flexible, silicone-based smart textile contains an array of high-displacement pneumatic actuators and embedded microfluidic air channels.The actuators provide haptic feedback by pushing against the user's skin, displacing it the same way a real object would when touched. High-performance, miniature valves accurately control the pressure of each actuator to create a virtually infinite variety of sensations—texture, size, shape, movement, and more. An optional second layer of microchannels can add temperature feedback by delivering variations of hot and cold water.
This is industrial grade tech, so don't expect to find it in the consumer market in the near future. Here are the three areas Haptx is targeting with its VR glove:
Training and simulations for industrial and medical applications
Design and manufacturing of automotive and aerospace applications
Location-based entertainment for high-end theme parks
The Challenge in the Haptic space
Of course, the challenge of haptic tech lays in the technology. The more it can do, the larger and more complicated the device. Haptic vests are progressing quickly but that only gives you bodily sensations. They can be amazing – for example, the directional force-feedback in the Rapture vests used by The Void experience – but our hands are central to our interaction with the world.
Haptx's VR glove may feel like you're strapping on a huge mechanical arm at the moment. But once you step into a VR experience with it, the virtual gets very, very real.
Emory Craig is a writer, speaker, and consultant specializing in virtual reality (VR) and artificial intelligence (AI) with a rich background in art, new media, and higher education. A sought-after speaker at international conferences, he shares his unique insights on innovation and collaborates with universities, nonprofits, businesses, and international organizations to develop transformative initiatives in XR, AI, and digital ethics. Passionate about harnessing the potential of cutting-edge technologies, he explores the ethical ramifications of blending the real with the virtual, sparking meaningful conversations about the future of human experience in an increasingly interconnected world.