Seeing your body in VR is a surreal experience as the Swiss company Imverse revealed in a compelling project at Sundance 2018. This has been a remarkable year for virtual reality at the well-known film festival in (snowy) Park City, Utah. We've already seen Spheres: Songs of SpaceTime pull in the first seven-figure deal for VR in the film industry. And Wolves in the Walls is one of the most compelling immersive storytelling experiences to date.
Years from now when we look back on the development of virtual reality in our era, the projects at Sundance will be seen as groundbreaking.
Imverse's approach to revealing your body in VR
Back to seeing your body in VR. If you follow immersive tech developments, you know this has been done before. Intel's Project Alloy pulled it off using their RealSense 3D Cameras. Their demo of actual hands and objects sculpting virtual objects was breathtaking. More than a few of us thought we saw the future in their "Merged Reality" platform.
But it wasn't to be. The project was canceled a year ago due to lack of partner interest. Actually, the interest was there – but the projected costs was putting the HMD's out of reach. And there were technical challenges in processing massive amounts of data from cameras mounted in the HMD.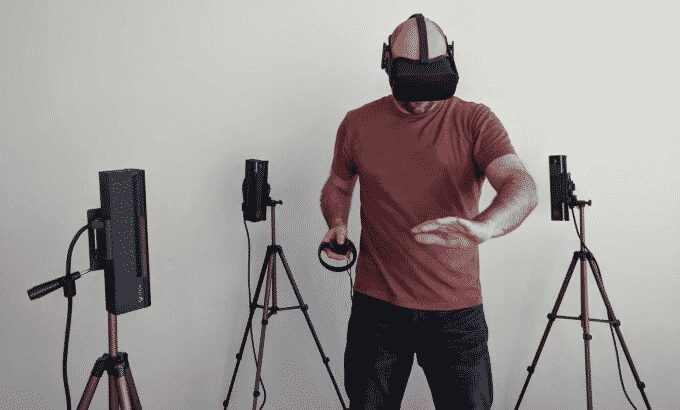 The solution Imverse provides may not be quite as good as Intel's in defining the shape of your hands, but it's much more practical. Off-load the body-scanning hardware and processing and you're back to wearing a standard VR headset.
And while Imverse's current version drops some pixels, seeing your hands and body gives you the sense of being there. Massively there, as in – I'm inhabiting this virtual space.
Here's 40 seconds of video that doesn't begin to convey how it feels to you see yourself in the virtual space.
You can also see other people in the virtual space which opens up new opportunities for social VR and multi-user collaboration.
Now step up the innovation

This would be enough in itself but Imverse takes it further. The project at Sundance utilized their Livemaker platform which turns a 360° photo into a 3D space. Livemaker software is still in beta but they already offer this service online. Send them a 360° photo and $1,500 and you'll have a complete 3D model in a common format (FBX, OBJ, etc) that you can import into Unity, Unreal, or other software.
This is the beginning of how we will democratize creativity in VR. Once it starts to move toward iMovie-like simplicity, virtual reality will be everywhere.
Imverse's Elastic Time project
The Sundance project which put your body in VR was Elastic Time. In some ways similar to the Spheres project, it deals with the effect of Black Holes on our fragile bodies (that seems to be a theme this year).
This interactive documentary has been created using state-of-the-art technology developed at Imverse SA. The volumetric 3D environment has been reconstructed from a single 2D 360° picture using Imverse LiveMaker. The real-time volumetric 3D capture of the user's body and the volumetric recording of the actor is powered by Imverse SA proprietary voxel-based graphics engine. (Imverse)
The lead artist is Mark Boulos (with key collaborators Robin Mange and Javier Bello Ruiz), an Assistant Professor of Film at Virginia Commonwealth University School of the Arts (VCU Arts). Up to now, he's primarily focused on large-scale video-art installations. The power of Elastic Time comes from pairing a creative artist with a powerful virtual reality platform.
Imverse is putting our entire bodies into virtual reality. It's an experience you don't easily forget.
Emory Craig is a writer, speaker, and consultant specializing in virtual reality (VR) and artificial intelligence (AI) with a rich background in art, new media, and higher education. A sought-after speaker at international conferences, he shares his unique insights on innovation and collaborates with universities, nonprofits, businesses, and international organizations to develop transformative initiatives in XR, AI, and digital ethics. Passionate about harnessing the potential of cutting-edge technologies, he explores the ethical ramifications of blending the real with the virtual, sparking meaningful conversations about the future of human experience in an increasingly interconnected world.