There's no shortage of applications for Virtual Reality but here a new one – EFF's VR Experience – Spot the Surveillance. The Electronic Freedom Foundation is using technology in the battle against the abuses of technology. It's an interesting twist that we'll see more of as citizens work to reign in excesses in power.
The EFF's VR experience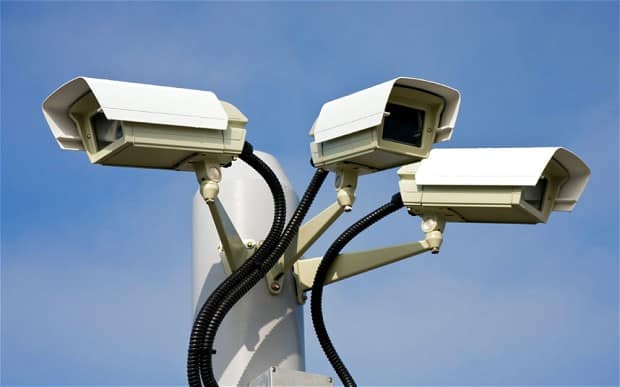 Here's the quick description from EFF,
Spot the Surveillance, which works best with a VR headset but will also work on standard browsers, places users in a 360-degree street scene in San Francisco. In the scene, a young resident is in an encounter with police. Users are challenged to identify surveillance tools by looking around the scene. The experience takes approximately 10 minutes to complete.

The surveillance technologies featured in the scene include a body-worn camera, automated license plate readers, a drone, a mobile biometric device, and pan-tilt-zoom cameras. The project draws from years of research gathered by EFF in its Street-Level Surveillance project, which shines a light on how police use, and abuse, technology to spy on communities.
You can use it with a VR viewer such as Google Cardboard or other low to midrange VR headsets and through the Mozilla browser (it will a few moments to load) at https://www.eff.org/spot-the-surveillance/
Can VR affect Change?
One of the goals of the project is to see if VR can bring about changes in behavior. EFF Web Developer Laura Schatzkin, who coded the project notes that,
One of our goals at EFF is to experiment with how emerging online technologies can help bring about awareness and change. The issue of ubiquitous police surveillance was a perfect match for virtual reality. We hope that after being immersed in this digital experience users will acquire a new perspective on privacy that will stay with them when they remove the headset and go out into the real world.
The project is funded by Mozilla's XRstudio program and a 2018 Journalism 360 Challenge grant. The latter was established by the Online News Association, Google News and the Knight Foundation.
VR and privacy
It's an interesting use of a technology that's had its own run-ins over privacy issues. 360° video may not be invading our privacy but Oculus (let's call it what it is – Facebook) is another story. The original terms of use for the Rift were astonishing – they could even track your body movements. Now the personal information is "de-identified", though that is hardly reassuring in light of Facebook's seemingly annual Apology Tour.
If you're concerned about privacy in VR, take a look at the quick recommendations from Pollengame on mitigating risk:
Change default settings of the VR gadgets.
Set up separate email addresses and passwords for devices that operate in virtual environments.
Use a VPN to make all your internet communication pass through a point-to-point encrypted tunnel. Go for something like PIA (PIA review) VPN that offers multiple VPN technologies like PPTP, OpenVPN, SOCKS5 etc.
Surveillance in the global community
In an era when a number of countries are stepping up surveillance activities both online and on the ground. To see how rapidly this is expanding, see the annual Freedom House study.
EFF's VR experience is only a small step in this area but the project could not come at a more opportune time.
Emory Craig is a writer, speaker, and consultant specializing in virtual reality (VR) and artificial intelligence (AI) with a rich background in art, new media, and higher education. A sought-after speaker at international conferences, he shares his unique insights on innovation and collaborates with universities, nonprofits, businesses, and international organizations to develop transformative initiatives in XR, AI, and digital ethics. Passionate about harnessing the potential of cutting-edge technologies, he explores the ethical ramifications of blending the real with the virtual, sparking meaningful conversations about the future of human experience in an increasingly interconnected world.