The New York Times continues its exploration of augmented reality with a creepy Halloween AR story. You want scary monsters tonight – how about the bugs and parasites that live on you? Ugh! But it is both entertaining and educational.
As Next Reality notes, it
. . . presents a series of real life parasites and pests that are scarier up-close than anything that Stephen King could dream up.
The Times article, "Monsters That Live On You", is the tenth in a series of AR experiences that includes the wonderful David Bowie's Costumes in AR. When The Times ended its Daily 360 series of 360 Video experiences, there were fears that they were pulling back from immersive technology. Instead, they've continued their VR explorations while expanding into augmented reality.
The experience is available in both iOS and Android apps on phones that can make use of ARKit and ARCore.
Your Halloween AR experience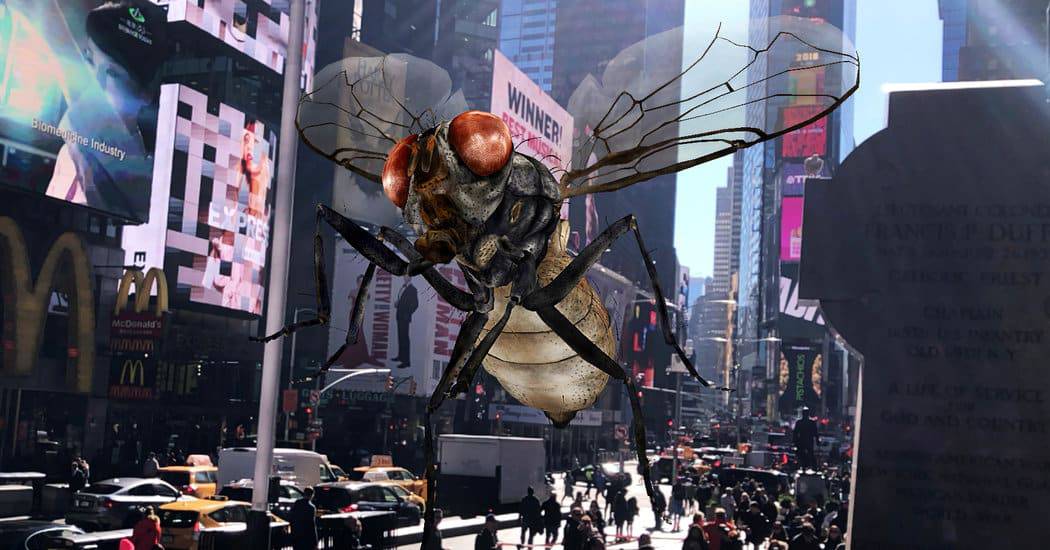 Here's the description of the experience from Next Reality.
. . . the featured creatures include the influenza virus, face mites, bed bugs, a house fly, and a cockroach that can be placed in the reader's space using the horizontal surface detection capabilities of the respective AR tookits. In a neat little enhancement to this particular story, virtual bugs crawl along the screen as users browse through.
Living and working in New York City, we'll take a pass on the cockroach experience. But it's a good example of the rapidly expanding surface detection capabilities that are essential for believable augmented reality experiences.
If the appearance of these assorted mites and parasites doesn't scare you, the numbers surely will. As the article points out,
. . . ecologist Rob Dunn . . . . and his team at North Carolina State University study the bacteria, fungi and insects that hang out in your home, and there are lots of them: As many as 200,000 species are your roommates!
That's species, not individual living forms. Talk about co-working, co-living, co-creation, there's an entire city right inside your home. It's Halloween – you won't be sleeping alone tonight.
A new AR interface
The NY Times made some changes in the interface in rolling out the Halloween AR experience. According to Graham Roberts, director of immersive platforms and co-director of the virtual reality program for NYTVR,
We've started to implement some design changes now that we've had a few months of designing these under out belts. We found that the 'scroll-jacking' we were using in iOS and Android to enter these experiences was a bit frustrating for some readers and had mixed results. Meaning, readers would sometimes not be scrolled into the window properly or have other issues when entering and leaving each AR moment. The new design does away with scroll-jacking and leaves it to the viewer to go full screen only if they desire. We've also implemented a completely interface-free mode in full screen. After a few seconds all interface elements fade off. They can be brought back with a tap.
As Robert points out, it makes for an easier experience with the user controls only available as you need them.
Entertaining and educational now, but what about the future?
As augmented reality develops, we'll see an avalanche of AR experiences like this. They will make science much more accessible, bringing it directly into our lives. It's had to get more direct than virtual parasites crawling across your screen.
Entertaining and educational now but it raises a fundamental challenge for science in the future. The creation of these experiences won't be solely in the hands of reputable organizations like The Times. Right now, the content creation tools still require expertise. But as those tools are democratized and in the hands of everyone, the question of the truth and authority of AR experiences will arise.
That's a development that is both fascinating and troubling. Science itself thrives on open discourse. But it also relies on peer review, editorial authority and verifiability. Contrast that to the free-for-all of our current social media environment. When AR experiences can be created by anyone, will scientific truth suffer the same fate as the news media?
Of course, it won't you say. But people said the same about the news media back around the turn of the millennium.
But we're not trying to overly scare you tonight – just enjoy the Halloween AR experience. And course, Happy Halloween from Digital Bodies.
Emory Craig is a writer, speaker, and consultant specializing in virtual reality (VR) and artificial intelligence (AI) with a rich background in art, new media, and higher education. A sought-after speaker at international conferences, he shares his unique insights on innovation and collaborates with universities, nonprofits, businesses, and international organizations to develop transformative initiatives in XR, AI, and digital ethics. Passionate about harnessing the potential of cutting-edge technologies, he explores the ethical ramifications of blending the real with the virtual, sparking meaningful conversations about the future of human experience in an increasingly interconnected world.