The arrival of the new Vive Focus standalone headset makes one thing clear – 2019 will be the year we go cable-free with our VR headsets. Facebook's Oculus Quest will be out in the (probably late) spring and other devices are coming.
That sound you're hearing is a huge sigh of relief from us.
Let's face it, tethering a VR headset to a computer has always been problematic on multiple levels. Connecting to another device adds potential points of failure. And mobile setups become complicated when you have to lug a gaming laptop and base stations with you.
Even if you have everything permanently installed in your own VR Lab, there will be times when you'll want to do virtual reality in a public area. Of course, that doesn't apply to something like the Virtual Reality Design Lab (VRDL) at the University of Minnesota which went with a lobby/courtyard setting in the first place (a fascinating solution).
The Vive Focus standalone headset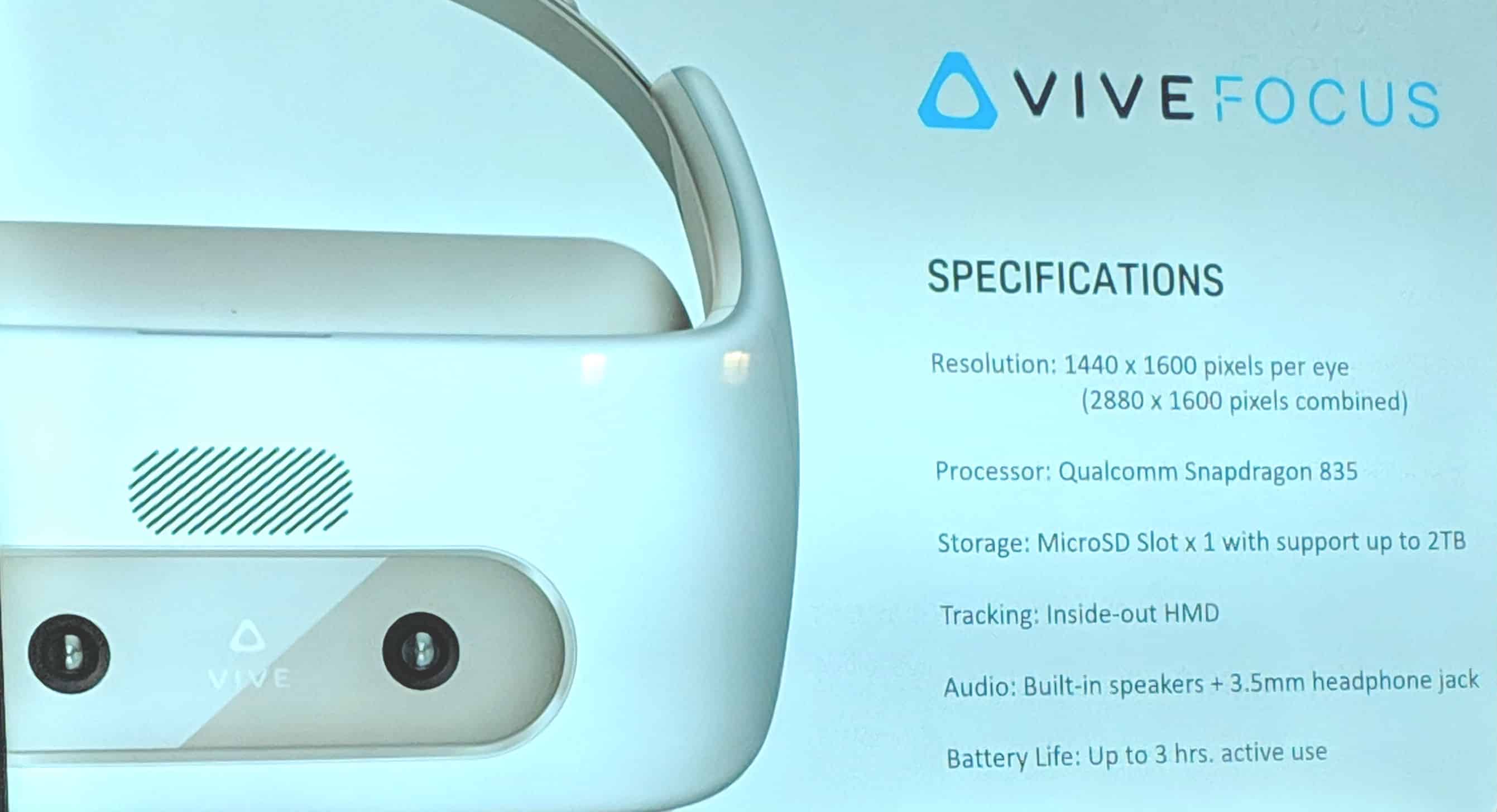 HTC's Vive Focus arrived earlier this year but was limited to China. When they cut the ties to Google's Daydream platform, it almost seemed like they were giving up on the U.S. market. But now they're providing content through the Vive Store with HMD specs that are essentially the same as the version released earlier in China.
However, as Variety points out, the marketing has changed as HTC is now targeting the enterprise market,
. . . it doesn't seem like HTC is looking to take on the [Oculus] Quest in the consumer market. The company billed Thursday's launch event for the headset as enterprise-focused, with an emphasis on using VR in location-based entertainment, health and safety for factory workers, as well as health tech.
There's also a significant difference in price with the Focus costing $599 to the more consumer-comfortable price of $399 for Oculus Quest.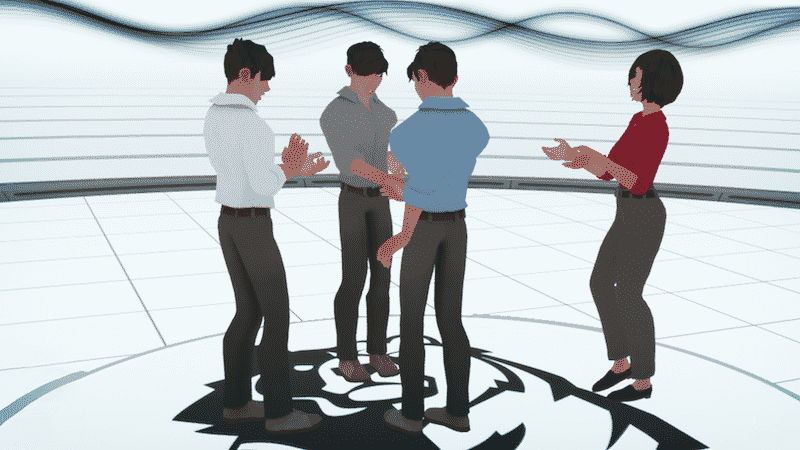 But what we find most intriguing is not the headset, but the integration of additional features including a kiosk mode and the Vive Sync workforce collaboration platform.
To make the headset more appealing to these kinds of enterprise use cases, the Vive Focus will offer a kiosk mode, batch configuration features as well as Android encryption. The company also announced a new collaboration tool called Vive Sync that effectively aims to replace conference calls with meetings in VR. What's more, the company's new Advantage plan offers various enterprise-level support features.
We see virtual reality eventually replace traditional web-conferencing. Obviously, that won't happen until headsets and collaboration platforms are more widely available. And our virtual collaboration spaces need to lose their rough around the edges quality. But Vive Sync seems to be designed primarily as a meeting space instead of an entertainment platform like AltSpaceVR. That might be just what we need to push this development forward.
What's missing here
Remarkably, HTC says little about using Vive Focus in the education sector. And that's a shame as the kiosk mode can turn it into a "fixed purpose device" which some academic programs will need. In addition, the HMD will offer the ability to batch-configure units from a single SD card, simplifying the management of multiple devices. Features like this would be welcome in many areas of the learning environment where the focus is on technical training and not the storytelling potential of VR. 
Do tethered HMDs have a future?
Despite the rush to standalone headsets, neither Oculus nor HTC seems to be giving up on their high-end tethered HMD's. Oculus has promised a new version of the Rift despite speculation to the contrary. And HTC shows no signs of giving up on the Vive Pro.
The reality, of course, is that standalone headsets are running on smartphone processors (both are powered by Qualcomm's Snapdragon 835) which limit what they can do. Deeply immersive experiences with sharp details – especially in specific fields such as healthcare and engineering – will still require advanced units.
And standalone HMDs run into the challenge all wearables face – battery life. The announced battery life of three hours is good, but it will still be an issue if you're doing day-long training sessions or running an all-day VR lab.
But HTC's new standalone headset should find widespread success even if they are targeting the enterprise sector. The Focus and Oculus Quest will open virtual reality to the broader public. And that bodes well for the future of all immersive technology.
Emory Craig is a writer, speaker, and consultant specializing in virtual reality (VR) and artificial intelligence (AI) with a rich background in art, new media, and higher education. A sought-after speaker at international conferences, he shares his unique insights on innovation and collaborates with universities, nonprofits, businesses, and international organizations to develop transformative initiatives in XR, AI, and digital ethics. Passionate about harnessing the potential of cutting-edge technologies, he explores the ethical ramifications of blending the real with the virtual, sparking meaningful conversations about the future of human experience in an increasingly interconnected world.