The Spielberg-backed start-up Dreamscape Immersive VR has arrived in Hollywood flush with partnerships, big-name figures and massive funding ($20 million in cash). Partnering with AMC Entertainment, the world's largest theater chain, we'll see virtual reality at six theaters in the US and the UK in 2018.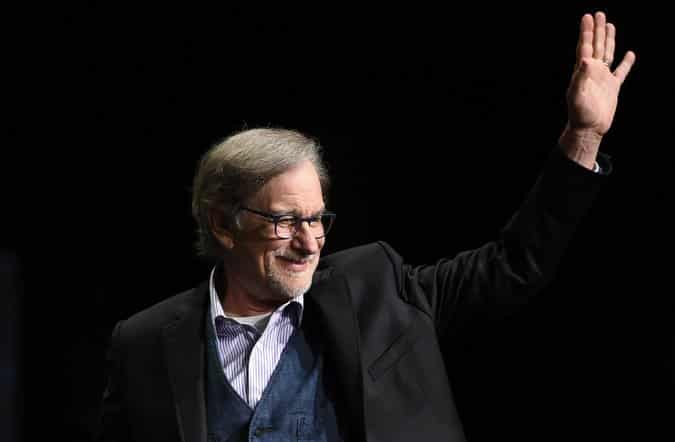 The Dreamscape-AMC partnership is not trying for the obvious movie tie-ins. Content will be original and multiplayer in format. And it has the potential to fundamentally reshape the public's experience of virtual reality.
Dreamscape Immersive VR Technology
The technology is based on the work of Artanim, a Switzerland foundation that showed off its early work with the Real Virtuality platform at the Sundance 2016 festival. The system includes a HMD, a backpack, and sensors on your hands and feet.
It was our first full introduction to multiplayer VR and we were blown away by the experience. You could touch and exchange objects with the avatar of your fellow-player with no interference from latency.
It's so realistic you don't miss the haptic feedback from a vest that multiplayer systems like The Void rely on.
Disney and The Void
Other companies are getting into the arcade installations or developing partnerships to expand their VR offerings. According to The New York Times,
The Void, a Utah start-up, recently announced a partnership with the Walt Disney Company to open "Star Wars"-themed virtual-reality experiences at Disney malls outside theme parks in California and Florida. Already operating are two Imax V.R. Centres in Los Angeles and New York; tickets start at $7, and the Los Angeles location has attracted 50,000 people over the last nine months. Imax said it planned to expand the concept to Canada, Britain and Shanghai this fall.
Dreamscape Immersive VR is taking a different approach than The Void. The Utah-based company is noted for its complex and custom-built arrangements. The partnership with AMC lets them leverage a far-flung theater chain carving out 16×16 foot sections of their public areas with railings.
There are obvious challenges in allocating space in high-priced real-estate markets like New York City and San Francisco (where even public lobby space is at a premium), but AMC has plenty of room in other theaters around the country.
A murderer's row of talent
There is another way that the Dreamscape Immersive VR experience will be different from the other arcade installations. As Bryan Bishop noted in The Verge,
The company has lined up a murderers' row of talent that is unlike any other VR startup out there. Company co-chairman Walter Parkes has credits like Gladiator and Minority Report to his name, and he also helped create the studio DreamWorks SKG. Steven Spielberg was an early investor, alongside Warner Bros., 21st Century Fox, and MGM. Yves Behar is designing the look and feel of Dreamscape's physical locations. Composer Hans Zimmer is serving as its music advisor, and as I left the company's demo stage, director Gore Verbinski (The Ring, Pirates of the Caribbean) was off to one side working on some mystery project with a pair of collaborators. If any company represents traditional Hollywood's big bet on VR, it's Dreamscape Immersive.
It will give Hollywood names the chance to play around with virtual reality without the time and expense of a full commitment. Alejandro González Iñárritu's Carne y Arena is an amazing VR experience, but it is a complete installation. A work of art and a documentary experience that cannot be easily moved or replicated in multiple locations. AMC's theaters will give Dreamscape Immersive VR the option of repositioning popular experiences.
Hollywood's VR future?
Of course, Hollywood names and funding are no guarantees of success. Remember the Spielberg and Universal Pictures GameWorks project that failed to revolutionize game arcades in the 90's? Or Disney's DisneyQuest, which promised a global chain of virtual reality centers. Only two were ever built.
But the talent, funding, and VR platform used by Dreamscape Immersive VR have tremendous potential. We're now in a different era of inexpensive and easy to use VR headsets. As Engadget succinctly put it,
To say that times have changed would be an understatement . . . – DQ is using primitive VR technology that makes even Google Cardboard look like a quantum leap.
But technology aside, the real issue here is content. This is the chance for Hollywood to stop showing VR experiences to each other at film festivals and begin to engage the larger public. If virtual reality is to make it as a storytelling medium, it has to tell stories for all of us.
Emory Craig is a writer, speaker, and consultant specializing in virtual reality (VR) and artificial intelligence (AI) with a rich background in art, new media, and higher education. A sought-after speaker at international conferences, he shares his unique insights on innovation and collaborates with universities, nonprofits, businesses, and international organizations to develop transformative initiatives in XR, AI, and digital ethics. Passionate about harnessing the potential of cutting-edge technologies, he explores the ethical ramifications of blending the real with the virtual, sparking meaningful conversations about the future of human experience in an increasingly interconnected world.