Of the retailers with brick and mortar storefronts, Zara has been one of the more innovative. Their latest move offers the option to shop through Augmented Reality.
Globally, some 120 of its flagship stores will offer an Augmented Reality experience for two weeks. It puts a new spin on the visuals of empty storefronts (NYC is full of them these days) – when a window might not be at all empty in the digital world.
No need to remind you that the company has run through its share of controversy over the past few years (most recently, the handwritten notes found in clothing in the Istanbul stores purportedly from Turkish garment workers). But they were one of the first to join with Greenpeace on the Detox Campaign, a commitment to chemical-free clothing production that now includes over 70 retailers.
Zara has taken the lead with a number of increasingly interactive and immersive tech retail experiments. They recently opened a concept store in London that caters to our online shopping habits (order by 2pm, pick up the same day). And they've shortened production lines to 4-6 weeks from concept to new item on the shelf. With over 6,500 stores in 88 countries, they have a vested interest in getting customers to walk through their doors.
This is just the beginning of what you will see retailers do with Augmented Reality. Soon enough, we'll see AR experiences move from storefronts out on to our sidewalks (no doubt some form of regulation will eventually come as we now have with signage).
Zara's shop through Augmented Reality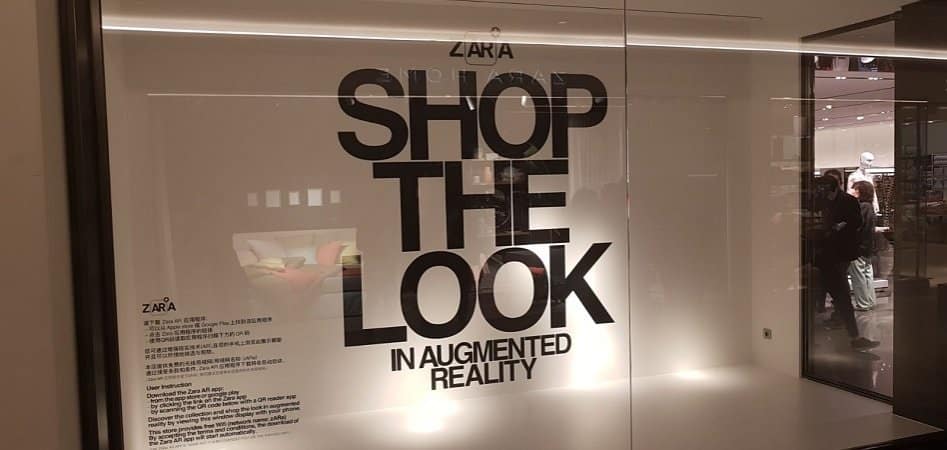 To begin, grab your phone (oops, it was already in your hand or on your desk, wasn't it?) and head to iTunes and Google Play. Download the Zara AR app and hold your phone up to the window (seriously, getting to one of the stores is the hard part here).
According to WWD, you can unlock the AR experience in multiple ways,
. . . through store windows; in-store podiums; on boxes delivered to homes from online purchases, and via dedicated images at zara.com. The app itself can be downloaded through an in-store Wi-Fi network using the QR code . . . (and) is also accessible at the company's web site.

The two models — Léa Julian and Fran Summers — participate in seven- to 12-second sequences on a customer's phone screen. For the in-store podium, the user needs to stand in a certain spot for the app to work. The home-box sequence features the holograph of the model waltzing on top of the box. The option in front of a desktop has both models walking and posing, but this particular feature also allows one's hand to be placed in-between the computer screen and mobile phone to make it appear as if the models are walking on the palm of the hand.
The latter is a cool experience that will be much more common in the future. Magic Leap has been promising this from the days of its "Little Elephant" video in 2014 (yes, it really was that long ago).
Here's a quick video of Zara's shop through Augmented Reality experience in a store window and on a top of a shipping box.
The models present Zara's the current Studio Collection by posing and moving around the space. It's compellingly realistic and everything can be ordered with a click or by coming in the store. And as you might expect, their shop through Augmented Reality app includes the option to share the AR experience through social media.
Inside Retail has a quick description of how the experience was created.
Zara's AR venture is the conception of Paris-based creative director Ezra Petronio, who developed the app with French technology company Holooh and research partner Inria (the French national Institute for computer science and applied mathematics). The 12 dynamic sequences were captured as holograms in a 170sqm studio involving 68 cameras, among the largest recording systems of its type in the world.
It's a surreal world that we are entering – where we'll see fashion models walk on shipping boxes and view children's' war-torn lives (in the Red Cross AR experience) through Augmented Reality.
But Zara got something right here. For retail to thrive in the future, it's going to take a lot more than moving to the online market. You'll have to engage your customers throughout the experience – even when a package shows up at someone's door.
That level of engagement is something to think about no matter what field you're in.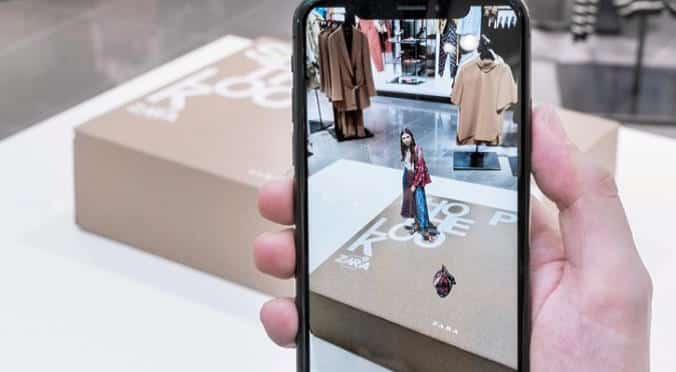 Emory Craig is a writer, speaker, and VR consultant with extensive experience in art, new media, and higher education. He speaks at global conferences on innovation, education, and ethical technology in the future. He has published widely and worked with the US Agency for International Development, the United Nations, and the Organization for Economic Co-operation and Development (OECD). Living at the intersection of learning, games, and immersive storytelling, he is fascinated by AI-based avatars, digital twins, and the ethical implications of blurring the boundaries between the real and the virtual.