There's enough speculation that we will see a pair of Apple AR glasses by 2020. But the idea got an extra boost from the recent news that the company has acquired AR startup Vrvana up in Montreal. Vrvana has been around for eons by startup standards – 2005 to be exact – but never produced a product.
Well, that's not quite true. They actually produced a fascinating AR/VR HMD that garnered rave reviews. It just never got to market. So much for that pre-order.
As you know, this is hardly Apple's only AR acquisition. As TechCrunch notes,
In June, Apple acquired SMI, an eye-tracking firm that was working on solutions for VR and AR headsets. Other AR and VR-related acquisitions have included Flyby Media, metaio, Emotient, and Faceshift.
What makes the $30 million acquisition of Vrvana unique is that this is the first time Apple bought a company that makes head-mounted displays.
The future Apple AR HMD?
Most of the speculation around Apple has focused on an AR-only HMD. This comes from Tim Cook's comments on the relative merits of AR and VR and the obvious fact that AR has lots more marketing potential.
Invesprco estimates that there will be $2.4 trillion in online retail spending next year (that's 8.8% of all retail). Ikea, American Apparel, and Sephora are already using augmented reality to get a market edge. That gold rush is just beginning.
What set Vrvana apart from other AR solutions was that it offered a blended AR/VR display. That's seriously difficult from a technical standpoint – which is why the company has been at this for over a decade.
Yet what they eventually produced was remarkable. Instead of the transparent projection displays used by other AR and mixed reality HMD (HoloLens the most well-known of the lot), pass-through cameras rendered the graphics on OLED displays. And you could switch back and forth between augmented reality and virtual reality experiences:
Vrvana's camera-based AR approach differs from competitors like Microsoft, which is utilizing transparent, projection-based displays for its HoloLens headset. The Totem holds a number of advantages over these systems, most notably in that it is able to overlay fully opaque, true-color animations on top of the real world rather than the ghost-like projections of other headsets which critically cannot display the color black. This allows the headset to do what it calls "seamless blend" transitions between VR and AR environments. (TechCrunch)
The challenges of inside-out tracking
Apple is facing two fundamental challenges in developing an AR HMD – latency and bulk. Vrvana solved the first issue, but couldn't overcome the second. The device might have impressed attendees at CES 2017, but it wasn't something you'd wear all day. The tech crowd can be such a forgiving group when they see an idea they like.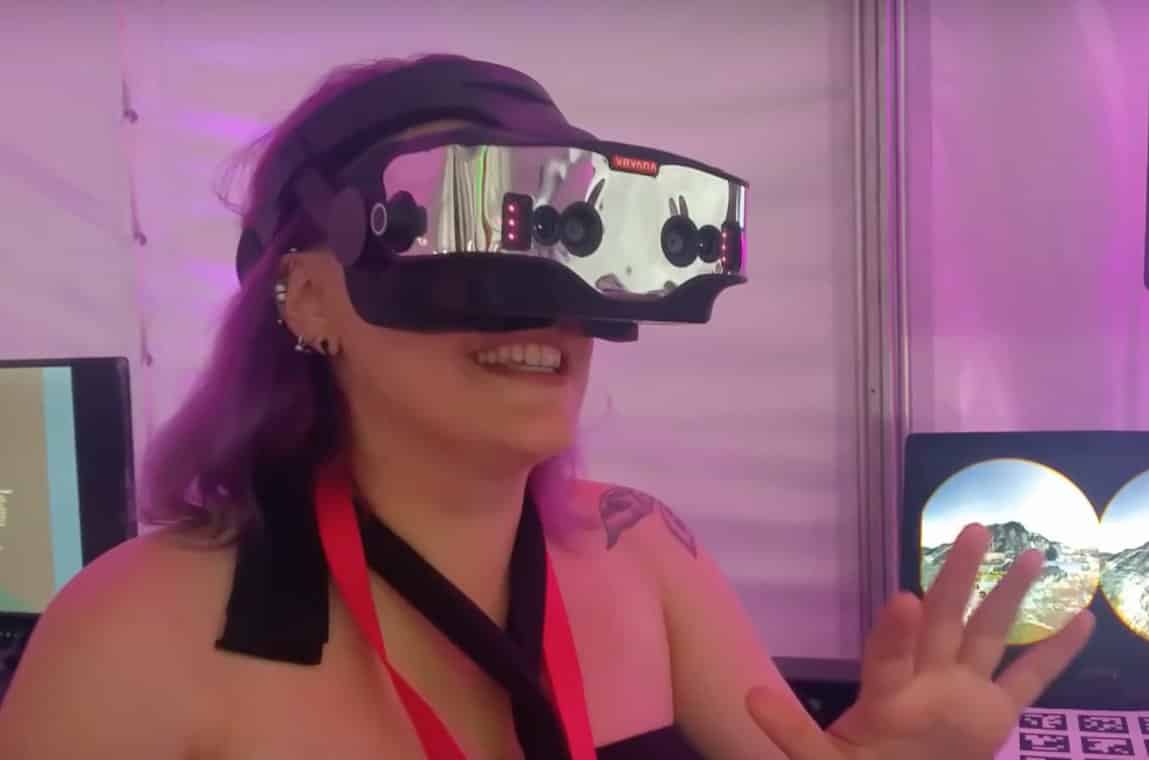 Tim Cook is a little more realistic. As he said in an interview with The Independent back in October:
Today I can tell you the technology itself doesn't exist to do that in a quality way. The display technology required, as well as putting enough stuff around your face – there's huge challenges with that . . . The field of view, the quality of the display itself, it's not there yet…We don't give a rat's about being first, we want to be the best, and give people a great experience. But now anything you would see on the market any time soon would not be something any of us would be satisfied with. Nor do I think the vast majority of people would be satisfied
It's the classic Apple stance. We recently bought the iPhone X and the face recognition technology works surprisingly well. The feature came from PrimeSense, an Israeli 3D startup Apple purchased four years ago. Deliver it when the technology works.
So will Vrvana's tech end up in a pair Apple AR glasses? Here's what they were aiming to achieve before the acquisition.
Of course, Apple may have no interest in their HMD. This wouldn't be the first time Apple bought a company just for the talent and shelved the product.
But you can't help but wonder if the coming Apple AR glasses will include a VR feature. An extended reality device that smoothly transitions from AR to VR.
That's what Vrvana promised. Let's see what Apple delivers.
Emory Craig is a writer, speaker, and consultant specializing in virtual reality (VR) and artificial intelligence (AI) with a rich background in art, new media, and higher education. A sought-after speaker at international conferences, he shares his unique insights on innovation and collaborates with universities, nonprofits, businesses, and international organizations to develop transformative initiatives in XR, AI, and digital ethics. Passionate about harnessing the potential of cutting-edge technologies, he explores the ethical ramifications of blending the real with the virtual, sparking meaningful conversations about the future of human experience in an increasingly interconnected world.