With all the press over virtual reality in 2016, scant attention was paid to the question of who created Oculus Rift VR. We've all heard Palmer Luckey's story many times over.
The story of Oculus' origins is well-known. A teenager named Palmer Luckey creates a prototype for a virtual reality headset in his parents' garage, crosses digital paths with a reputable video game programmer and starts a company that Facebook purchases for $2 billion. (Silicon Beat)
But as we played around with one VR headset after another last year, a $2 billion lawsuit between ZeniMax Media Inc. and Oculus VR Inc. offered another story. And now the trial is getting underway in the U.S. District Court for the Northern District of Texas. It shouldn't come as a surprise that it's being closely watched by the virtual reality community and the bigger players in Silicon Valley.
So who created Oculus Rift VR?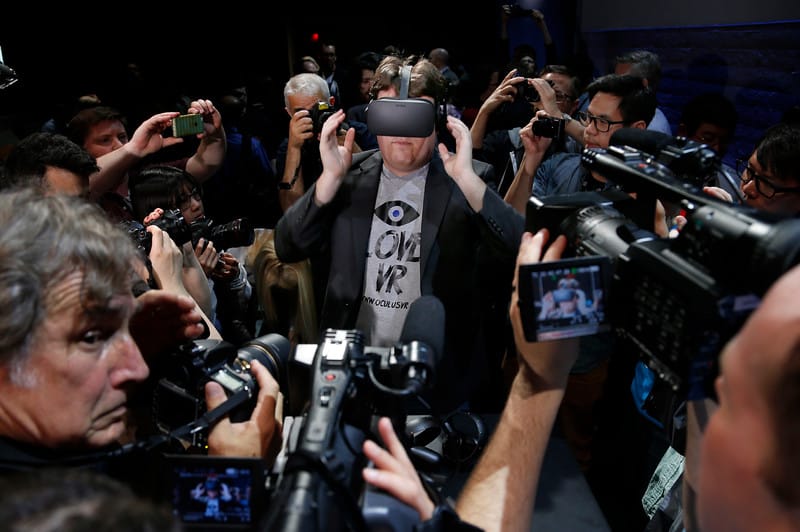 To listen to ZeniMax Media, it definitely wasn't Palmer Luckey. Or at least not without a lot of code from ZeniMax. According to the company in Silicon Beat,
Luckey lacked the training, expertise, resources or know-how to create commercially viable VR technology, his computer programming skills were rudimentary and he relied on ZeniMax's computer program code and games to demonstrate the prototype Rift.
For ZeniMax, Palmer Luckey inventing a revolutionary device in his parent's is nothing more than a "false and fanciful story." A story pushed by Facebook to conceal intellectual property theft. Oculus Rift as stolen technology.
The key player in this drama was John Carmack, the designer of the groundbreaking games Doom and Quake. It's well known that Carmack began corresponding with Luckey on the MTBS forums. For a fascinating blast from the past, take a look at Luckey's post announcing his open-source HMD for Kickstarter and a plea for technical help in April 2012.
At the E3 convention in June 2012, Carmack brought a duct taped head-mounted VR display that utilized Luckey's work on the Oculus Rift prototype. By August 2012, the Kickstarter project was underway, raising an unprecedented $2.4 million USD in 40 days. Carmack joined the new company as CTO in August 2013 along with five other ZeniMax employees. By the end of 2013, the legendary VC firm Andreesen-Horowitz raised $75 million for Oculus.
Then in a move that kickstarted the entire VR revolution, Facebook bought the fledgling company in March 2014.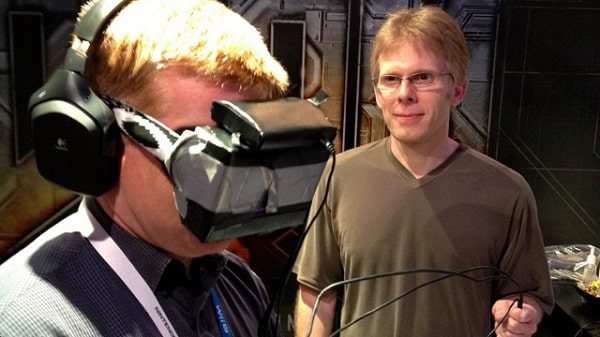 So it never was just Palmer Luckey in his parent's garage. Carmack always had a role. The real issue for the court is the non-compete clause that Carmack had with ZeniMax and whether he walked out with their intellectual property. Carmack says Oculus wasn't a gaming company so a non-compete clause isn't relevant. And he claims he offered ZeniMax the opportunity to get into VR on the ground floor. According to Bloomberg:
Carmack says he also offered to manufacture and sell a consumer headset similar to Luckey's, but his idea fell flat with ZeniMax's CEO Robert Altman, a former lawyer.

'Altman decided not to pursue the opportunity to make ZeniMax a player on the ground floor of the VR hardware revolution,' according to Carmack's filing.
He also claims he offered ZeniMax "a large non-dilutable stake" in Oculus. They turned him down. So either ZeniMax had an employee walk out with its IP or they completely missed the VR revolution and now want a slice of it. A $2 billion dollar slice.
On its side, Facebook points out that ZeniMax made no claim to the technology nor raised the intellectual property rights issue until Facebook's purchase in 2014. An Oculus spokesperson said,
We're disappointed that another company is using wasteful litigation to attempt to take credit for technology that it did not have the vision, expertise, or patience to build.
Does the lawsuit matter?
If Facebook loses the case, it will have to cough up $2 billion, hardly an insurmountable hurdle for the social media giant. But it will still has Oculus and it won't impact the development of virtual reality.
But we'll soon have an answer to the question of who created Oculus Rift VR. Mark Zuckerberg, John Carmack and Palmer Luckey will all be called to testify (this will be Luckey's first appearance since his political scandal). The details will definitely be interesting.
The case has the potential to dramatically change the story of how VR came about. Did Facebook outmaneuver its competitors? Did it have the foresight to pick up a young entrepreneur's work to leapfrog ahead of Microsoft, Google and Sony? Or did it purchase the intellectual property of another company and spin a tale that resonates with the DNA of Silicon Valley? If so, there would be no shortage of irony that one of the first games to ship with Oculus Rift was titled, Luckey's Tale.
Like many others in the VR community, we'll be closely watching the outcome.
UPDATE (January 19, 2017): Both Mark Zuckerberg and Palmer Luckey are now testifying at the trial. According to Zuckerberg, this is the first time he's been in court. He was disposed previously for the suit brought by classmates at Harvard, but that was settled before the case went to trial. For Palmer Luckey, it's his first public appearance since last September when it was discovered that he was secretly funding a pro-Donald Trump online group. It's clear from the testimony and evidence submitted that the Oculus demo unit at the E3 convention in 2012 did rely on software provided by Carmack when he was at ZeniMax. However, both Zuckerberg and Luckey have said it was later removed as Oculus created its own software to run the VR headset.
Emory Craig is a writer, speaker, and consultant specializing in virtual reality (VR) and artificial intelligence (AI) with a rich background in art, new media, and higher education. A sought-after speaker at international conferences, he shares his unique insights on innovation and collaborates with universities, nonprofits, businesses, and international organizations to develop transformative initiatives in XR, AI, and digital ethics. Passionate about harnessing the potential of cutting-edge technologies, he explores the ethical ramifications of blending the real with the virtual, sparking meaningful conversations about the future of human experience in an increasingly interconnected world.