If you haven't seen any of Samsung's VR rides you should. In fact, get on one as soon as you can. They turn up at conferences (CES 2017 and elsewhere) and at Samsung 837, Samsung's pioneering event space in the Meatpacking District near us in New York City.
Samsung is showing how mobile VR can be much more than sliding your smartphone into a headset and staring passively at some 360 videos. Basic virtual reality is deeply immersive when you add motion and wind. Even more when you get flipped upside down.
We already wrote about the Virtual Sleigh Ride with Santa. But that's kid's stuff compared to Samsung's newest rides, even if you do end up careening out of the sky and dropping into Manhattan.
Samsung's VR Rides at CES 2017
For the real deal, you had to see Samsung's VR ride, Space Racing, their new 4D virtual reality experience at CES 2017. Here's the overview of the Samsung's VR rides including their roller coaster and flight Sim:
As for the Space Racing simulation, let's just say you have to be seriously strapped in. This Gyro 4D simulator rotates 360 degrees both vertically and horizontally. And if you're thinking what we're thinking, you'll need a very calm stomach. Here's CNet's experience of the ride:
We've done most of Samsung's VR rides and they are incredibly realistic. The quality issue with mobile VR vanishes when your body is getting tossed around, roller coaster style. Samsung's not trying to break into the theme park business but these experiences show just how powerful basic VR can be.
VR rides and the future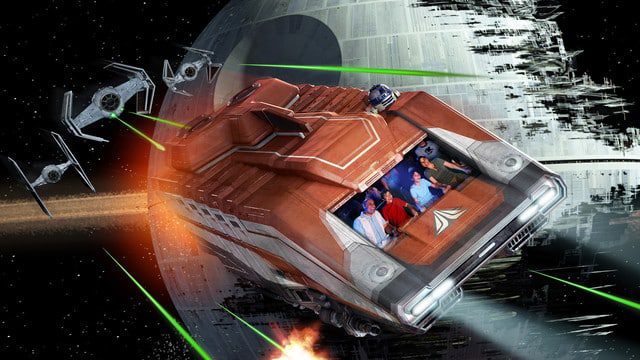 Speaking of theme parks  . . .
You can see where virtual reality is headed. Moving chairs will get less expensive and more compact. Hand controllers will be ridiculously cheap. No, let's just say it: they won't be an accessory – they come with your headset as they do with Google's Daydream View. And VR will get more immersive with inside-out tracking.
A whole new realm of human experience will be available at home, a VR arcade or your local shopping mall. And when that happens, it will be much harder to justify the hefty admission price at a theme park.
Disney's already replacing its quaint but outdated Tomorrowland with rides from LucasFilms Star Wars incorporating motion and 3D. Universal Studios Florida took the plunge into VR with The Repository, a ten minute multiplayer virtual reality experience in its Halloween Horror Nights last fall. Other parks are rushing to repurpose old roller coasters with Samsung VR headsets.
Samsung's VR rides are pushing the boundaries of what you can experience in virtual reality with your phone, a $100 headset and some moving / vibrating chairs. Human experience is being dramatically transformed by virtual reality.
Theme parks will survive and thrive withe arrival of immersive technologies. But only if they realize how much our ordinary day-to-day world is becoming extraordinary through virtual reality.
Emory Craig is a writer, speaker, and consultant specializing in virtual reality (VR) and artificial intelligence (AI) with a rich background in art, new media, and higher education. A sought-after speaker at international conferences, he shares his unique insights on innovation and collaborates with universities, nonprofits, businesses, and international organizations to develop transformative initiatives in XR, AI, and digital ethics. Passionate about harnessing the potential of cutting-edge technologies, he explores the ethical ramifications of blending the real with the virtual, sparking meaningful conversations about the future of human experience in an increasingly interconnected world.