If there any doubts about the wearable technology market, the new figures from the research group IDC should put them to rest. People are buying millions of wearables – more than 27 million in just the fourth quarter of 2015. And a total of 78 million for the year. It's not a surprise that the largest players are Fitbit and Apple.
IDC is predicting a 28% compound growth rate in the next three years. That would give us annual sales of 215 million wearables by the year 2019. Not bad after all those early predictions that the technology may have trouble finding customers.
Wearable Technology Market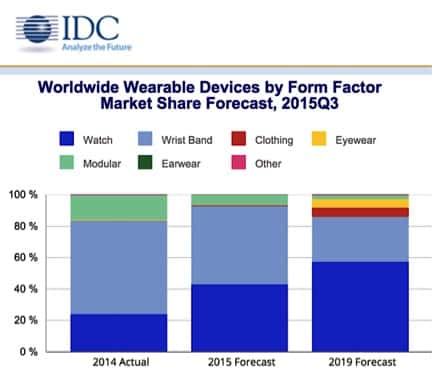 Ramon Llamas, research manager for IDC's wearable team summarized where we are,
Triple-digit growth highlights growing interest in the wearables market from both end-users and vendors . . . It shows that wearables are not just for the technophiles and early adopters; wearables can exist and are welcome in the mass market. And since wearables have yet to fully penetrate the mass market, there is still plenty of room for growth in multiple vectors: new vendors, form factors, applications, and use cases.
If you follow the market closely, it's worth reading IDC's summary of the five market leaders – Fitbit, Apple, Xiaomi, Samsung and Garmin. Here's the entire market for 2015 (Apple places third here):

Wearables will be in Fashion
As IDC's Jitesh Ubrani noted, continued growth will not come from "copy-cat" devices, knockoffs of the market leader's products. Fashion and design areas will play an increasing role and we'll see more partnerships between Apple, Fitbit and the fashion industry. As the market matures, it will be less about the technology and more about how it fits with our work needs and lifestyle. 
Wearables, Media and Education
If there's one area where the IDC predictions for the wearable technology market fall short, we see it in the rapidly developing market for AR/VR headsets and Smartglasses. Activity trackers and watches are just one segment of the wearable landscape and as virtual reality takes off, gaming, media and education will drive sales.
We're probably a few years away from Smartglasses that you could wear all day long, but we see them on the market by 2018 at the latest. Even simple augmented reality glasses would be wildly popular among students and the public if they're comfortable and easy to use. Google, Epson, Meta, Magic Leap and other companies are driving the technology here. 
No one is going to wear a large device like Microsoft's HoloLens all day long except in specific work environments. But a pair of AR glasses could make using your Smartphone for communication and information access look positively antiquated. And the impact on our learning environments and entertainment would be profound.
IDC's market research is interesting, but keep in mind that wearable technology is a moving target. It's not where we are, but where we're going that matters.
Emory Craig is a writer, speaker, and consultant specializing in virtual reality (VR) and artificial intelligence (AI) with a rich background in art, new media, and higher education. A sought-after speaker at international conferences, he shares his unique insights on innovation and collaborates with universities, nonprofits, businesses, and international organizations to develop transformative initiatives in XR, AI, and digital ethics. Passionate about harnessing the potential of cutting-edge technologies, he explores the ethical ramifications of blending the real with the virtual, sparking meaningful conversations about the future of human experience in an increasingly interconnected world.