IBM Japan announced "Sword Art Online: The Beginning", a virtual reality game based on a story where players are trapped and die. The game comes from the novels of Reki Kawahara that serve as the inspiration for a hugely popular manga and anime series.
The interesting part here is that IBM will do scans of players to use as avatars. 208 people will be selected from those that apply. Kawahara's novels always have a fascinating twist including this one as Epoch Times describes:
in the story the players lose the ability to exit the game and face the harsh reality of either their real bodies starving and atrophying to death or the game's headset frying their brains if their life points reach zero in the game.
It's somewhat like The Hunger Games for your head.
Sword Art Online
The idea of using full body scans would be an incredible development for VR gaming (and in education and entertainment). But with VR just getting underway (we're still waiting for our hand controllers, Oculus), it will take a little time to work out the technical aspects. If IBM pulls this off, it's a huge step forward in the virtual reality space.
For a related experience, we tried out the Real Virtuality installation at Sundance in which two participants are in the same virtual space. While the avatar renderings and movements were not perfect, it was easy to suspend belief and get caught up in the experience. Only once when the velcro on our wrist sensors got momentarily entangled did I get jolted back to physical reality. It was a deeply compelling experience. But it would be even more engaging if our avatars had looked like us.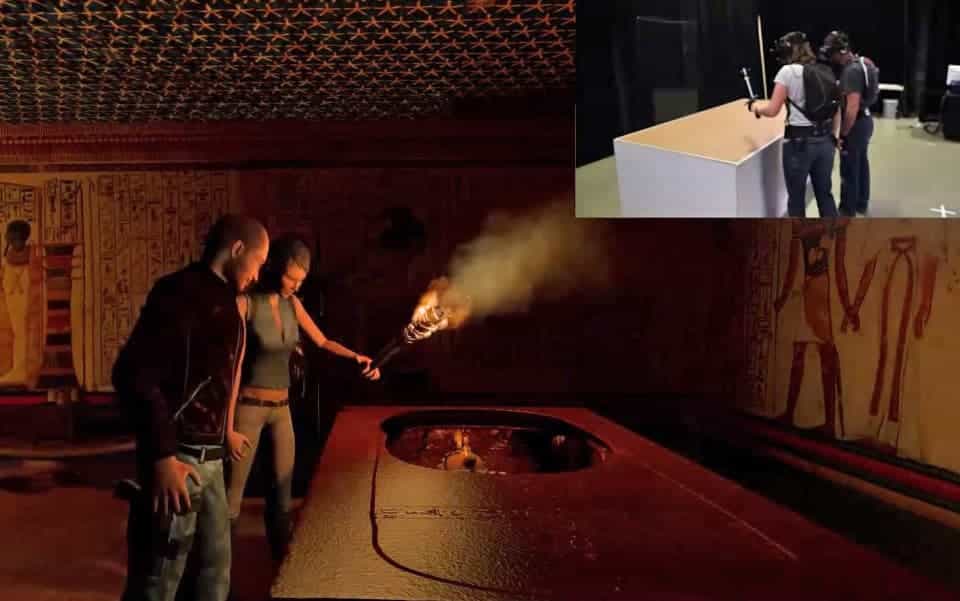 IBM's Plans
There's not a lot of details on what IBM is doing though we know they'll be using Watson Cognitive Computing and their SoftLayer cloud computing. The game will support both Oculus Rift and the new HTC Vive VR headsets.
In perhaps the most tantalizing detail offered, Kawahara said that the avatars will be controlled by participants' body movements. According to Siliconera:
. . .  Sword Art Online: The Beginning Sponsored by IBM will not use a controller, but it'll be controlled by moving your own body. "Something completely foreign from any other video game experience," and "by getting to experience being chased by a monster, I hope people will wonder more about the future of virtual reality gaming," were some quotes shared by Reki Kawahara after trying out a trial build of the project.
That would definitely be something out of the future and make you wonder about living in a virtual reality world. Sword Art Online may just bring the Star Trek Holodeck a step closer to reality.
More details to come March 18-20 when IBM Japan holds an event in Tokyo. Here's the video trailer, a small glimpse of what IBM wants to do:
Emory Craig is a writer, speaker, and consultant specializing in virtual reality (VR) and artificial intelligence (AI) with a rich background in art, new media, and higher education. A sought-after speaker at international conferences, he shares his unique insights on innovation and collaborates with universities, nonprofits, businesses, and international organizations to develop transformative initiatives in XR, AI, and digital ethics. Passionate about harnessing the potential of cutting-edge technologies, he explores the ethical ramifications of blending the real with the virtual, sparking meaningful conversations about the future of human experience in an increasingly interconnected world.