Many things are holding VR back from widespread public acceptance – cost, content, and hardware design are all significant factors. A Kickstarter project from TGO takes aim at one element of the design issue by creating button-free controllers.
For gamers and VR enthusiasts, the button issue isn't important. But for the broader public, holding a controller with unfamiliar controls can be a deal killer. Even worse, you're wearing a VR headset, so you can't see where the buttons are located. 
We've encountered the issue all-too-often in our educational workshops and VR expos. It's less of a challenge today than it was three years ago, but it's still an obstacle for the pre-gaming generation.
But it's not just a generational question. If you're demoing a VR experience in a public space, it complicates the onboarding process. While some immersive projects virtually map a controller's options – and they all should – most need someone to explain the navigation process.
VR should be as intuitive as real-life experience. When you have to tell someone how to open a virtual door or get from point A to point B, VR fails. And we wonder why mass adoption has been slow to come about.
TGO's etee Button-free Controllers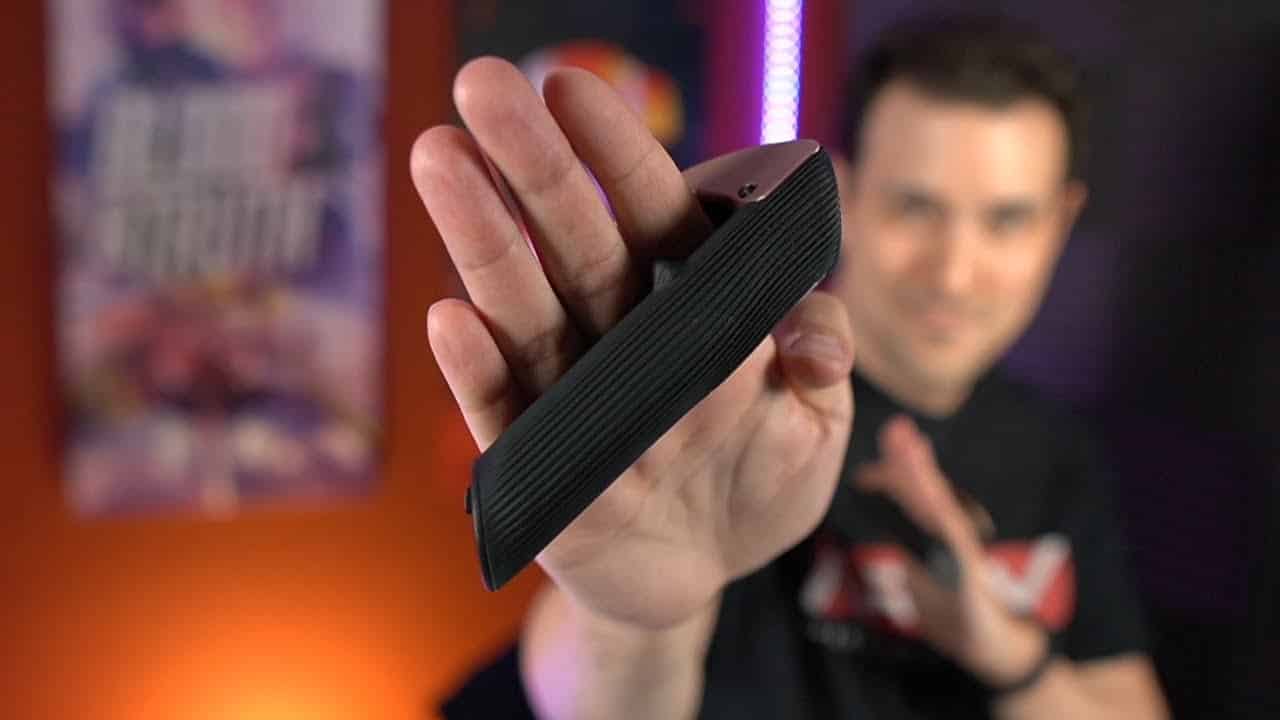 Enter TGO's Kickstarter project. The etee button-free controller wants to do for VR what Apple did with the smartphone – remove the mechanical elements and use the surface as an interface. Every VR controller comes with a grip for your hands – ditch the buttons and turn the grip into a surface that reacts to the movement and pressure of your fingers. It's an incredibly ingenious solution, and you wonder why Oculus and others didn't attempt this earlier.
We love that the controllers come with a bright light – green if the devices are tracking, orange when you are squeezing, etc. You won't notice the status light when you're in a VR experience – but it will make life easier for assistants in VR labs, film festivals, and expos. The only legacy element TGO's buttonless VR controller includes is a thumb trackpad. And that's the most intuitive feature in the current controllers on the market.
While TGO's design may or may not work, something like this is essential for the future of virtual reality. That is until we have brain-computer interfaces. And BCI is still years away.
Here's a quick demo.
Here is how TGO describes the experience of using the VR controllers:
No need to memorise your button layout. No need to keep hold of a heavy controller that makes your hand ache. Just slip etee on, and enjoy smooth control from every finger. Direct the play via the touch, proximity, pressure and gesture of your fingers. No buttons. No hold-ups. Just fantastic, intuitive, play.
TGO takes this a step further. They've teamed up with the haptics firm Actronika which demoed an innovative haptic vest at CES 2020 (remember not so long ago when we actually went to conferences?). The Etee controllers incorporate high-definition haptic feedback, which is essential for immersive experiences. It's a point we noted when Oculus first released hand-tracking on the Quest. Using just your hands in VR just feels so natural, but we'll still need the feedback we expect in VR experiences and games.
And while no one had it on their minds earlier this year, button-free controllers are ideally suited for a world battling a pandemic. We'll be a new normal once we return from our Coronavirus quarantine. Buttons are just one more place where a virus can hide.
What's Not to Like? 
The Kickstarter project launched on April 1st, and while it hasn't broken any records, it quickly reached its funding goals. A DevKit and SDK access will be available in October. The SteamVR compatible version – the real goal of the project – arrives in December 2020.
But there are a couple of challenges.
At $324, the price will be an issue. Ironically, it's the gaming community that will be most willing to spring for a device that almost doubles the cost of a VR headset. The price will come down in the future, but don't expect that to happen until mid-2021 at the earliest.
While there have been reviews of the TGO's button-free controllers, the current models don't include the custom-built tracking sensor it needs to be compatible with the SteamVR ecosystem. The demo models are using Vive Trackers, which makes them feel more like traditional VR controllers in terms of weight and bulk.
Currently, every major VR game and experience is built around the use of a physical trigger on a controller. Will developers be willing to add compatibility for the etee controller? Will it become a standard going forward?
And given our life during the Coronavirus, any new project has to face the possibility of delays with the virus-impacted state of production and supply chains from Asia. December is an eminently reasonable deadline in normal times, but nothing is normal this year.
Endless Possibilities
The etee button-free VR controllers could find applications throughout virtual reality. You could see their use in corporate training, education, gaming, and immersive storytelling. We're especially intrigued by their potential use for creating art in VR. Google's Tilt Brush would be amazing with a hand controller that registered the amount of pressure from your fingers.
For more information, check out the project on Kickstarter. And RoadtoVR has an interview with Mick Lin, TGO's co-founder, discussing the goals of the project. 
We're looking forward to seeing this project take off. It's innovations like TGO's button-free VR controller that will spur the adoption of virtual reality for the general public.
Emory Craig is a writer, speaker, and consultant specializing in virtual reality (VR) and artificial intelligence (AI) with a rich background in art, new media, and higher education. A sought-after speaker at international conferences, he shares his unique insights on innovation and collaborates with universities, nonprofits, businesses, and international organizations to develop transformative initiatives in XR, AI, and digital ethics. Passionate about harnessing the potential of cutting-edge technologies, he explores the ethical ramifications of blending the real with the virtual, sparking meaningful conversations about the future of human experience in an increasingly interconnected world.