Here's a way to demo Microsoft HoloLens without being a developer with $3,000 to spare – remodel your kitchen at Lowe's. From Engadget:
Microsoft announced a partnership with Lowe's, the home improvement chain, that will let customers in the Seattle area visualize a remodel of their kitchens using HoloLens in a showroom environment. The obvious appeal here being the cost benefits: there's no need to order, try and return expensive tiles or appliances if they don't suit your design tastes. They are just holograms, after all.
The option will begin at the Lynwood, WA store and then expand to other locations in the Seattle area. Don't line up just yet as it will begin with internal testing before being open to the public. When it does, you'll be able to see how your kitchen will look with new appliances, tiles and color schemes.
And who knows? Maybe you'll be able to throw in a 3D holographic action figure just for fun.
Microsoft HoloLens at Lowe's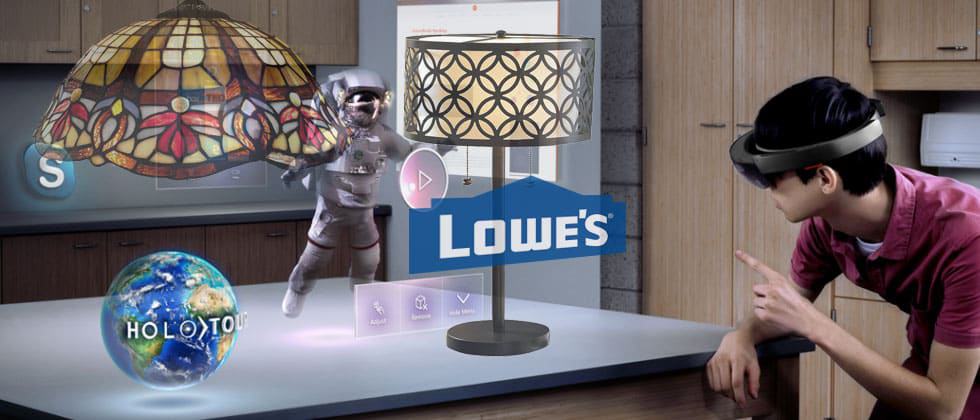 Here's the description from the Microsoft blog,
From within the nearly empty square frame of a showroom kitchen, customers can completely change the look and feel of that space – including adjusting the size and shape of an island, and viewing virtual design options against physical counter stools. This mixed reality solution was important, so that customers can remain within the physical kitchenette and view options and adjustments to that existing physical space, alongside physical options, in the form of holograms. A miniature hologram kitchen allows for a bird's eye perspective of the kitchen.
This isn't the Star Trek Holodeck just yet, but we're getting closer. An empty space with bare walls, and your future kitchen materializes in front of your eyes.
Using AR or Mixed Reality as a Design Tool
One can easily envision a future where we will design all our spaces first in virtual reality – or mixed reality – before taking action in our real world.
There's other augmented reality projects here, including the Ikea Catalogue with an AR app. Microsoft HoloLens is far different, putting you inside your environment. But you're standing inside a Lowes store while the Ikea catalogue AR lets you walk around your house. Obviously, that's Microsoft's goal in the end, but HoloLens isn't ready for the consumer market.
Here's Ikea's approach on using AR for home improvement – they turn it into something both fun and useful:
Augmented Reality in Our Lives
Microsoft and Ikea understand where we're headed here – a world where we can experiment and play with options before doing them in real life. And in much the same way that high-end flight simulators have dramatically transformed pilot training and improved flying safety, AR will do the same in other areas. At the very least, there may be less home improvement disasters.
And you'd have to have your head in the sand to not see the implications for learning. Once the option is there to virtually recreate environments and scenarios, we'll have less reading and talking and far more experimenting, doing, and reflecting. The uses in healthcare and the sciences are obvious, but the social sciences beckon as well.
So off to Lowe's if you want to remodel your kitchen. Though we suspect a number of people will line up simply for the opportunity to try out HoloLens.
We've never really thought of Lowe's as a place to encounter the future. But as William Gibson famously noted,
The future is already here, it's just not evenly distributed.
Emory Craig is a writer, speaker, and VR consultant with extensive experience in art, new media, and higher education. He speaks at global conferences on innovation, education, and ethical technology in the future. He has published widely and worked with the US Agency for International Development, the United Nations, and the Organization for Economic Co-operation and Development (OECD). Living at the intersection of learning, games, and immersive storytelling, he is fascinated by AI-based avatars, digital twins, and the ethical implications of blurring the boundaries between the real and the virtual.