VR games were the hot topic at the Game Developer Conference (GDC) in San Francisco this week. With the upcoming HTC Vive launch on April 5th and a two-day Virtual Reality Developers event at GDC it's no surprise. While the gaming market will not support virtual reality on its own, some of the approaches may show us ways to use immersive experiences in media, education and other areas.
VR Games at GDC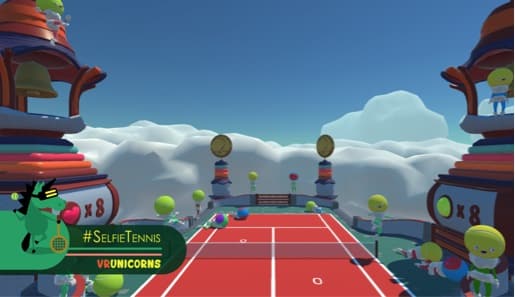 HTC showed up at the conference with 38 games, though it's not clear that all the titles will be available by April 5th. More interesting were the comments by Valve Software's Chet Faliszek to Fortune:
'We have no exclusives,' said Faliszek. 'We don't think that's a good thing for the industry, especially in VR where we're starting out with a promise of presence after so many years.'

'We want to do everything we can to make sure VR succeeds, regardless of the platform. I don't think a customer ever thinks a platform-exclusive game is a good thing.'
This is not just true for the gaming community but for developing virtual reality in any area. We're just too small at the moment for walled gardens, for experiences that work on one device but not on another.
According to John Gaudiosi in Fortune, Faliszek also addressed the social aspect in virtual reality:
Games are a social experience across all platforms because of the shared nature of the medium . . . Adding multiplayer and social to virtual reality with presence is natural. But we're still just scratching at the surface of what works and doesn't work in VR.
It's natural, but getting there is another story. Using avatars such as is done in the Real Virtuality multiplayer VR experience is a start, but social VR has a long way to go.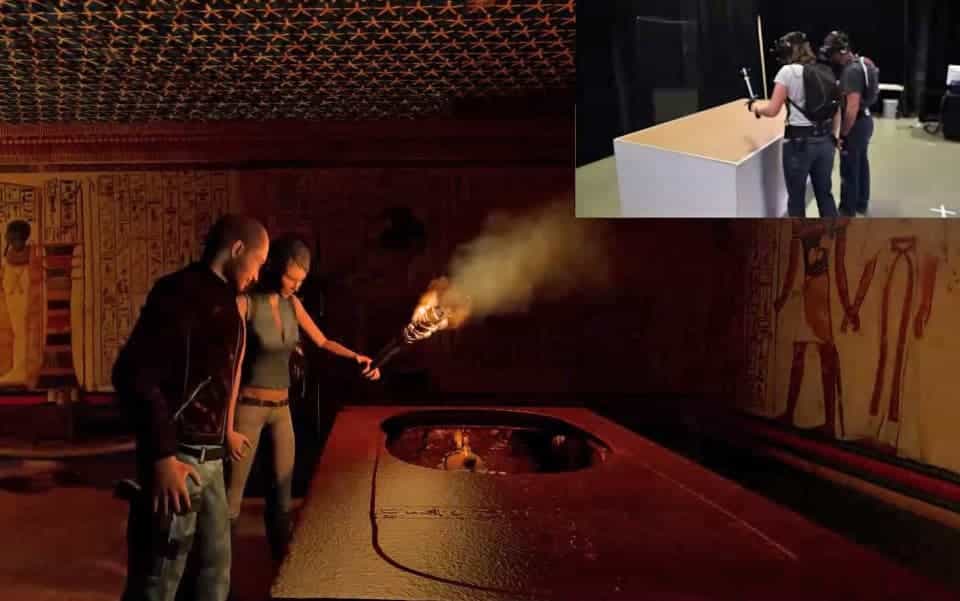 Star Wars: Trials on Tatooine
One of the more interesting games showcased by HTC Vive and Value is a demo of ILMxLab's Star Wars: Trials on Tatooine.
Tatooine will not be the ultimate Star Wars experience that you're looking for but it's impressive nonetheless. Here's the description by Mitch Dyer at IGN:
Trials on Tatooine is incredibly impressive, with excellent writing, scale, and fan-service. As Skywalker's apprentice, you're waiting on a delivery from Han Solo and Chewbacca on Tatooine. Seeing the Millennium Falcon descending right on top of me was mildly terrifying due to its tremendous size and Skywalker Sound's outstanding audio design, but it was a gleeful moment, too. The boat immediately breaks, and it became my job to fix it. The uncomplicated input involved pressing buttons while following sloppy instructions from a cranky Han Solo, but it's a special feeling to repair the fastest hunk of junk in the galaxy.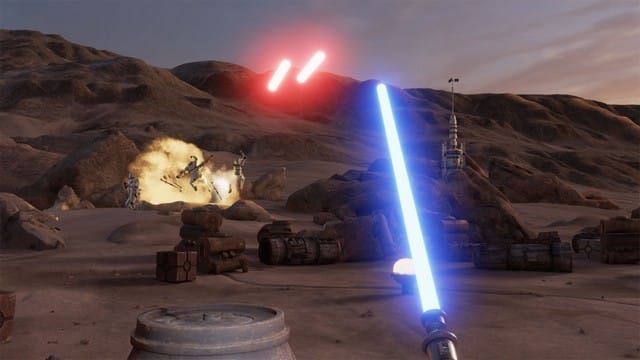 Of course, ILM doesn't make games but they're good (no, exceptional) at storytelling. And like everyone in the VR space, they are feeling their way around, trying out different techniques to see what works and what doesn't.
Listen to ILMxLAB's Associate Visual Effects Supervisor Roger Cordes,
We are a storytelling company . .  . We are well-versed in a hundred years of the language of cinema, all of which gets thrown out the window when you no longer have a locked on camera [in VR], and it's a first-person storytelling experience, so we have to kind of find our way in that wilderness about how to tell a compelling story in the Star Wars universe.
The Future
ILM's Lead Visual Effects Supervisor Tim Alexander suggests an approach for using virtual reality that may piggyback the immersive experiences on to the original storyline. Speaking with IGN,
We've got some large-scale productions going. And [Lucasfilm Story Group] is the basis of that. We are doing stories that will be intersecting. It's all canon, it's all…it's all going to be legit.

Alexander frequently returned to the notion of "serial" experiences. He doesn't think of it in video game terms, but 'I do see it in terms of like, persistence, interactivity, interaction with other people, and potentially serial.'
If you need a roadmap for the use of VR in storytelling, these are good markers: persistence, interactivity, and serial experiences. Most of us (at least right now) are not going to wear a VR headset for the standard 90 minute framework of cinema. And we've yet to understand how we will tell stories in virtual reality. But we are masters at telling stories in other formats – we've done it since the beginning of time.
Using VR games to expand our current narratives into immersive experiences is an initial yet transformative step. Where we go from there will depend on our creativity and imagination.
Emory Craig is a writer, speaker, and consultant specializing in virtual reality (VR) and artificial intelligence (AI) with a rich background in art, new media, and higher education. A sought-after speaker at international conferences, he shares his unique insights on innovation and collaborates with universities, nonprofits, businesses, and international organizations to develop transformative initiatives in XR, AI, and digital ethics. Passionate about harnessing the potential of cutting-edge technologies, he explores the ethical ramifications of blending the real with the virtual, sparking meaningful conversations about the future of human experience in an increasingly interconnected world.