It seems that virtual reality is everywhere these days – even McDonald's. At least in Sweden, where for next two weekends, your Happy Meal will come bundled with VR goggles. They'll be somewhat like Google Cardboard (perhaps not even as good) but it's an interesting sales promotion. And it shows how rapidly virtual reality devices are moving into our daily lives. As AdWeek put it:
It's kind of like Google Cardboard—with fries.
Virtual Reality as a Promotion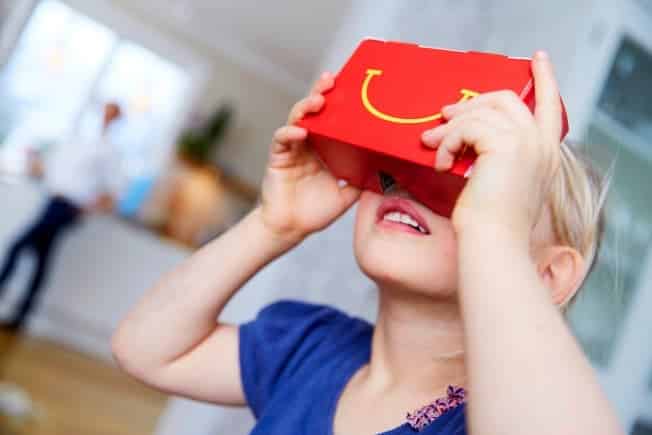 We've always suspected that the fate of Google Cardboard is to become a promotional gimmick. At best, it might get used for more nobler causes – nonprofits using it for fundraising. It's only a matter of time before one of our politicians adopts it as a campaign tactic.
Google is very likely developing a new VR headset and once that arrives, Cardboard will become essentially a VR freebie. It's already ideal for a mailing promotions, which is what The New York Times did with their NYT VR project. And now it turns out that you can turn a Happy Meal box into a Cardboard-like device.
According to AdWeek:
McDonald's Sweden is launching a promotion that invites kids to turn Happy Meal boxes into virtual-reality viewers. Dubbed Happy Goggles, some 3,500 of them will be made available at 14 restaurants over the weekends of March 5 and March 12. The price is about $4.10.

The push is tied to the Swedish "Sportlov" recreational holiday, during which many families go skiing. With this in mind, McD's created a ski-themed VR game, "Slope Stars," for use with the goggles (though they work just as well with any mobile VR experience). The game can also be played in a less immersive fashion without them.
The $4.10 also gets you the "food" inside, so the virtual reality is essentially free. The goggles are easy to put together (see the video below) and you can see this getting much wider use in other retail promotions. AdWeek continues, just a little tongue-in-cheek,
Although VR has gained traction in marketing campaigns, it seems especially on target for McDonald's. The chain has essentially been trying to fashion its own alternate "world" for decades. Characters like Ronald, Hamburglar and Grimace were analog-era nods in that direction, followed more recently by house-size Happy Meal boxes (Airbnb, take note), the much-derided anthropomorphic "Happy" mascot (which made us grimace), and even a Big Mac-inspired lifestyle and clothing line (also in Sweden).
We can only imagine the McDonald's ad campaign once wearable technology devices become nearly free. Though we doubt they'll be handing out Fitbits.
Since McDonald's always gets some blowback on their ads, they've helpfully included advice by two child psychologists on how virtual reality will not harm your children. Indeed, for families it can even be a ". . . good joint activity that makes it easier to hang out."
Seriously, once it's at McDonald's, virtual reality will be showing up everywhere. So expect a lot more promotions later this year. And in the hands of the right ad agency, we may see something incredibly innovative in VR marketing. Colleagues in media and Higher Ed, please take note.
If you're curious, here's the 44 second video on how a Happy Meal box becomes a virtual reality viewer. It's actually quite inventive:
https://www.youtube.com/watch?v=bnYg752URcE
Emory Craig is a writer, speaker, and consultant specializing in virtual reality (VR) and artificial intelligence (AI) with a rich background in art, new media, and higher education. A sought-after speaker at international conferences, he shares his unique insights on innovation and collaborates with universities, nonprofits, businesses, and international organizations to develop transformative initiatives in XR, AI, and digital ethics. Passionate about harnessing the potential of cutting-edge technologies, he explores the ethical ramifications of blending the real with the virtual, sparking meaningful conversations about the future of human experience in an increasingly interconnected world.