Virtual reality keeps pushing forward with new experiences and The Music Room is a fascinating development. Launching in July from Australian developer Chroma Coda, The Music Room is a full music creation package. It puts you in a virtual environment with simulated instruments including drum kits. Do your own virtual jam sessions and then mix the tracks using a copy of Bitwig and DAW (Digital Audio Workstation).
You can even try out some unusual instruments you won't find in an actual music studio such as a laser harp – sounds like something straight out of Star Trek.
Music in Immersive Environments
Here's the short video from The Music Room:
Since we're in virtual reality, the flexibility extends beyond the instruments you can play. You can place yourself in different studios, bars and theaters.
The space you are in shapes your music. Get comfortable being on stage, in the studio and in a practice room. Play at Cherry Bar, the best rock and roll bar in the world, Bakehouse Studio, a favourite rehearsal room of Elvis Costello, Tool and Nick Cave as well as an art deco theater, a stage The Beatles played on and many more. (ChromaCoda)
Supported VR Platforms
For now, your music production in virtual reality will be limited to the HTC Vive. Getting those hand controllers to the market first definitely helps. Oculus Rift, PlayStation and SteamVR will be supported in the coming months:
At launch The Music Room will support the HTC Vive running on Windows. As soon as HTC supports Mac and Linux we will release Mac and Linux version of The Music Room. We will be support the Oculus Rift with Touch when the Touch launches and PlayStation VR when it launches.
Though it's not mentioned, we suspect that mobile VR will be supported within two years, making The Music Room much more widely available. Google's Daydream platform includes an amazing set of hand controllers and new Daydream Smartphones and VR headsets will have significantly lower latency.
The Skeptics
Speaking of latency . . . you knew there would be issues here. And the criticisms and pushback have already surfaced online. While The Music Room doesn't address the issue on their site, Coda Chroma Director, Loki Davidson has responded to critical comments:
We are very focused on making sure latency is as low as possible. At 90 fps worst case latency in theory is 1 frame. We get around that so latency is lower.
If the technical capabilities are not quite where The Music Room wants to be, they'll catch up soon enough.
Music in our Virtual Reality Future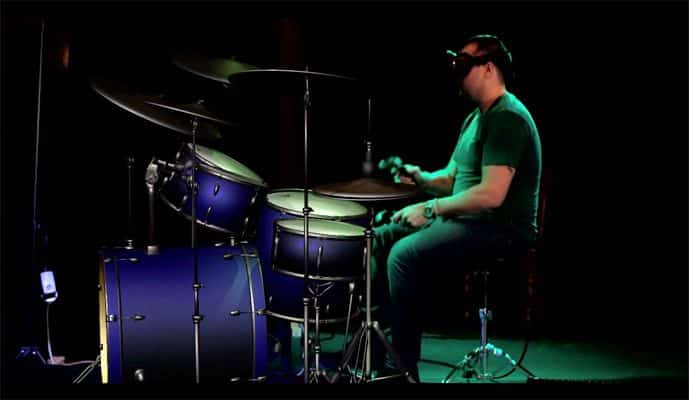 Davidson said that a major focus of the project was to bring realism back into digital music creation:
A big part of my personal reason for being excited about The Music Room is that it makes electronic instruments feel like instruments. . . I like the sounds available with synths but often found playing then was more like programming than playing. I play guitar, double bass and sing and wanted that kind of feel to electronic instruments. I'm very happy that we achieve that with The Music Room. (RoadtoVR)
Ironically, virtual reality will provide the sense of realism missed in sitting at a real digital keyboard. And VR and mixed reality will do this in many areas. Think about our current texting and video conferencing platforms, which will seem so outdated once we're connecting through immersive environments.
Whatever your thoughts on using virtual reality to create music right now, The Music Room will break down barriers. From VR Scout:
It will be interesting to see what musicians dream up of in this new medium, where unlike traditional electronic instruments or acoustic instruments, The Music Room instruments aren't constrained by physics.
And there lies the advantage of virtual and mixed reality – in a world unconstrained by physics, creativity will flourish.
Emory Craig is a writer, speaker, and consultant specializing in virtual reality (VR) and artificial intelligence (AI) with a rich background in art, new media, and higher education. A sought-after speaker at international conferences, he shares his unique insights on innovation and collaborates with universities, nonprofits, businesses, and international organizations to develop transformative initiatives in XR, AI, and digital ethics. Passionate about harnessing the potential of cutting-edge technologies, he explores the ethical ramifications of blending the real with the virtual, sparking meaningful conversations about the future of human experience in an increasingly interconnected world.