If you're waiting for the deeply creative VR experience Fisherman's Tale, your wait is almost over. The experience, co-developed by Innerspace VR, and ARTE, the Franco-German TV network, will be released on January 22, 2019.
Not surprisingly, it's published by Vertigo Games which brought us the very popular Arizona Sunshine (2016) and Skyworld (2017). It will be available for all major VR headsets including Oculus Rift, HTC Vive, PlayStation VR, and Windows VR.
No word on if it will be available for the upcoming Oculus Quest headset, but we suspect not. The graphics in Fisherman's Tale are just too detailed for a standalone headset now. Maybe Version 2 of the Quest in another year.
The VR experience Fisherman's Tale
With the announcement comes an amazing new 360° trailer, The Storm, that lets you explore some of the scenes.
Back in August, RoadtoVR described what you can expect in the game.
Playing as an ex-fisherman named Bob, you find out one day that a large storm is brewing, and it's up to you make it to the top of the lighthouse and turn on the light. After finding a tool to pry the nails off the boarded windows, that's when you notice that things aren't as they appear in the cute, charming world of Bob.

Looking out the window, you see a giant version of yourself in an infinite recursive loop. With A Fisherman's Tale, it really is turtles all the way down.
You progress through a series of rooms, each of which has objects to find that you may need either right away or for the future. It's somewhat like a virtual reality version of an escape room except that there are no major obstacles. You will find your way out. There is even a slider to set the level difficulty so that you can simply enjoy the experience or focus on the puzzle-solving aspect. The choice is yours.
Unlike anything you've experienced in VR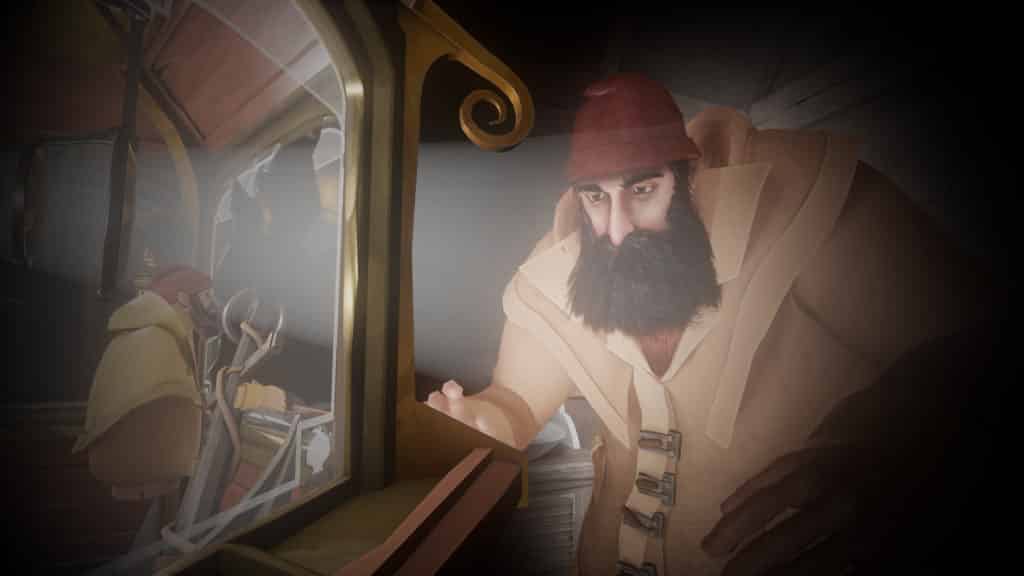 What's so engaging about the VR experience is the giant and miniature versions of yourself. They become part of the puzzle-piece gameplay and the story. You'll find the larger version of yourself handing key pieces to your smaller self.
When you first begin, it will be awfully hard not to take your larger finger and try to poke your smaller self. Even if that doesn't help you progress through the game. Sometimes, VR just does that to you.
Of course, changing scale for different versions of yourself only takes you so far. Writing in UploadVR, Jamie Feltham looks for the deeper storytelling dynamic here,
Why is this fisherman locked away in the solitude of his lighthouse? Why are his ornaments suddenly coming to life and taking him on fantastical adventures? What's with the cutscenes that pop up between chapters?

You get the sense that all of this is mounting to a bigger reveal, one that perhaps might involve a little more trauma than the game's whimsical charm has let on thus far
Interspace reassured Jamie Feltham that future chapters in the story will bring in new plot twists and not overemphasize the multiple versions of yourself in the experience.
If so, the VR experience Fisherman's Tale has the potential to become a major achievement in VR storytelling. We're looking forward to the initial release and the future chapters.
Emory Craig is a writer, speaker, and consultant specializing in virtual reality (VR) and artificial intelligence (AI) with a rich background in art, new media, and higher education. A sought-after speaker at international conferences, he shares his unique insights on innovation and collaborates with universities, nonprofits, businesses, and international organizations to develop transformative initiatives in XR, AI, and digital ethics. Passionate about harnessing the potential of cutting-edge technologies, he explores the ethical ramifications of blending the real with the virtual, sparking meaningful conversations about the future of human experience in an increasingly interconnected world.