Shareable VR? We've been waiting for something like Viewr to come along. It's designed to solve the isolation that we have in our current VR experiences. You know how it is. One person goes through an immersive experience while everyone else sits around and waits.
The person in the headset may be absolutely engrossed in what they're doing. Everyone else is most likely bored.
Developed by the Australian company, #include, Viewr offers shareable VR through a live, position-tracked spectator experience. This is not virtual reality for remote meetings, but a way to participate in another's virtual experience. It's a major step beyond our current solution, which is to stitch together a live-stream from a VR headset and output it to a flatscreen monitor.
It's ironic that we talk about the revolutionary nature of VR, and while one person is experiencing it, everyone else is staring at jerky movements on a rectangular screen.
Viewr
We'll let Chang-Yi Yao, CEO of #include, describe what Viewr is:
Virtual reality is a really exciting and fun experience, but it is extremely difficult to share what is happening inside the VR headset in a meaningful way. Seeing what the player is seeing through a computer screen or TV does not give you the spatial information required for the full picture that an observer needs to fully appreciate VR. With Viewr, VR games can now be something that more than what one person can experience easily — all without the additional expensive, complicated set-up. You just connect to your computer through the app and use your phone as a camera to see what your friend is doing in VR. [VentureBeat]
Shareable VR through an App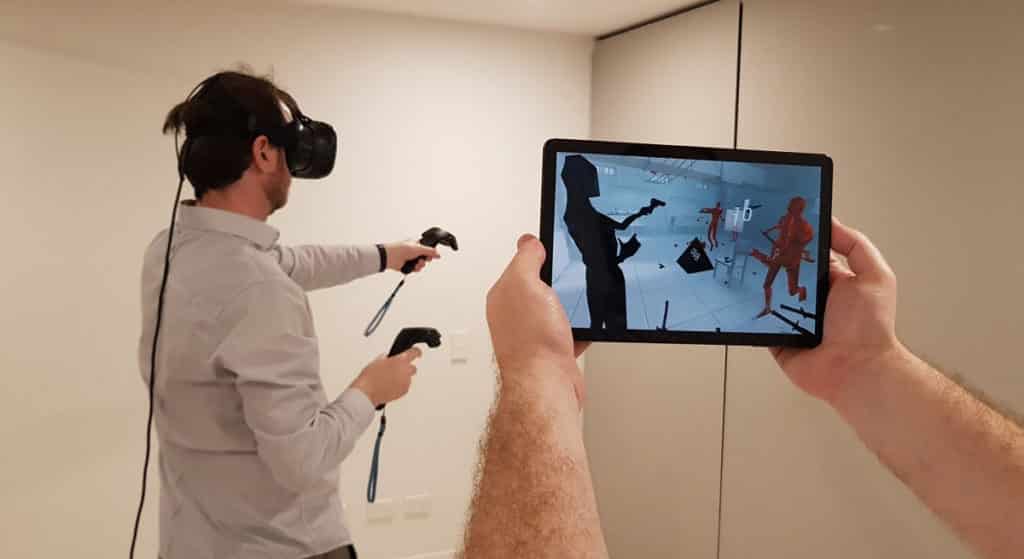 What's fascinating about Viewr is the simplicity of it. This is low-latency shareable VR through an app, not an expensive hardware set-up. Simply technology from a very small company – two employees and a $100,000 in startup funds.
And since it relies on mobile devices, others can feel like they have a portal into the immersive experience.
VRFocus says,
ViewR works in two parts, a PC host which stream the VR content to a mobile device and the mobile app which displays the content. On higher-end devices, the software can track the position enabling you to walk around freely. Whereas lower-end devices will need a tracker to provide the same functionality.
About the only drawback it has is that low-end phones require a tracker. And of course, Viewr is not widely available at the moment. But that may soon change. VRFocus notes that,
ViewR is available today for everyone as a mod for games written in Unity, download it from here. Developers can add the API into their videogames for free, while gamers can run an installer to add ViewR to an existing title. So far #include has modded ViewR into Superhot VR, Beat Saber and Budget Cuts.
It's not just for gaming
The press – and #include's CEO – immediately jumped on the gaming aspect of Viewr. And it will make immersive gaming more sociable and participatory – at least until Oculus Quest arrives in spring 2019.
But let's not cut ourselves short here. Shareable VR will find the most significant impact on education and professional development in business. It's the first step in letting people outside immersive learning experiences actually participate in them.
And there's another application everyone is missing in shareable VR – the design of our immersive experiences. In creating VR, it's critical to watch what someone does, where they walk, when they turn their head. Up to now, we've been primarily confined to external observations. Useful, but not sufficient. Viewr will offer designers new insights into which elements of an experience are most effective.
As we said, we've been waiting for something like Viewr. Waiting too long, actually. It's a small step in the technology that can have a significant impact on getting virtual reality to the next level.
Emory Craig is a writer, speaker, and consultant specializing in virtual reality (VR) and artificial intelligence (AI) with a rich background in art, new media, and higher education. A sought-after speaker at international conferences, he shares his unique insights on innovation and collaborates with universities, nonprofits, businesses, and international organizations to develop transformative initiatives in XR, AI, and digital ethics. Passionate about harnessing the potential of cutting-edge technologies, he explores the ethical ramifications of blending the real with the virtual, sparking meaningful conversations about the future of human experience in an increasingly interconnected world.