Qualcomm has been working feverishly to position itself as the source for processors in VR headsets and AR glasses. Strategically, it's a smart move to supply the underpinnings of the next stage of the digital revolution. At times the rush toward the Metaverse feels like the California Gold Rush in the 19th century, and we all know who made bank on that event – those who sold shovels and tents. Qualcomm's answer for the new Gold Rush is their new Snapdragon AR2 chip designed to fit into AR Glasses and other wearable devices.
The challenge for Qualcomm is not only size and weight but designing a chip with exceptionally small power requirements. The delay in getting AR Glasses to the consumer market is weight – no one will be comfortable carrying the needed power supply in their eyeglass frames. The only alternative – consigning the battery to a pocket or hip-worn device – creates its own problems. Tethered glasses just aren't cool, and they can break the sense of presence in AR and VR experiences.
Qualcomm Debuts A New Snapdragon AR2 Chip
According to Qualcomm, their current Snapdragon XR2 chips already power over 60 devices. As RoadtoVR notes,
Aiming to take a similar bite out of the forthcoming AR glasses segment, Qualcomm has created a new Snapdragon AR2 platform with a distributed processing design. The platform consists of three chips:

AR processor (for sensor perception and video output)
AR co-processor (for sensor fusion and dedicated computer vision tasks)
Wi-Fi 7 chip (for communication to a host processing device)

By creating a more distributed workload across a main processor and a co-processor, Qualcomm claims AR2 is up to 50% more power efficient while offering 2.5 times better AI performance, and a more compact form-factor, compared to the single-chip Snapdragon XR2 solution.
Here's how Qualcomm's new chip fits into a pair of smart glasses: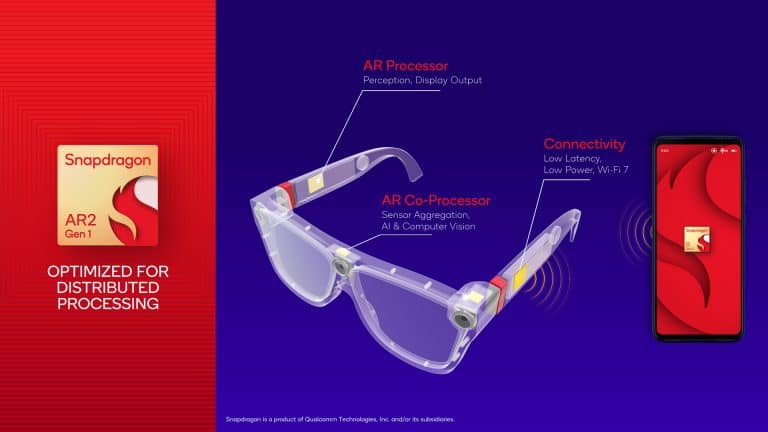 Short of turning the actual frames into a processing unit, it's the most creative approach we've seen to cramming technology into something you'll wear on your face.
No Release Date, But Partners Have It
Qualcomm hasn't announced a release date for the AR2 chips but its partners – including Lenovo, LG, Niantic, Nreal, Oppo, Pico, Qonoq, Rokid, Sharp, TCL, Vuzix, and Xiaomi – already have them. And that's good news as we wait for AR Glasses to hit the consumer market and be the foundation for a paradigm shift in in education and workforce training.
That Apple is outside this development just makes the AR space all the more interesting. A year, maybe two, and the augmented reality space will be vastly different than it is today.
Emory Craig is a writer, speaker, and consultant specializing in virtual reality (VR) and artificial intelligence (AI) with a rich background in art, new media, and higher education. A sought-after speaker at international conferences, he shares his unique insights on innovation and collaborates with universities, nonprofits, businesses, and international organizations to develop transformative initiatives in XR, AI, and digital ethics. Passionate about harnessing the potential of cutting-edge technologies, he explores the ethical ramifications of blending the real with the virtual, sparking meaningful conversations about the future of human experience in an increasingly interconnected world.