Meta is trying a new experiment, exploring the possibilities of a retail store for selling AR and VR devices. It's hardly a surprise when you consider the challenge they're up against. They're pushing into XR with a popular headset to sell but no primary revenue stream like they have with their social media platforms. No one has come up with an unobtrusive way to generate advertising revenue in virtual environments. And with $10 billion spent on their XR initiatives last year, it's time to do more than sell Quests headsets on a website.
Selling XR Devices in a Retail Store
As far as an experiment goes, this is about as limited as you could get – one store in one location with less than ideal hours. It opens on May 9th in Burlingame, California. Everything you expect will be in stock or on display – the Quest headsets, Ray-Ban Stories, and Meta's Portal videophone (which isn't exactly an XR device). As The Verge notes,
The small 1,550-square-foot storefront is opening near Meta's Reality Labs headquarters (at 322 Airport Boulevard in Burlingame) rather than a major metropolitan area like Google's store in Manhattan. It will be open from 11:00AM to 6:00PM Monday through Friday, which isn't exactly prime shopping hours. Meta store head Martin Gilliard says in a statement that the Burlingame location 'gives us more opportunity to experiment and keep the customer experience core to our development,' lessons from which will 'help define our future retail strategy.'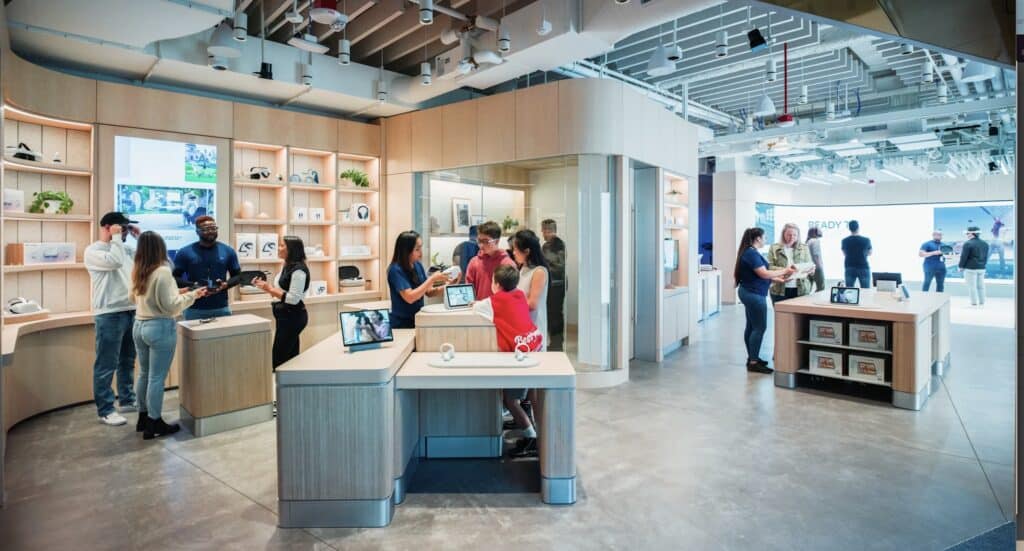 Up to now, about the only place to see the Quest on display has been at Best Buy and some holiday pop-up locations. While that offered some retail store presence, it clearly wasn't as effective as Meta hoped. In our own experiments in running questions by Best Buy employees, we found their training very uneven. Some knew the Quest so well they clearly used it at home; others were basically repeating some generic retail sales lines.
Of course, lurking in the background of this move is Apple. Currently, Apple has 518 stores, which are well run and well placed in prime retail locations. Once Apple releases a VR device or AR glasses, they're primed to do real-life product demos. Meta might be able to compete in the VR gaming market, but a retail store presence will be essential to be successful in the XR consumer market. The Apple model for selling iPhones, laptops, and all the accessories for their ecosystem is not a bad one to follow – but only if Meta can execute it the Apple does.
Once everyone is accustomed to wearing AR glasses and using VR headsets for more than gaming, retail stores may not be necessary. Plenty of iPhone users buy their phones online and simply use the Apple stores as pick-up locations. But walk into any Apple store and you'll see customers handling the devices and chatting with salespeople. Meta's move suggests this may be the future for all our XR purchases.
Emory Craig is a writer, speaker, and consultant specializing in virtual reality (VR) and artificial intelligence (AI) with a rich background in art, new media, and higher education. A sought-after speaker at international conferences, he shares his unique insights on innovation and collaborates with universities, nonprofits, businesses, and international organizations to develop transformative initiatives in XR, AI, and digital ethics. Passionate about harnessing the potential of cutting-edge technologies, he explores the ethical ramifications of blending the real with the virtual, sparking meaningful conversations about the future of human experience in an increasingly interconnected world.