Viewing the night sky in AR is an obvious win for immersive technology. You can already download AR astronomy apps for your phone and there's even a couple of satellite AR apps to track the stuff we've sent into orbit (it's much more than you realize). But a new project by National Geographic and Aryzon promises to bring us a completely different experience of the night sky in AR.
The Aryzon AR Viewer comes from five Industrial Design Engineering students at the University of Twente in the Netherlands. Setting up shop on Kickstarter in early 2017, it was billed as the "Cardboard of VR". We experimented with the early versions but the lack of content kept us from making much use of the viewers. You'll see them around, though they're nowhere close to the popularity of Google's inexpensive Cardboard VR viewer.
An innovative collaboration for an AR project
What's remarkable about this project is the setting and the organizations involved. It takes place in the breathtaking outdoor amphitheater, Au Diable Vert in eastern Quebec. The ObservEtoiles seats 180 people in heated seats, making the venue available year-round.
With the Aryzon viewers (powered by Asus ZenFone 3 Zoom smartphones) and programming from National Geographic, it will be a stunning outdoor planetarium experience in augmented reality. No telescopes, no star charts, just the real stars at night in AR.
And unlike so much our immersive technology up to now, it will be a group experience with a crowd size we typically expect at a movie.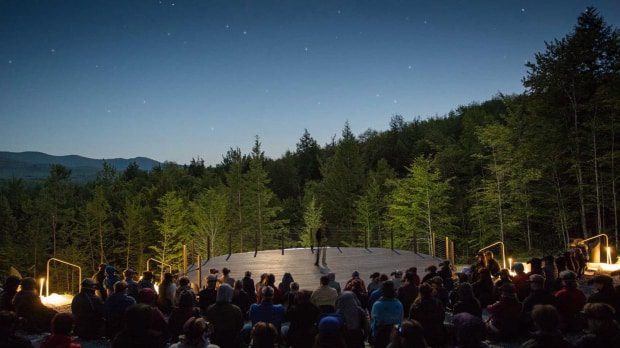 The night sky in AR
Here's more details from VRScout,
The 2-hour AR experience – designed by the British company, Escapist Games, the maker of the popular smartphone app, Star Chart – will use guest astronomers, or "Star Guides," to help you navigate your AR star gazing experience using a program written by the "Night Sky Guy" Andrew Fazekas, a science writer, regular contributor for National Geographic and Canada's Weather Network TV channel, and consultant for the Canadian Space Agency.

Fazekas will continually provide new content and updates for the program.
One of the fascinating aspects of the experience is that the Aryzon AR viewers (and phones) will be able to portray the night sky as it was imagined in the 17th century, overlaying ancient drawings and constellations on the stars. And that's the beauty of AR – it can collapse time in an experience, drawing upon the full range of the human imagination as it evolved over the centuries.
We're not sure if this group AR viewing model will take off but it clearly has potential. Given that AR keeps the real world in view, you can have a real-life guide (take note those of you who have ever taught a large lecture class). In contrast, all virtual reality can do at the moment is offer the disembodied voice of a narrator – at least until we have realistic avatars (which may well be AI driven).
If you're up in Canada or planning on getting there in the near future, tickets can be reserved for the event or you can do the night sky in AR with an overnight stay at the Château-Bromont Hotel.
Let us know if you get to experience it.
Emory Craig is a writer, speaker, and consultant specializing in virtual reality (VR) and artificial intelligence (AI) with a rich background in art, new media, and higher education. A sought-after speaker at international conferences, he shares his unique insights on innovation and collaborates with universities, nonprofits, businesses, and international organizations to develop transformative initiatives in XR, AI, and digital ethics. Passionate about harnessing the potential of cutting-edge technologies, he explores the ethical ramifications of blending the real with the virtual, sparking meaningful conversations about the future of human experience in an increasingly interconnected world.