The SXSW 2017 conference-festival taking place in Austin is like no other. It starts with a conference on education and goes through interactive, tech, games, film and environment. For New Yorkers like us, we get to meet spring early and forget the winter blues for a week or two. It is a place where Thinkers, Makers, and Scientists meet and share ideas and experiences.
Apart from a packed schedule of hundreds of sessions, music venues and parties where the tacos and drinks go all night long, the last few years have see the rise of the company lounge at SXSW. Starting with Mashable House a few years back, it now seems that every tech and media company has set up camp in Austin. This year we walked by the Facebook, Pinterest, Twitter, Pandora, CNN, Dell, and Intel to name a few of the lounges at SXSW. In addition, countries and geographical areas are opening houses – there were venues sponsored by Europe, Japan, and Argentina. Of course, the tech lounges are less about product promotion than branding. And they offer a more relaxed environment to see new technology developments. In many cases, they're a chance to see long term projects and experiments. And all the while, the drinks keep coming.
Favorite Spots at SXSW 2017
Walking around Austin this week here's our top 3 favorite spots at SXSW 2017:
Nat Geo Further Base Camp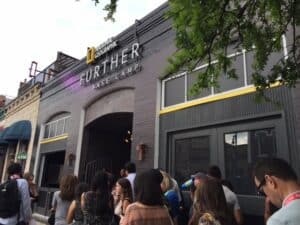 National Geographic opened Nat Geo Further Base Camp at SXSW 2017. The interactive hub featured Augmented Reality; Interactive Robotic Art; Inspirational Talks and Interviews and a Birthday Party and Pi Day Celebration for Albert Einstein. The installation is dedicated to Nat Geo's new series, "Genius," which premiers in April.
See FURTHER is a set of AR experiences powered by the Microsoft HoloLens that brings the theory of relativity to life through powerful visualizations. Wearing HoloLens, you could see holograms of a zooming train that mapped Einstein's thought process and glowing planets appearing around attendees.
On the second floor, visitors had the opportunity to experience Augmented Reality as part of an exhibit of National Geographic photos using Google tablets. Looking through the tablets you see a digital layer that brought the still image to life. There were swimming jellyfish, erupting volcanoes, an avalanche and most striking of all, a whale that simply swims right out of the image.
An interactive robotic artist drew sketches from guest-submitted Twitter photos on Einstein's iconic chalkboard. The photos were transformed through a genius algorithm using Einstein's words, symbols, and equations as pixels. Your portrait through the language of Einstein. Finally, the cocktail menu featured drinks with names like "Genius", StarTalk", "Explorer and "Mars". The combination of science, art, AR, and VR made for an amazing event that had to be in our top 3.
IBM is Making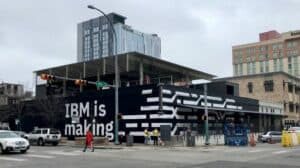 This year IBM took over two floors of Brazos Hall to present IBM is Making. The Makers' Garage on the first floor had multiple stations with developer-focused deep dives. These deep dives gave attendees an opportunity to engage with IBM developer tools in more depth, " . . . inviting them to open up the terminal and actually dig into the code."
I tried out a voice-controlled VR interface through the Google Daydream and HTC Vive headsets. Next IBM brought data visualization to life. Using Microsoft HoloLens and chatting with Watson, the latter discovered my personality and made a T-shirt with a symbol of it. The rooftop lounge was a place to grab some refreshments and listen to live-tapings of the IBM Asks and THINK Podcast series. Below is a 360 image of part of the IMB lounge. Click on the image for a 360° immersive view.
Using voice control to create and manipulate objects in VR was fascinating. After trying every hand controller made for virtual reality, I can see the possibilities here. There were two demos, one using Google Daydream View and the second for the HTC Vive headset. In both, the voice control played a complementary role to the hand controllers. Given the simplicity of Google's device, it actually worked better with Daydream. We're not close to where we need to be in VR interfaces and the work IBM is doing in this area may ultimately end up in the consumer market.
We have been writing about data visualizations in VR for some time and experiencing the HoloLens demo was a great way to see this concept in context. The IBM data science experience is an interactive cloud-based environment. The demo quantified exhaust emissions in New York City and was a delight to use. Once you see your data in an interactive 3d environment instead of Excel spreadsheets and charts, you never want to go back.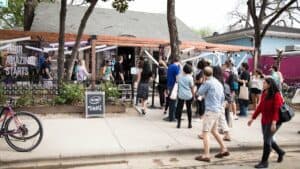 Intel AI Lounge
The Intel lounge located at the Lucille Patio featured a number of experiences along with music, drinks, and hands-on demos that showcased the amazing transformative power of Artificial Intelligence.
There were stations featuring the Lady Gaga drones to a painting studio mixing AI neural algorithms with photography and classic art. This section used Intel's Pikazo app to produce individual AI-infused masterpiece-like portraits. Pikazo is built on a deep neural network modeled on the human brain. It doesn't apply filters but instead, rearranges elements of the original image. Pikazo is able to transfer the style of masterpieces to the image you provide to produce an original and often whimsical image. The Intel lounge offered a steady stream of talks on the many ways AI is making its way in our lives.
Finally, here is my experiment with 22 cameras painting with light using "bullet camera" tech at the Intel AI lounge.
SXSW 2017
Walking around SXSW 2017, it feels like Austin has now become the equivalent of the original 20th century world fairs. It is messy and chaotic and has everything. It covers technology that will soon be in our lives to impractical experiments that will never make it to the marketplace. In this lively multi-language and multi-industry playground, you catch a glimpse of the future in the making.
Maya Georgieva is an EdTech and XR strategist, futurist and speaker with more than 15 years of experience in higher education and global education policy. Her most recent work focuses on innovation, VR/AR and Immersive storytelling, design and digital strategy. Maya actively writes and speaks on the topics of innovation, immersive storytelling and the future of education and consults organizations and startups in this space.