Market predictions have been suggesting the rise of Augmented Reality in the next 5-10 years. With AR, our world will be enveloped in digital layers of information and objects. Once the devices and the technology matures, AR will be simply part of our daily experience navigating, working and connecting in the world. Meta Glasses wants to provide the hardware for these experiences and I had the opportunity to try them multiple times at SXSW 2017. My initial reaction is that the Meta 2 AR headset is an amazing device. They're moving into the same space that Microsoft HoloLens wants to occupy – so follow along for my assessment of who has the lead in Mixed Reality.
We have been following on Meta Glasses for years. We first met Meta's founder Meron Gribetz in the spring of 2013 just as Meta has announced its Kickstarter campaign. We saw a demo that night and ever since have been closely watching Meta glasses. Their prototype videos on the future of Augmented Reality have often made it in our VR / AR presentations and workshops over the years. So it was great to see the progress and try out the new version of Meta Glasses this year.
Meta 2 AR Headset
Meta 2 Augmented Reality Headset and Development Kit was released in December and is available to pre-order for $949.00. Meta 2 displays a range of holograms and digital content. It comes with a software development kit built on top of the Unity 3D engine. The tech specs are impressive and lived up to what they promised in my demos. Meta has a 90-degree field of view and 2560 x 1440 display resolution. It has a 720p front-facing camera and sensor array for hand interactions and positional tracking with 4 speaker near-ear audio. Keep in mind that Meta Glasses remain a tethered device that requires a modern computer with Windows 8 or 10. Mac support is planned for later this year.
Comfort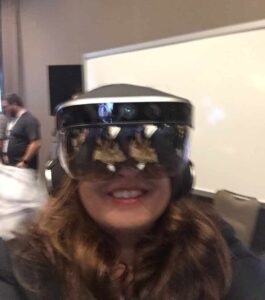 I tried Meta Glasses multiple times at SXSW and at the Capital Factory in Austin. One of my first impressions about Meta 2 headset is how seamless it feels wearing it. Once fitted on the back, the headset is very comfortable to wear. The digital display is completely transparent and you can easily see your environment as well as make eye contact with others. I was even able to take  my own Selfie. Also, there here's no issue while wearing eyeglasses with Meta.
Meta Glasses has stunning visuals
The Meta 2 demo opened with a breathtaking image of the earth. Then a series of holograms guided you through understanding the human brain. I was in a brightly lit room and the colors appeared vivid. I felt compelled to use my hands and reach out and touch the earth. The visuals were smooth and polished and the experience had interactive elements letting you to use your hands. It was a delightful and engaging way to learn about the brain.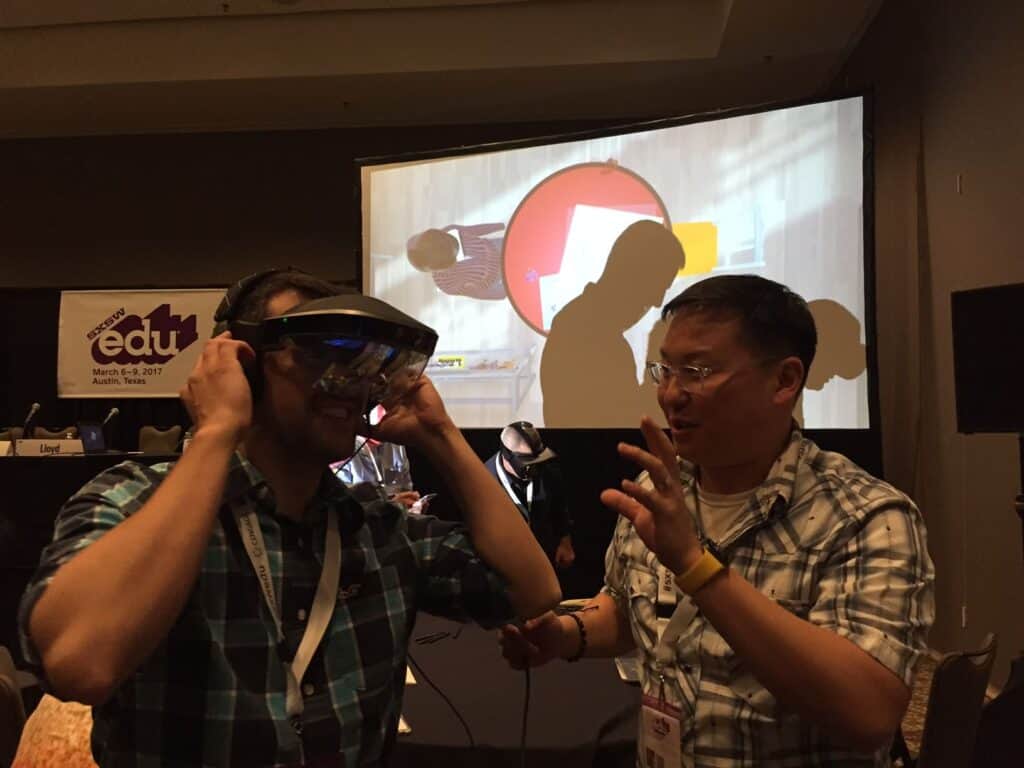 Meta was also part of a SXSWedu session on AR and Learning. With 3 demos in the room the line to try Meta was clearly the longest but it was all worth it.  David Gene Oh, Head of Developer Relations at Meta patiently stayed until the very last person in the room tried it. According to David the future of AR is about collaboration. He shared that Meta wants to replace all of their desktops and instead use Meta in way to improve human interactions rather than having everybody constantly look at their screens.
Field of View
Meta 2 has 90-degree field of view and it makes a difference wearing the headset. The biggest issue with Windows HoloLens's holographic viewing is that the field of view is limited to 40 degrees, which impacts the way you experience holograms. I expect that this will change in future versions but for now Meta 2 offers something that is much closer to your natural experience of the world. For AR to be successful, it can not severely limit our field of view. Below you can see a similar demo offered at the Sundance Film Festival earlier this year.
Of course, Microsoft has a device (expensive) on the market and Meta does not at the moment. That said, the Meta 2 AR Glasses offer an amazing experience that seems much richer than HoloLens. Both feel about the same on comfort though Microsoft has an edge in that you are actually wearing an entire computer on your head.
In conclusion
Eventually, Meta's goal is to embed their tech in a pair of glasses and ultimately make this work as an extension of ourselves. After my multiple demos, I have to say Meta Glasses are delightful to wear. They have made tremendous progress and you can see the possibilities for AR in the future. The company is now based in California and reportedly employs one of the largest number neuroscientists, so certainly a company to watch.
Augmented Reality brings digital information to the world you are in without blocking the environment. For the majority, it is a much more acceptable way compared to VR. This alone suggests that once we figure out the headset the technology will likely see mainstream adoption and become an invisible part of our lifestyles.
Maya Georgieva is an EdTech and XR strategist, futurist and speaker with more than 15 years of experience in higher education and global education policy. Her most recent work focuses on innovation, VR/AR and Immersive storytelling, design and digital strategy. Maya actively writes and speaks on the topics of innovation, immersive storytelling and the future of education and consults organizations and startups in this space.