The announcement of an Intel VR headset is great news. Project Alloy has been on our radar since the initial demo and Matrix-like video showed up last August. A second demo at CES 2017 confirmed our belief that Intel is serious about this project.
Project Alloy is a unique VR platform with inside-out positional tracking. Using a cordless headset, you can wander around in real space that merges both real and virtual environments. Not surprisingly, Intel refers to the environment as "Merged Reality".
Intel's been clear that they're not interested in manufacturing a VR headset. They'll license the design for outside vendors and provide the internal hardware.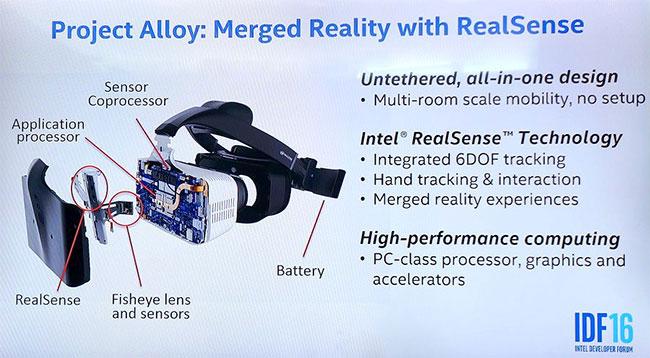 UploadVR spoke to Nicole Smith, Intel's head of communications for VR.
. . . the full reference design for Alloy includes a suite of Intel's latest technology including 'two of our RealSense' modules 'and will incorporate new components from our recent acquisition of Movidius.' Movidius is a computer vision company that Intel officially acquired late last year. Its technology could play a key role in the functionality of headsets powered by Intel's tech, which heavily emphasizes the ability to see and understand a physical environment.
Development kits are already in the hands of software studios though it's unclear they'll have time to produce much content by the end of 2017. As with Oculus and HTC Vive, it may take closer to two years before we see a significant range of content. It may be even more challenging as it interlinks real and virtual worlds.
You can see the potential in the CES demo of the Intel VR Headset. A mock living room turns into a gaming environment. In the future, it will be your virtual travel center, your learning environment, your office, your retail space.
As for the cost, have a seat in a real chair. This doesn't come cheap. Intel's been hinting that it will be laptop-priced, around a $1,000. That's a lot for a VR headset, but think of it this way. It's still less expensive than the full setup (with computer) for an Oculus or HTC Vive.
Is the Intel VR Headset the future?
Intel would definitely like us to see it that way. But they're not the only ones working on untethered headsets with inside-out positional tracking. The computer vision company, Eonite, claims it can do this with any VR headset. At OC3, Zuckerberg said that Facebook was working on an Oculus project that would result in a wireless stand-alone headset.
And at CES 2017, Lenovo showed off a similar model that is:
. . . expected to be as good or better than the HTC Vive and the Oculus Rift. There are cables running from the headset, and head tracking is through a pair of front facing cameras on the device itself. This unique approach allows for inside out head tracking without the need for external towers.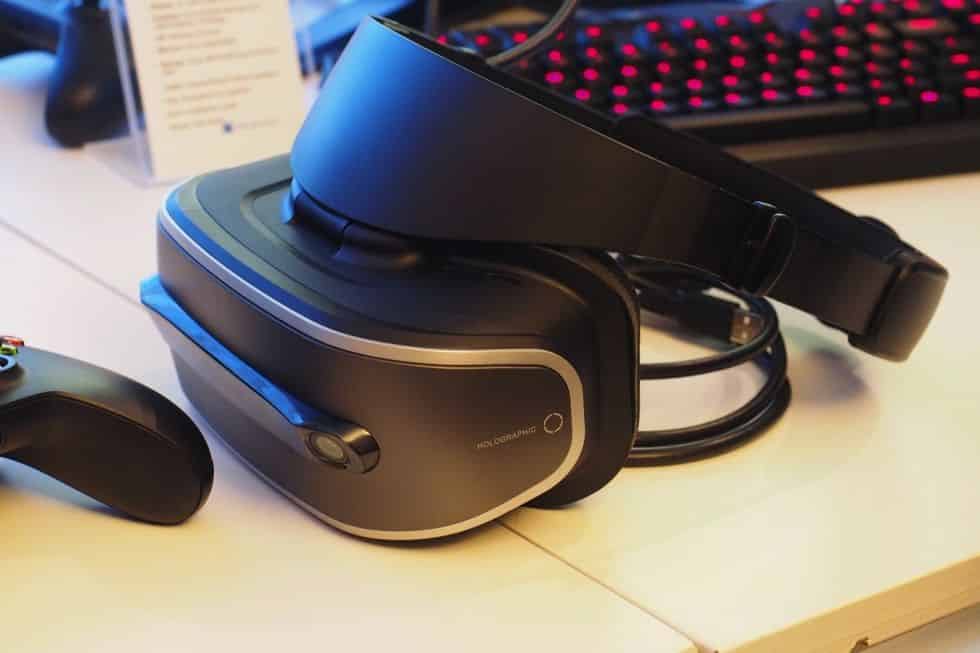 In other words, this is becoming a crowded segment of the VR headset market in 2017. The advantage of the Intel VR Headset is its RealSense cameras, which offer ". . .depth perception, 3D imaging, interior mapping, and feature tracking." No need for a hand-controller when you can use your actual hands.
Competing platforms
The developments in inside-out tracking and the interplay with the real world will be a game-changer for VR. Once we cut the cables and can navigate the real world inside VR, there's actually more than six degrees of freedom. Most retail setups, VR labs and film festival events require an assistant for each person using an Oculus or HTC Vive. Capacity is severely limited. Lines form. People lose interest. Soon we'll be able to just hand someone a VR headset and let them enjoy the experience.
If there's an issue with these developments, it's that we may end up with competing platforms. As UploadVR noted:
We also asked if there was a chance this Alloy-powered headset could work with pre-existing VR experiences on a platform like Steam. According to Smith, compatibility could be an issue due to the design's unique input methods, tracking and more limited processor compared to a high-specification PC needed to run a Rift or Vive.
There will come a day when VR will be like our smartphones – probably with 2-3 major ecosystems. Right now, the number of options is actually increasing. And it will continue until there's a market shakeout.
Expect the second half of 2017 to be a messy if bountiful harvest of options for virtual reality.
Emory Craig is a writer, speaker, and consultant specializing in virtual reality (VR) and artificial intelligence (AI) with a rich background in art, new media, and higher education. A sought-after speaker at international conferences, he shares his unique insights on innovation and collaborates with universities, nonprofits, businesses, and international organizations to develop transformative initiatives in XR, AI, and digital ethics. Passionate about harnessing the potential of cutting-edge technologies, he explores the ethical ramifications of blending the real with the virtual, sparking meaningful conversations about the future of human experience in an increasingly interconnected world.