We were already feeling bad about missing SIGGRAPH 2018 this week due to scheduling issues and the latest Virtual Reality news just added to it – StarVR's debut of a nextgen VR headset. It's a remarkable device, with a unique design and a super-wide 200° field of view (FoV).
That's up there with the long-delayed Pimax nextgen VR headset which we've been following and continues to miss its shipping deadlines (first January 2018, then Q2, now who-knows-what-date).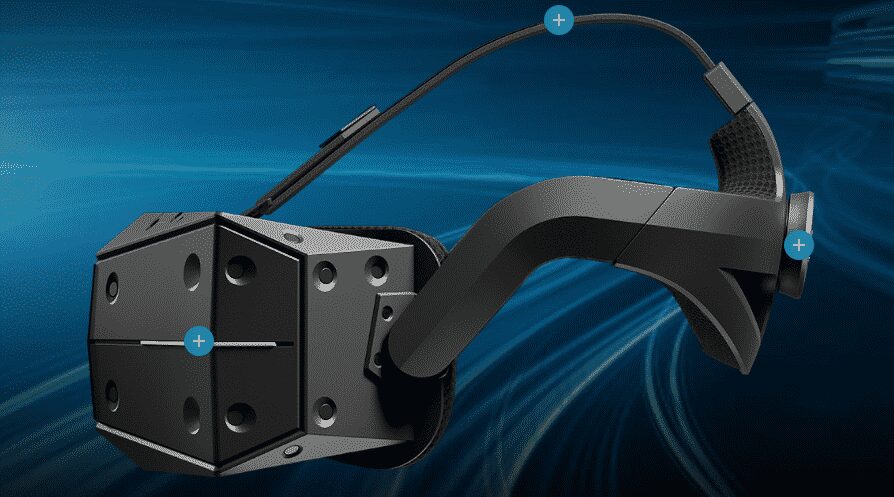 StarVR achieves what Pimax has been promising and includes eye-tracking which adjusts the image to the direction of your gaze. Foveated rendering mimics what your eyes do naturally – reducing the quality of the scene in your peripheral vision.
According to Venture Beat,
. . . the reason that an IMAX or other VR-curious entities are interested in StarVR over the Oculus Rift or HTC Vive is because the One comes packed with a lot of technology. It has expanded on the massive viewing angles of the original to cover 210 degrees horizontally and 130 degrees vertically. The company claims this covers almost the entire human field of view, which should eliminate the diving mask-like effect you get from Vive Pro and Rift.

The StarVR One also integrates Tobii's accurate eye-tracking technology. This can tell where on a screen you are looking, which enables dynamic foveated rendering. This saves processing power by rendering where your eyes are looking in perfect clarity while holding back resources from other parts of the scene.
Check the examples on their website contrasting the FoV of our current HMDs and the StarVR One – the difference in the immersive quality is remarkable. It's still a herculean effort with our technology but soon enough, 200° FoV will be the standard for all HMDs.
Details and Specs
The StarVR One is exceptionally lightweight, coming in at a mere 450 grams (lighter than the Rift or Vive). And its 3-way adjustment mechanism on the back will make it very easy to use in public demos and expos (especially in contrast to something like the Magic Leap One).
Of course, a nextgen VR headset like the StarVR One gobbles up processing power. For those of you interested in the specs, you'll need a Nvidia 1080 graphics card and either an Intel® core™ i7-7700 or AMD Ryzen™ 7 2700X, none of which comes cheap – especially in a laptop.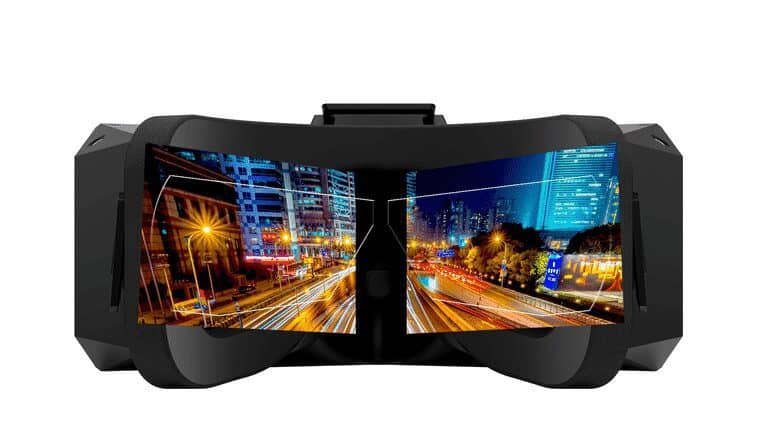 The future of nextgen VR headsets
StarVR is not targeting consumers with their innovative HMD but making a concerted push into enterprise and location-based VR entertainment centers. We're not so sure there's a market for that though it may gain some traction in corporate settings and high-end education research labs where cost is not a factor.
But if our Smartphones are any sign of VR's future, the enterprise market will soon dry up. These days, most of us all use the same model phones outside of some security software and apps.
We expect the same to happen in the VR market. We'll coalesce around a standard that includes 200° FoV and eye-tracking technology – for both consumer and enterprise VR.
Of course, the eye-tracking technology will eventually open the door to far less noble applications than foveated rendering. But we never said the ethical issues were going to be easy.
Your qualms with Facebook's algorithms and Google tracking you after you've turned off location history are nothing compared to what's coming. We not even at the dress rehearsal for our future privacy battles.
For now, StarVR is debuting a remarkable device with features that you'll soon come to expect in any VR headset. As we always like to say around here at Digital Bodies – the future is closer than you think.
Emory Craig is a writer, speaker, and consultant specializing in virtual reality (VR) and artificial intelligence (AI) with a rich background in art, new media, and higher education. A sought-after speaker at international conferences, he shares his unique insights on innovation and collaborates with universities, nonprofits, businesses, and international organizations to develop transformative initiatives in XR, AI, and digital ethics. Passionate about harnessing the potential of cutting-edge technologies, he explores the ethical ramifications of blending the real with the virtual, sparking meaningful conversations about the future of human experience in an increasingly interconnected world.