Snap continually surprises us. Their AR Glasses project didn't exactly take off, even though they've now released three versions of the wearable. But they continue to innovate with their AR platform, releasing new features, mini-apps, and now striking content deals with Disney and NBCUniversal. That expansion shows in the rapidly growing use of AR in the Snap community, with some 170 million snapchatters engaging with augmented reality on a daily basis. According to the company, that's more than three-quarters of their user community.
Everyone may still be waiting for Apple to make its move on the AR and mixed reality front, but when they do, Snap will have already prepped the market. And their work has implications for how AR will be used in the education and entertainment sectors.
How fast is their AR platform expanding? Two years ago, creators had produced 100,000 lenses. Now there are over a million – so many that one of the real challenges in using Snap is finding the AR lens you want to use.
Snap's AR Platform – Latest Features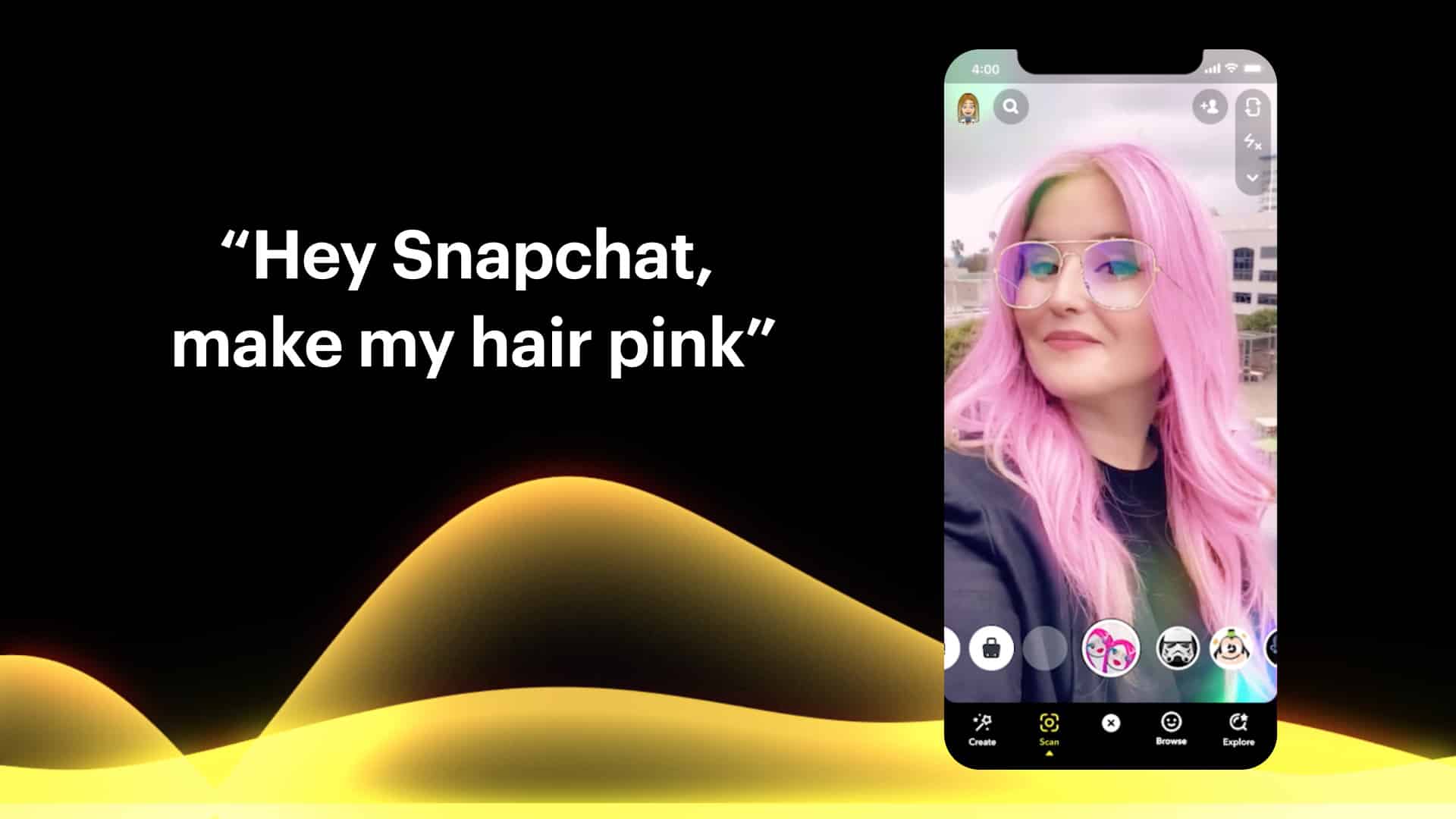 Snap rolled out the new features of its AR platform at its slickly produced Partner Summit earlier this month. Like all events this spring, it was a virtual event due to the Covid-19 pandemic. As TechCrunch noted, the most striking innovation was the introduction of a voice interface to solve the discoverability challenge.
Snap is preparing to roll out a new method of sorting through Lenses, via voice, and if they can nail it, the company will have a clear pathway for transition from entertainment-only AR to a platform based around utility. In its current format, the app's new voice search will allow Snapchat users to ask the app to help it surface filters that enable them to do something unique.

While it's easy to see where a feature like this could go if users rallied around it, the examples highlighted in a press pre-briefing didn't exactly indicate that Snapchat wants this to feel like a digital assistant right out of the gate:

"Hey Snapchat, make my hair pink"
"Hey Snapchat, give me a hug!
"Hey Snapchat, take me to the moon"

. . . building this infrastructure into the app seems powerful, especially when you look at the company's partnerships for visual search with Amazon and audio search with Shazam inside its Scan feature.
Apple, Google, and Facebook will be watching this closely. All three have AR Glasses in development, and interface design for AR wearables remains a significant challenge. Imagine the impact of introducing a device in education and industrial training where the interface was as natural as speaking.
Persistent AR Worlds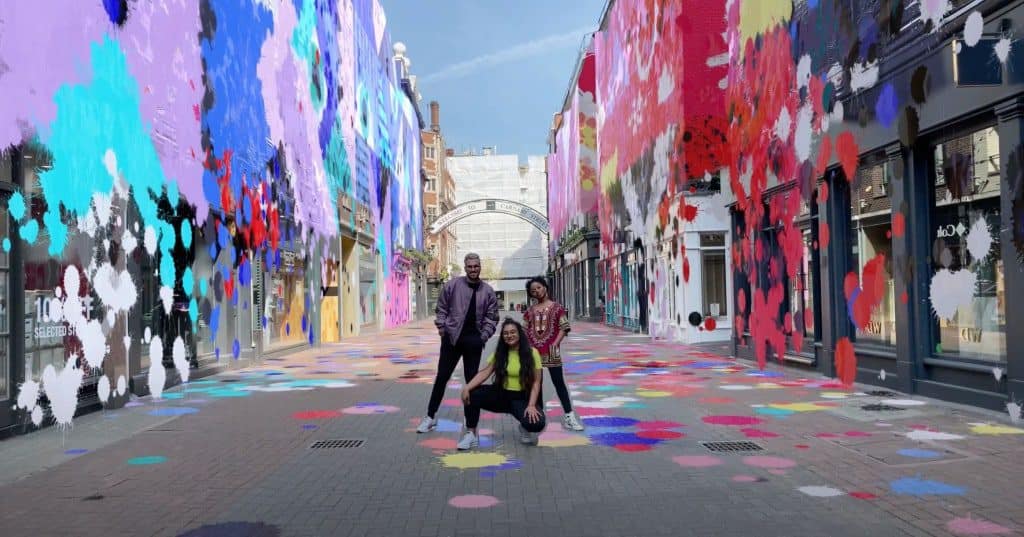 An even more powerful feature is Snap's new local lenses, which simplifies lens discovery and offers persistent AR experiences.
On the user side, pointing and holding in a neighborhood will now unlock "local lenses," which lets users actually decorate buildings and other landmarks in AR. It's kind of like a shared street art experience, in which users build on each other's creations, that anyone in the physical space can access.
Here's Snap's quick video introduction to the feature which has tremendous potential in the learning environment. If you can playfully transform a building, you could also add information and or ultimately recreate the way it (or the setting) looked in the past.
Snap's Mini Apps and Content Deals
Not content to stop here, Snap is also rolling out partnerships for visual search. Plant Snap and Dog Scanner do precisely what you might imagine, identifying over 90% of the world's plants and the thousands of dog breeds. Upcoming integrations with Yuka, a food and cosmetics app will allow users to scan nutritional labels in stores.
And Snap is expanding on its earlier partnerships with the entertainment sector.
Snapchat also announced that it has renewed its Discover content deals with ESPN, NBCUniversal, ViacomCBS, the NBA and the NFL that will keep shows like SportsCenter, Stay Tuned and The Rundown on the platform. Disney has also inked a larger deal with Snapchat that will bring projects like Freeform's Debate Date to the app.
The new features in Snap's AR platform could position it as a powerhouse in augmented reality. While they may not succeed in the wearable market (though don't count them out), they could quickly become the content creation provider and platform of choice for another device.
In the tech area, the company that's first out of the gate often fails. You innovate but someone else ultimately steps in to take the market (what Apple loves to do). Snap may prove this wrong. Their AR platform continues to deliver innovative features that could transform how we learn and access entertainment.
And one thing is clear: Snap is already revealing how augmented reality will transform our daily experience of the world around us.
Emory Craig is a writer, speaker, and consultant specializing in virtual reality (VR) and artificial intelligence (AI) with a rich background in art, new media, and higher education. A sought-after speaker at international conferences, he shares his unique insights on innovation and collaborates with universities, nonprofits, businesses, and international organizations to develop transformative initiatives in XR, AI, and digital ethics. Passionate about harnessing the potential of cutting-edge technologies, he explores the ethical ramifications of blending the real with the virtual, sparking meaningful conversations about the future of human experience in an increasingly interconnected world.