The Oculus Quest is here, promising to be the next generation of VR. We finally get a mass-market headset that's relatively low-cost, has 6DOF functionality and doesn't need to be tethered to an expensive computer. Despite a few doubters, this should take VR to the next level.
But you may still be disappointed in the Quest unless you bear in mind that this is version 1 of untethered VR. It's the beginning of a new era, but the first iteration includes some compromises.
Here's the Oculus Quest and Rift S announcement in five minutes if you haven't seen it. Without, of course, any mention of the compromises. More on that below.
The Price is Right
Facebook promised an HMD at $399, and they delivered. And they've already proved that lower-priced HMDs can be successful. Over a half million of the $199 Oculus Go units were sold in the last quarter of 2018. Since its release in May 2018, they've sold over a million. And this is for a limited device that is just a 360 video viewer. It's fun to use, and organizations like Walmart have rolled it out for employee training. But it doesn't come close to the full potential of virtual reality.
SuperData predicts the Oculus Quest will be the best-selling HMD of 2019.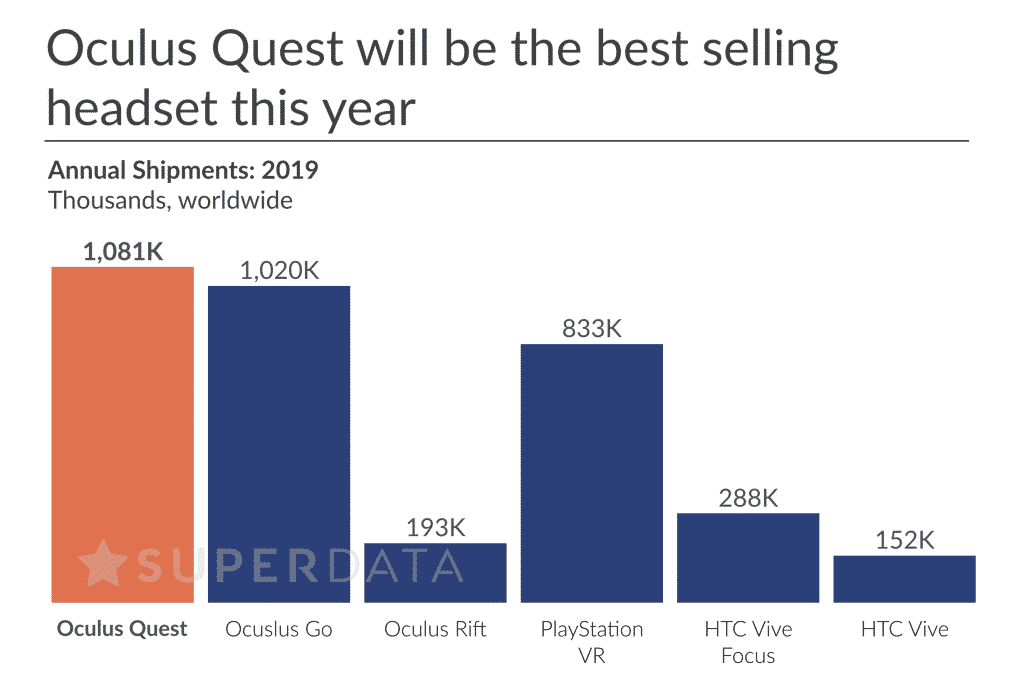 Together, projected sales for Oculus Quest and Go will be 58% of the total market. Facebook would own the VR space if it were not for PlayStation VR. It makes you wonder about the future of HTC.
Oculus Quest: The Go Anywhere HMD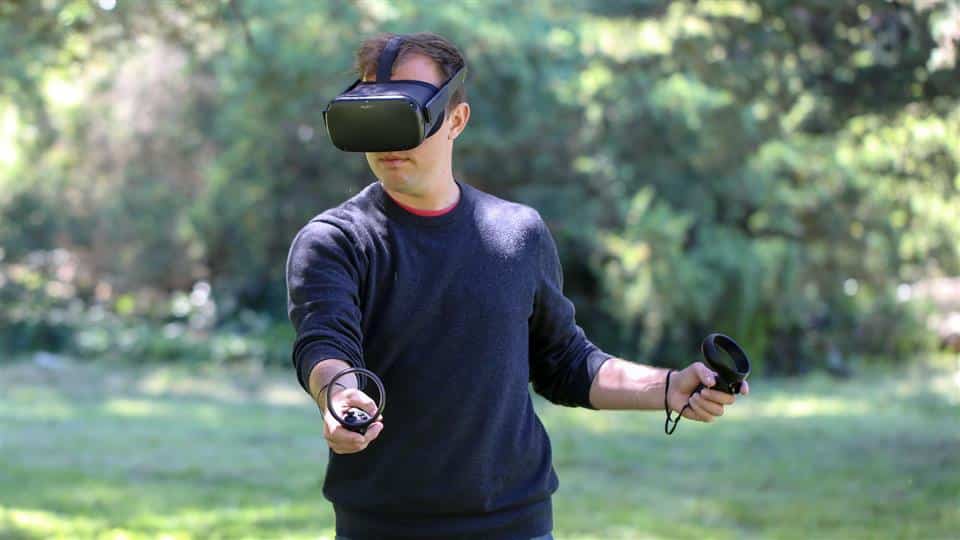 Now that we've finally killed off the need to tether to a PC, the Oculus Quest can be used anywhere. That makes it incredibly convenient for schools and universities that want to implement VR. The limited battery life means that someone needs to invent a VR cart to store and recharge the units (like the laptop carts of days past).
Oculus Quest Specs
As Engadget suggests, let's just call the Quest what it is: a massively upgraded version of the Go:
There are four tracking sensors up front, along with a USB-C charging port and power button along the sides. A redesigned adjustable head strap dominates the rear — it's more flexible than the Rift's, but more rigid than the Go's stretchy straps. Along the bottom, you'll find eye distance controls and volume buttons. While the Quest has built-in speakers, you can plug in headphones to either 3.5mm port along the sides of the headset. And if you're wondering why it has two, that's because Oculus has custom earbuds that'll rely on both ports, so you won't have to worry about maneuvering cables around your head.
But mobility comes at a price. Getting 2-3 hours of battery life (early reports suggest it's closer to two) means a headset that weighs 1.2 pounds. That's heavier than the Go and Oculus Rift, and you'll notice the weight on your face.
Yes, There's Comprises
There are a couple of glaring weak points, evident when you first try out Oculus Quest. It's powered by a Snapdragon 835 processor, which was state-of-the-art back in 2017. The current Samsung S9 is running on a next-gen 845 processor. That means Quest can handle many VR experiences, but not the most demanding ones.
At least we're getting Google's Tilt Brush which is a perfect match with spatial freedom that the Quest offers. It remains to be seen how many other experiences developers can port over.
The display is better than the Oculus Go with OLED lenses that each have 1,440 by 1,600 resolution. They're good, but you're still going to have a screen-door effect. If you're a regular user of a high-end HMD, the image will be disappointing.
The biggest disappointment for us? We were surprised to see the limited play space. For a headset that demoed "arena-scale" VR at last year's conference, you'll be limited to a 25×25 foot area. That's more than sufficient for most VR experiences, but cuts short the futuristic promise of massive virtual spaces.
Enterprise Version
For enterprise, Facebook is upgrading its Oculus for Business program for the Oculus Quest. Obviously, an easy-to-use headset shouldn't require additional technical support. We're always reminded of Elon Musk's comment that technology that requires instructions is broken. However, the program offers attractive features including the option to develop custom immersive experiences for employee training. They haven't said much about education, but they may be thinking that enterprise training will take off faster.
Just Barad, CEO and co-founder of Osso VR points out that Quest addresses the basic challenge of access.
The biggest barrier to proper use of simulation within healthcare is not one of realism and fidelity, it's one of access.
Facebook's admitted promotional video gives you a sense of how virtual reality is used in industry and healthcare.
Final Thoughts
Despite the apparent compromises, this marks the beginning of the future of VR. Subsequent versions should weigh less and include better graphics. If you're looking to use VR in multiple locations, the Oculus Quest is the headset to get now.
The main issue is to see what content creators can deliver for a 6DOF mobile VR platform. Facebook may have solved the tethered problem and got the price down to a reasonable level. But content creation and distribution remain a challenge for virtual reality.
Seriously, as good as this is, we can't play Beat Saber forever.
Emory Craig is a writer, speaker, and consultant specializing in virtual reality (VR) and artificial intelligence (AI) with a rich background in art, new media, and higher education. A sought-after speaker at international conferences, he shares his unique insights on innovation and collaborates with universities, nonprofits, businesses, and international organizations to develop transformative initiatives in XR, AI, and digital ethics. Passionate about harnessing the potential of cutting-edge technologies, he explores the ethical ramifications of blending the real with the virtual, sparking meaningful conversations about the future of human experience in an increasingly interconnected world.