Facebook reported yesterday that Oculus Quest 2 sales surpassed their expectations, coming in at 5X the initial sales of the original headset. That's hardly a surprise, given that it's the best standalone VR headset available despite some minor issues and more serious concerns over the Facebook account requirement. But popularity in the consumer market doesn't equate to ease of use for education and nonprofit organizations. Let's unpack the data and see where we are.
Oculus Quest 2 Sales
Facebook reported earnings yesterday, and Zuckerberg said the following in the company's Q3 earnings call:
We launched Quest 2, our most advanced virtual reality headset, right in time for the holidays. It delivers a real sense of presence — like you're right there with another person or in another place — and we've worked to make it accessible to more people. It's lighter, faster, has a sharper screen, and a new price point of just $300. Pre-orders have outpaced the original Quest pre-orders by more than 5x and have surpassed our expectations.
More interesting in Zuckerberg's discussion of the Quest 2 sales data was his comment that they're on track to develop a self-sustaining ecosystem for developers.
The big milestone that I'm focused on here is we want to get to 10 million active units," adding: "the ecosystem will really be able to be self-sustaining…it will really economically make sense for independent developers to prioritize the Oculus platform above alternative gaming platforms.
That bodes well for content creation – at least in the gaming community. But of course, that has been the marketing focus of the Quest project from the beginning. Developing content for learning resources, art/film venues, and immersive storytelling will be more challenging and doesn't seem to be on Zuckerberg's radar right now.
While Facebook doesn't release detailed sales numbers, the company is quickly becoming a dominant player in the XR market. If you look at the chart from RoadtoVR back in February and consider that the Rift S will be discontinued in Spring 2021, the Quest will become a primary market for developers.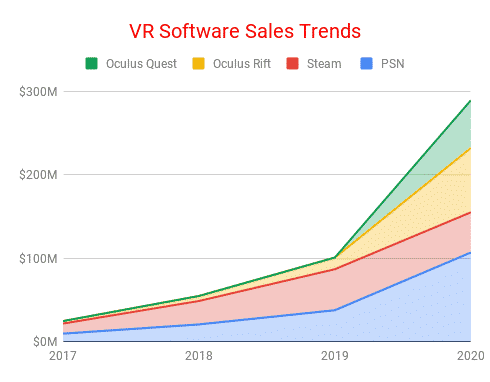 Quest 2 Pricing Challenges
The challenge is that while the price dropped, there is no easy solution for education and nonprofit organizations. The Oculus for Business program provides device management, but the headsets cost $799 plus an additional $180 a year licensing fee. Ouch. For a corporation like Walmart, that's not a major issue when it comes to workforce training.
But in a pandemic year of cash-strapped educational institutions and museums facing funding challenges, purchasing a set of 20-30 headsets plus ongoing licensing costs can be a significant barrier. You can go the other route and acquire individual headsets, but then you face the need to have verified Facebook accounts. There has been some pushback from the education community – there should be much more – and we're hoping to see a solution. We'll keep you posted as we hear further details.
Overall, the Quest 2 sales data was a bright spot for XR in general, especially in the midst of a global pandemic. It means VR headsets are pushing into the consumer market, no longer the novelty item they once were. And indirectly, it benefits education since we suspect (no hard data yet) that most of the Quest 2 sales are powered by a younger age set, most of whom are in school. The ideal situation for XR will always be BYOD – in much the same way that mobile devices are fairly ubiquitous. But getting there is a proverbial long and winding road especially since VR headsets are not everyday life-enhancements the way our smartphones are. The interim solution is obvious: Facebook and other Silicon Valley firms need to offer XR for education purchase programs at a discount.
Let us know if you think they'll move in this direction.
Emory Craig is a writer, speaker, and consultant specializing in virtual reality (VR) and artificial intelligence (AI) with a rich background in art, new media, and higher education. A sought-after speaker at international conferences, he shares his unique insights on innovation and collaborates with universities, nonprofits, businesses, and international organizations to develop transformative initiatives in XR, AI, and digital ethics. Passionate about harnessing the potential of cutting-edge technologies, he explores the ethical ramifications of blending the real with the virtual, sparking meaningful conversations about the future of human experience in an increasingly interconnected world.