The calendar has rolled around, and once again, it is Halloween night in the West Village in New York City. Usually, this evening has one of the most massive parades for the City. Instead, we have only a few pumpkins on the brownstone steps and some window decorations. Sadly, but understandably, there's no parade. Still, the cafes and restaurants are open (with outdoor seating), and children in costume walked the street today. As the night falls, here are several ideas to do with those close to you, ways to celebrate safely in the virtual world – a Halloween in AR and VR.
Augmented Reality Fun – Halloween in AR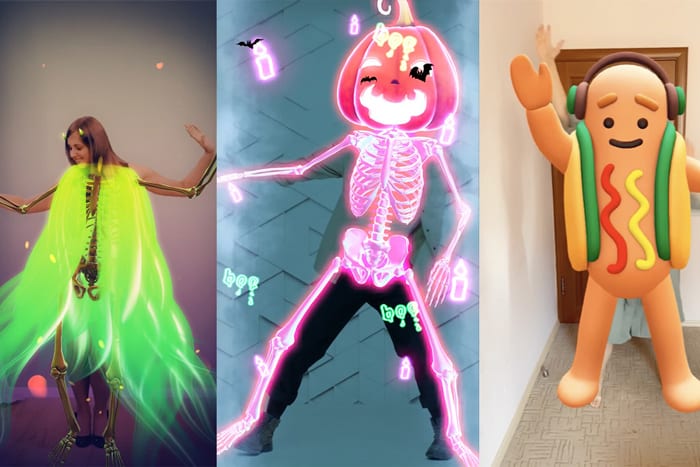 There is still time to share your Snap face make-up image or – new this year – do an entire full-body costume with Snapchat's Halloween AR Lenses. Snap regularly expands its features and is offering a set of Lenses that provide full-body tracking functionality. Here, you can pick a costume without leaving your home and share it with others. To get started, open the app, dress up as a purple pumpkin for Halloween, wear a green skeleton cloak, wear a hot dog costume, or bring out a giant tarantula. The tracking technology works across iOS or Android platforms, and the new Lenses are in Snapchat's Lens Explorer via Lens Studio, Snap's free desktop-based app. These new full-body Lenses are not yet available to create with the public version of Lens Studio, so you have to pick one of the existing ones, but this may change in the future.
AR Ghosts, Pumpkins, and Skeletons in Google Search
You can also find ghosts for your Halloween in AR on Google Search – possibly the easiest augmented reality experience to do tonight. There's a floating ghost, dancing skeleton, a set of creepy jack-o'-lanterns, and costumed cats and dogs. Google has launched the augmented reality-powered features on Google Search, which appear as an option when you search for specific Halloween terms using a mobile device.
Do a mobile search for the word "Halloween" (or "pumpkin carving" or "skeleton") and scroll down the search results page. You'll see a box that prompts you to "Summon up a 3D ghost." When you tap the "View in 3D" button, you'll have the ghost or other virtual entities floating around your room – or even outside if you like.
Virtual Worlds for a Halloween in VR
If Halloween in AR is not your style, there are several social VR events available. AltspaceVR is hosting events throughout the weekend, like the Halloween Worlds Tour Maze on Oct. 31st from 10 PM to 11:30 PM EDT. Check out the full list of events here.
Enjoy a Burning Man Halloween on the Virtual Playa on Altspace VR. BRCVR is a home for the Black Rock City art, camps, and, most importantly, its citizens. BRCVR is hosting a mystical Mini-Burn from Oct. 30th to Nov. 2nd.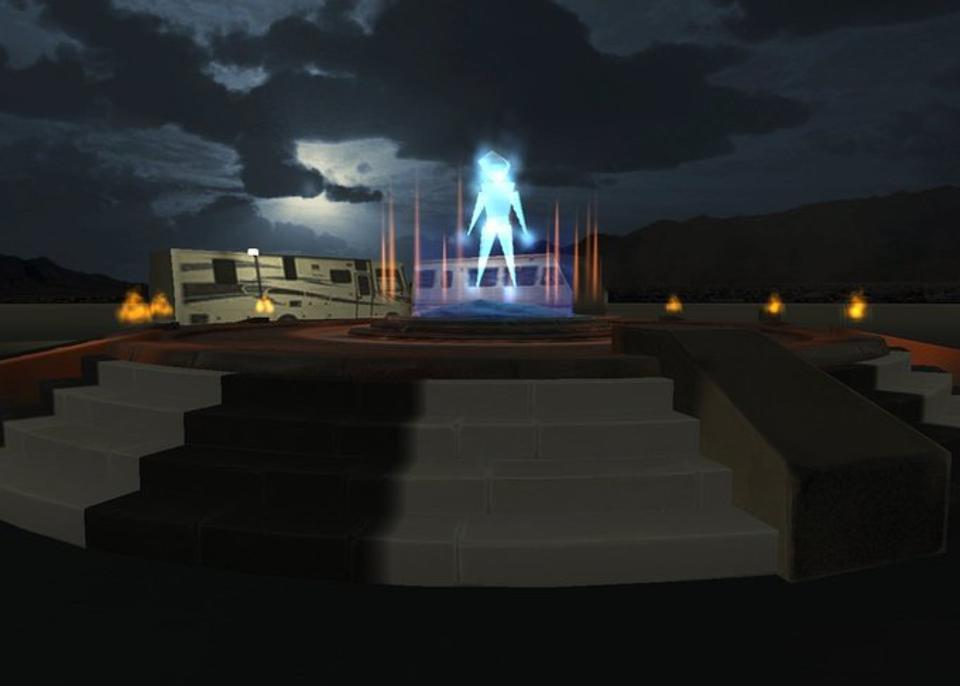 VR Games for a Scary Night
While there's a good set of horror and thriller titles in virtual reality and personal tastes will vary, Half-Life: Alyx is on top of our list as one of the most intense experiences in VR. Nothing like having Headcrabs fly at your face from out of the dark. Want to enhance your experience with a tactile dimension? Open a window the cold air in (if you live in the right climate). It will send chills down your spine and remind you that as good as our VR is, we really need haptic feedback from our actions and the environment to make it fully immersive.
If you want to make your whole weekend immersed in virtual horror, explore the new titles for the Oculus Quest, including The Walking Dead: Saints and Sinners (travel through the ruins of walker infested New Orleans) and The Exorcist: Legion VR (the how-to of demonic exorcism).
Other popular Quest horror titles include AFFECTED: The Manor, Face Your Fears 2, and Five Nights at Freddy's: Help Wanted and Meet the Blair Witch.
Finally, if a zombie apocalypse is your thing, try Arizona Sunshine. You can find it on Valve Index, HTC Vive, Oculus Rift, and the Oculus Quest. Arizona Sunshine is a VR zombie shooter game that is far less terrifying, and you can play it with friends. It's available to play on most VR headsets now, including the new Oculus Quest 2. Zombies popping out left and right, dwindling ammo—there's not much more to say about Vertigo Game's story-driven co-op shooter Arizona Sunshine. Ok, maybe one thing: practice your headshots.
A few years from now, our Halloween celebration will be entirely different. AR glasses will be available and we'll begin to live our lives in both the real and virtual simultaneously. But trick or treat, we hope you find your own Halloween in AR and VR fun tonight! 
Maya Georgieva is an EdTech and XR strategist, futurist and speaker with more than 15 years of experience in higher education and global education policy. Her most recent work focuses on innovation, VR/AR and Immersive storytelling, design and digital strategy. Maya actively writes and speaks on the topics of innovation, immersive storytelling and the future of education and consults organizations and startups in this space.