A new VR industry group has been formed to work on global education, technical issues and share best practices. Google, HTC, Oculus, Samsung, Sony and Acer are joining forces in the Global Virtual Reality Association, [Update: now the XR Association]. It's a sign of how rapidly the virtual reality space is changing. For the past few years, VR has largely been a Wild West tech frontier, the province of start-ups. Even Facebook got into the game by plucking Oculus rift out of Kickstarter (to the dismay of many of its early backers).
The GVRA's mission is to ". . . unlock and maximize VR's potential." We're not sure exactly what that means – is anyone not trying to unlock the potential of virtual reality? However, it's good to see the major players take a step toward working together. Who knows? Maybe they'll have the courage to tackle the issue of competing standards.
Divergence – Convergence?
VR is following a common pattern in technology development. Many platforms are not device agnostic and Google's recent Daydream initiative only adds to the complications. We just received our Daydream View headset (more on that later) and of course, it only works with a Google Pixel Phone (just received that, too) and Moto Z. And don't expect Apple to jump into the VR/AR space with acceptance of someone else's standards if they release a device in 2017.
And not everyone is in the group that should be. While HTC is committed, Valve – the creator of the SteamVR platform – is notably missing. And the mixed reality companies are not involved, including Magic Leap and Microsoft (which has its own VR headset coming). The GVRA faces no small challenge in just getting everyone to sit at the same table, much less share best practices. But at least it's a start.
GVRA's focus on Education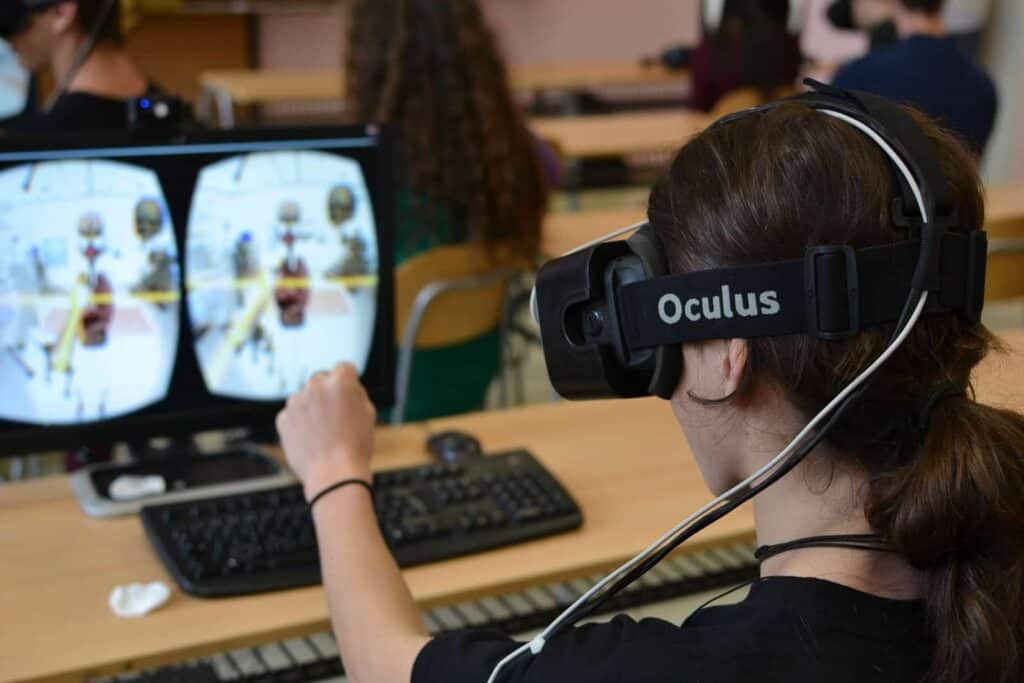 We were thrilled to see the VR industry finally placing emphasis on education. The GVRA sees itself not just as a resource for the industry, but for the public and policy makers. From their About Us section:
This group believes in VR's immense global potential and the opportunities ahead – it will change the landscape of education, training, healthcare, and design, among many other areas. While seeking to educate consumers, governments, and industry about VR's potential, the association wants to get ahead of challenges with developing and deploying the technology responsibly. That's why we feel it's important to bring together international experts across industry to work collaboratively on global education, potential technical challenges, and promoting best practices in the field.
But the challenge here is that the GVRA is only for those in the VR headset industry. Membership is open to any company that is an ". . . international VR headset manufacturer." It doesn't offer a role for the creatives. Or for those that will make the decisions on how and where to deploy VR content.
Platform convergence is an issue but the real challenges will be in the content area. The Knott's Berry Farm controversy is only the tip of the iceberg. If you think fake news stories are a serious issue, just wait until fake immersive experiences become common.  It's great to talk about "deploying the technology responsibly" but ultimately, manufacturers will not make those decisions. It will be people in business, the entertainment industry, and education (both K-12 and Higher Ed).
It's a bit like movie camera manufacturers talking about the ethics of cinema when it's really directors, cinematographers and actors that carry that conversation. Don't get us wrong – we welcome all voices here. But please, content producers need to be heard. 
The VR industry matures
The GVRA marks a turning point in the VR industry over the past the four years. We've gone from a lowly Kickstarter project that at one time hoped to sell just a few hundred units to platforms and devices coming from the major industry players. And now an industry association is needed to tackle divergent standards and best practices. Hopefully, the major players can become collaborators instead of just competitors.
It's all part of the growing pains of a new technology, one that promises to revolutionize education, healthcare, retail, and entertainment. The GVRA is a promising step in the right direction. But we'll need a much more inclusive dialogue on how to integrate immersive experiences into our lives and society.
Emory Craig is a writer, speaker, and consultant specializing in virtual reality (VR) and artificial intelligence (AI) with a rich background in art, new media, and higher education. A sought-after speaker at international conferences, he shares his unique insights on innovation and collaborates with universities, nonprofits, businesses, and international organizations to develop transformative initiatives in XR, AI, and digital ethics. Passionate about harnessing the potential of cutting-edge technologies, he explores the ethical ramifications of blending the real with the virtual, sparking meaningful conversations about the future of human experience in an increasingly interconnected world.