Nancy Baker Cahill's AR Liberty Bell for the 4th of July holiday is her latest experiment in using augmented reality for public art. The work uses an abstract shape that echoes the Philadelphia Liberty Bell and situates it in iconic locations of American history. The form that appears is a vortex of red, white, and blue lines or intertwined ribbons that try, but can't quite pull off, coming together as a solid object. It's as if the Liberty Bell is a concept that could either solidify or disintegrate, much like the American democratic experiment itself.
Similar the Cahill's other work, such as her Coordinates project, you'll need to use her 4th Wall app to experience the AR "Liberty Bell." And until we get AR Glasses, you'll also need a Smartphone or tablet. Since it's a site-specific work, you'll need to be at one of the six sites where the project is located. But it's an ideal art project to see during the COVID-19 pandemic as you're outdoors and social distancing shouldn't be a problem (but please, wear a mask if you are close to others).
AR Liberty Bell at Six Different Sites
According to The New York Times,
. . . 'Liberty Bell' is being unveiled on Saturday, in six spots where American history is still being interpreted, its Constitution tested and its identities forged. From north to south, the pieces will be at the site of the Boston Tea Party revolt in Boston; Fort Tilden, the U.S. Army installation in Rockaway, Queens, N.Y.; the Washington Monument in Washington, D.C.; Fort Sumter in Charleston, S.C. The fifth site, the "Rocky Steps" leading to the Philadelphia Museum of Art, is a civic hub and pop-culture tourist attraction. The sixth location is a civil rights landmark, the Edmund Pettus Bridge in Selma, Ala., where the brutal "Bloody Sunday" attack on demonstrators took place in 1965 by police officers blocking their march to Montgomery, the state capital.
Each of these sites is laden with cultural significance, from the Boston Tea Party to Edmund Pettus Bridge in Selma. For the site at the U.S. Army installation at Fort Tilden in Queens, N.Y., her work takes a different approach. Here the AR art forms the shape of a wave that echoes recent events such as Hurricane Sandy and Global Warming, which devastated the Rockaways. For us, you might also see it echoing the waves of people who came across the Atlantic (by choice or force) to create the United States.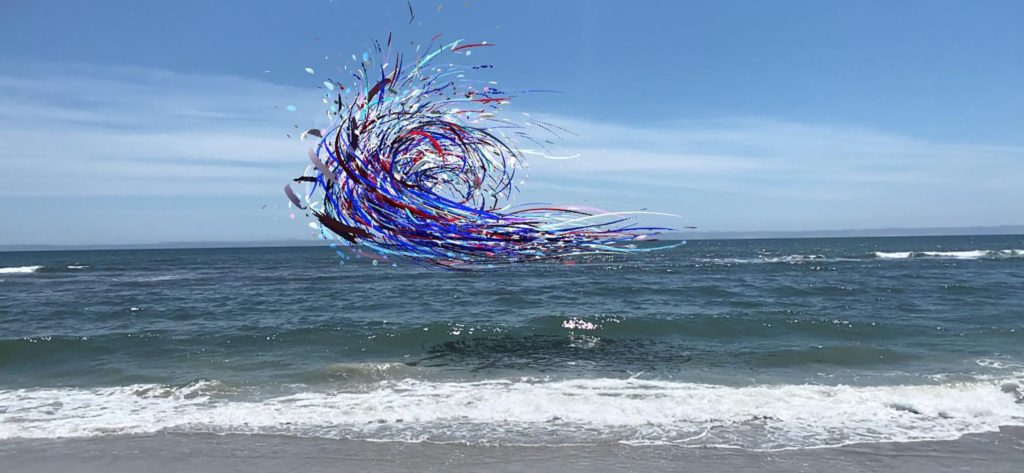 An Art Project for Our Time
The AR Liberty Bell project is both innovative and timely, especially now that we are finally confronting the historical significance of many of our public monuments. What statues will remain and which ones will ultimately be removed is a debate taking place in the streets, the media, and in many of our government bodies.
Projects such as Cahill's AR "Liberty Bell" open the door to individualized public monuments as augmented reality expands. That's important as the diversity of our interpretations will expand into the visual realm, the objects which we see. Of course, once AR is ubiquitous and readily accessible through glasses, you could see our current battles on social media shifting to the enhanced landscapes in front of our eyes.
The July 4th holiday is an opportune time to experience Nancy Baker Cahill's thought-provoking work if you can. Fortunately, it will be available through July 21st, so there's no need to risk your health to see it this weekend. The AR "Liberty Bell" is presented in partnership with 7G Foundation and Jamaica Bay-Rockaway Parks Conservancy.
Emory Craig is a writer, speaker, and consultant specializing in virtual reality (VR) and artificial intelligence (AI) with a rich background in art, new media, and higher education. A sought-after speaker at international conferences, he shares his unique insights on innovation and collaborates with universities, nonprofits, businesses, and international organizations to develop transformative initiatives in XR, AI, and digital ethics. Passionate about harnessing the potential of cutting-edge technologies, he explores the ethical ramifications of blending the real with the virtual, sparking meaningful conversations about the future of human experience in an increasingly interconnected world.