Microsoft Band 2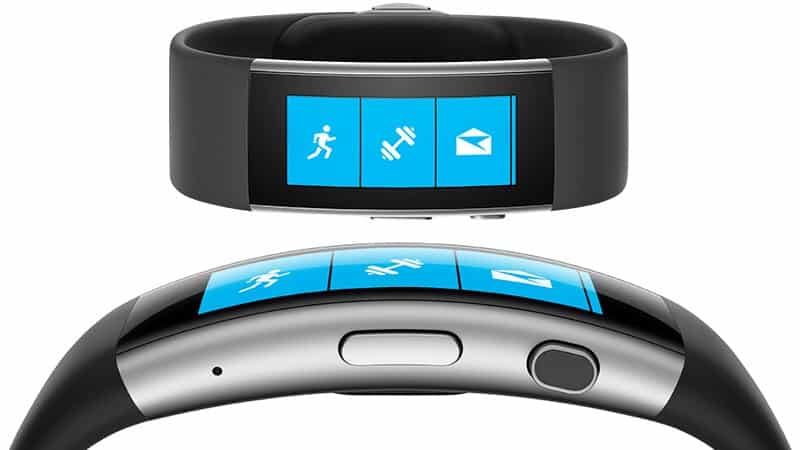 There's a lot to like about the second generation Microsoft Band 2 announced Tuesday morning. It's a major improvement over the first version and could stake a claim to the fitness segment of the wearables market.
Feature summary
The extensive range of features include:
Works with Windows, iOS and Android
Support for apps like Twitter, Facebook, Uber, Runkeeper, etc.
GPS, UV monitor, barometer (which will track elevation and stairs climbed)
Sleep tracker, calorie tracker, etc.
Voice-based commands with Cortana support
Microsoft claims it will have up to two day battery life – though you might be settling for less if you use the on-board GPS.
A huge improvement
Microsoft has come a long way from its original Band that was a bulky, ergonomic disaster. Indeed, the reviews were mostly bad, some even brutal. Examining the original version in April 2015, The Guardian offered one of the most scathing reviews of a wearable tech device ever, stating that it looked like a "house-arrest ankle bracelet."
In contrast, the second generation Band, with its gorilla glass face and beautiful AMOLED screen, is actually quite elegant (not something we often say about a product from Redmond).
As I watched the presentation, I kept looking down at my Apple Watch to compare the two. Obviously, they're completely different – Microsoft is clearly after the fitness and lifestyle market, while Apple has bigger plans. And Apple still wins on design, though Microsoft finally has a respectable device.
Can you leave home without it test
I usually don't leave home without my Apple Watch, but in truth, I could. Most of what I do with the Watch can be done through my iPhone. Right now, it's a nice accessory with a lot of potential.
But for the fitness sector of the market, I don't think people will leave home without the Microsoft Band 2. If it delivers on its promise, it could become essential for workouts and general activity tracking, while providing the convenience of other apps like Uber, Facebook and Twitter.
The marketing plays off a "live to your full potential" theme:
Limited, powerful, not perfect
$249 is not a lot to pay for a device if it improves your health and keeps you connected. Oh, and gets you a car service back home if you just happened to overestimate your stamina on a marathon training run.
For a different take, check out Gizmodo, which suggests that the ergonomics are still far from perfect. With the Band upright on your wrist, you'll have to contort your arm to read the landscape display. Wear it on the inside, and you'll be staring at a not so elegant buckle most of the time:
With smartwatches and fitness trackers quickly evolving to be something useful and something you'd want to wear, I'm not exactly sure the Band 2 is traversing those two worlds quite as gracefully.
But the Microsoft Band 2 holds tremendous promise, especially with the wide array of sensors and connectivity options packed into a small package. And especially if the battery life holds up. 
We'll see the public's verdict when it goes on sale at the end of October.
Emory Craig is a writer, speaker, and consultant specializing in virtual reality (VR) and artificial intelligence (AI) with a rich background in art, new media, and higher education. A sought-after speaker at international conferences, he shares his unique insights on innovation and collaborates with universities, nonprofits, businesses, and international organizations to develop transformative initiatives in XR, AI, and digital ethics. Passionate about harnessing the potential of cutting-edge technologies, he explores the ethical ramifications of blending the real with the virtual, sparking meaningful conversations about the future of human experience in an increasingly interconnected world.