The Wove flexible wearable tech band is a fascinating device. Simply put, it's a smartwatch, though the company behind it, Polyera, doesn't use the term. They call it a "digital canvas" which actually makes more sense in terms of the design.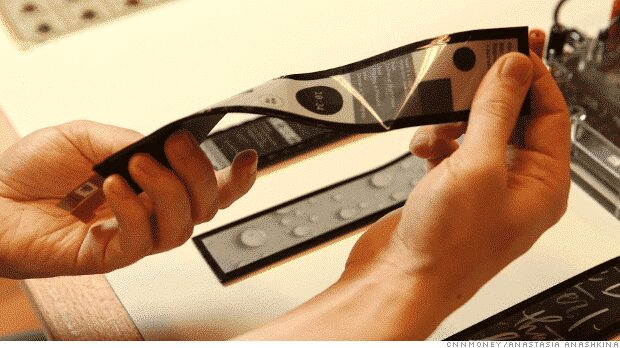 A huge display
Whatever your impression of the Wove band, they clearly trumped everyone on size. The display is huge when placed next to the Apple Watch. Put the displays side-by-side:
Apple Watch: 24 mm x 30mm, or a 720 mm square display

Wove Band: 30mm x 156mm, or 4680 mm square display
Think about that for a moment – the Wove has a display 6.5-times larger than the Apple Watch.
Polyera's flexible touch screen can bend repeatedly without damage, and is worn wrapped around your wrist. Better yet, it's always on since E Ink doesn't need a charge to maintain a static image. 
A futuristic design
Android Authority's first look video:
As Wired describes it:
When the Wove Band goes on sale . . . it'll feature many of the trappings we've come to expect from smartwatches, including a 1 GHz processor, Bluetooth connectivity, 4 GB of storage, a 9-axis motion sensor, and haptic feedback. But the device's bendy touchscreen, which wraps most of the way around the wearer's wrist, is clearly its most forward-thinking feature, and sets it apart from every computerized wristwatch on the market today.
And while there's no word on the price, Polyera says it will be less than an Apple Watch.
Is flexible wearable tech the future? 
Displays are a fundamental challenge with wearable tech – both where they are worn and in battery life (the ultimate Achilles Heel of wearables). Early on, Google Glass opted for a small display, though more recent developments are leading to full size glasses and visors.
Once you get away from the face, the question becomes: where do you put a larger display? Fitbit and similar bands go the minimalist route, which makes a wearable more of a fashion or athletic statement. Apple went small and traditional (remember Jony Ives waxing eloquent about the crown of the Watch?). Flexible wrap-around screens are an obvious solution to getting more screen real estate.
There's just one problem with E Ink displays – the lack of color.
Color is available in E Ink prototypes but for now the devices, including the Wove band, are gray scale with a pixel density that is laughable – not even close to other wearable displays.
Are we willing to trade color and pixels for much larger, always on, displays? Maybe that's the wrong question to ask. The Wove opens up a new realm in wristband wearables as you can wear it, but also take it off and leave it on your desk or dashboard of your car. Perhaps in the future it will even attach to your clothes. It has the potential to become a truly multipurpose device.
Flexible displays are the future – and in the end we'll get there with color. Even with a gray-scale display, Wove a major step in that direction.
Emory Craig is a writer, speaker, and consultant specializing in virtual reality (VR) and artificial intelligence (AI) with a rich background in art, new media, and higher education. A sought-after speaker at international conferences, he shares his unique insights on innovation and collaborates with universities, nonprofits, businesses, and international organizations to develop transformative initiatives in XR, AI, and digital ethics. Passionate about harnessing the potential of cutting-edge technologies, he explores the ethical ramifications of blending the real with the virtual, sparking meaningful conversations about the future of human experience in an increasingly interconnected world.