If any company can grasp the potential of AR play spaces, it has to the privately held Danish firm LEGO®. They understand how to create compelling experiences for kids and adults. Even the splash page of their website is divided exactly in half – one side for children, one side for adults.
And now, they're entering the world of augmented reality-enhanced construction toys. Having produced over 600 billion LEGO® parts (as of 2015), it's hard to imagine that their AR play components will not be a hit. They'll shape a future generation's understanding of technology. It's not just about information, but about space.
We've seen companies like Zara pull off innovative AR experiments that could change our retail behavior. But LEGO's move is about changing our relationship with physical space. Our environment will be profoundly shaped by technology. The railroads, automobiles, and air travel didn't only change our activities – they changed how we relate to our world.
We're oversimplifying the complexities of technology development, but you could see our mainframe, desktop, laptop, smartphone developments as deceptive in their impact. As if the Digital Revolution was entirely about the mind.
When immersive technology comes full force, it will transform our physical world with the same power that Richard Trevithick's locomotive did at the beginning of the Industrial Revolution. Every basic AR app is like a rudimentary steam engine, hissing and sighing, barely able to move under its own power. Waiting impatiently for all the components needed for an actual transportation network.
AR Play – Catch the Ghosts Before they Catch You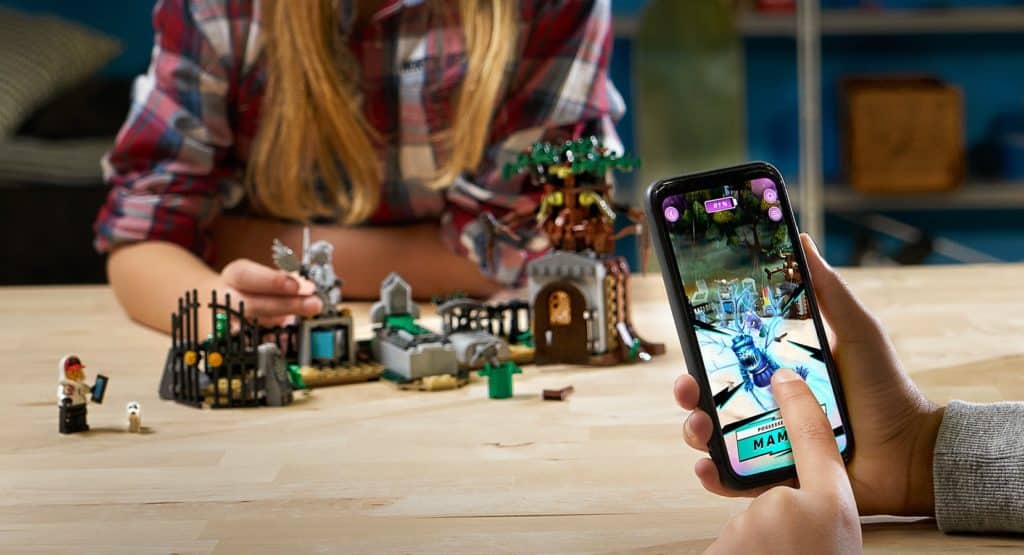 LEGO's new AR mode launches toward the end of this summer. The LEGO® Hidden Side™ project brings together two activities that humans love to do – build and play. This August will see the release of eight "haunted" sets ranging from 174 pieces to 1,474 pieces. Combined with an AR app on your phone, the buildings and scenes will come to life. With every move, ghostly mysteries will need to be solved.
Tom Donaldson, senior vice president, Creative Play Lab at the LEGO Group, said:
Our years of experience pioneering the convergence of technology and physical play have taught us that kids expect exciting play experiences that move seamlessly between physical and digital worlds – something we call fluid play. At our core we focus on tactile building, but AR presents opportunities to enhance physical LEGO play with new action and mastery elements. We're breaking the mold of gaming-first AR play experiences to create a new type of play where the physical world actually influences the AR layer, instead of the other way around.
That last line is worth repeating as we often frame it in the opposite way: where the physical influences the AR realm. CNet's video gives you a sense of the LEGO Hidden Side project.
We need those Smart glasses
No mistake, this will be a successful project. But it ultimately needs inexpensive Smart glasses. AR eyewear will free up both hands for interaction with the pieces, putting aside our Smartphones. The latter, so convenient now, will come to be seen as awkward devices. Portable computers that get in the way of our immersive experiences. Like mini-handheld-mainframes.
LEGO's toys already have an infinite capacity to enchant. But turning the components into AR play spaces will make it simple to roll out new stories in the future. No need for more plastic, just some lines of code. Put on your Smart glasses, and a new story arrives.
If AR can raise ethical concerns, it will also transform our environment into story space. A place where every object becomes the basis for a story-driven universe. And as LEGO realizes, that will not only captivate children but adults as well.
Emory Craig is a writer, speaker, and consultant specializing in virtual reality (VR) and artificial intelligence (AI) with a rich background in art, new media, and higher education. A sought-after speaker at international conferences, he shares his unique insights on innovation and collaborates with universities, nonprofits, businesses, and international organizations to develop transformative initiatives in XR, AI, and digital ethics. Passionate about harnessing the potential of cutting-edge technologies, he explores the ethical ramifications of blending the real with the virtual, sparking meaningful conversations about the future of human experience in an increasingly interconnected world.